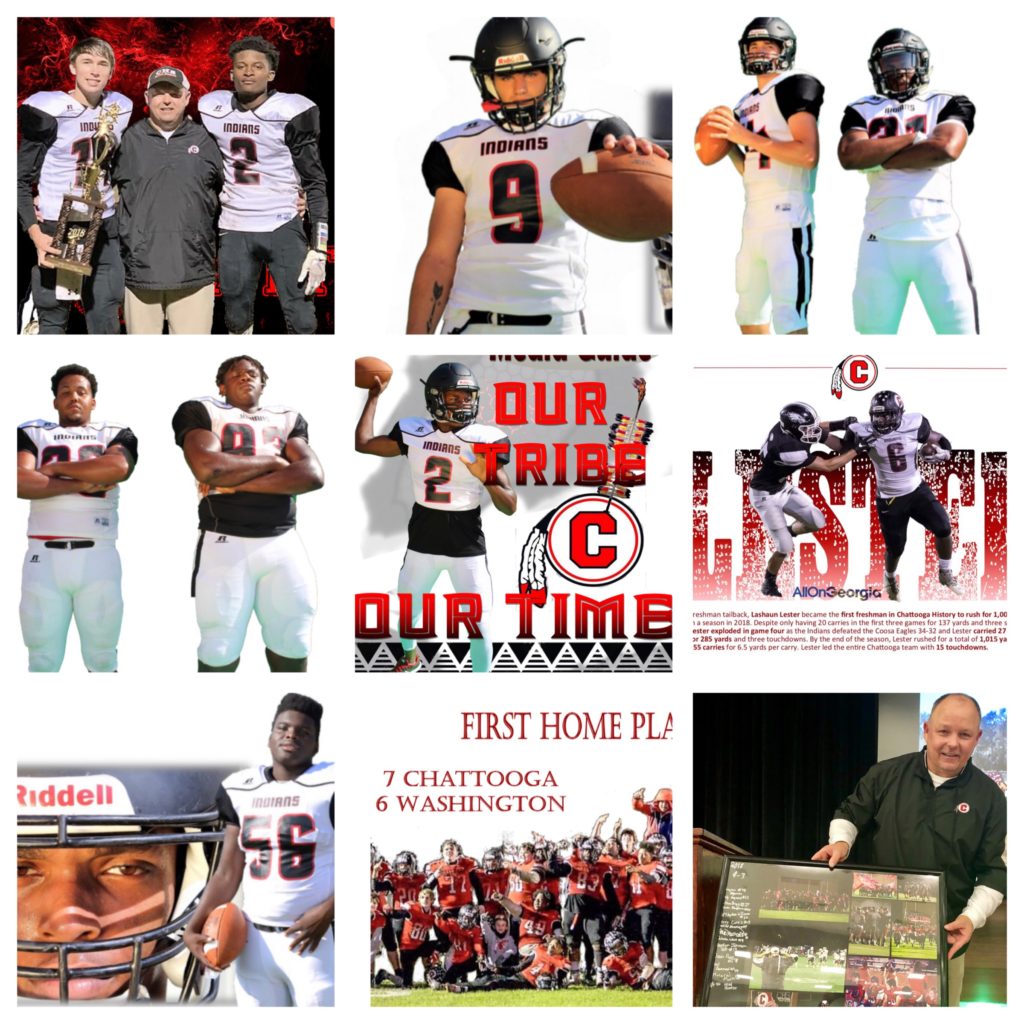 Chattooga High School Football had plenty to celebrate after the 2018 campaign and Coach Charles Hammon did just that at the annual Awards Banquet Wednesday night, December, 11th from the Chattooga stage. Hammon opened the banquet speaking about the 15 seniors who, as a group, had 28 wins, four consecutive playoff appearances (including a Sweet 16 showing this season) and a coveted spot in the Elite Eight in 2015. "This group right here has broke a lot of records," said an emotional Hammon. "Seniors… it was a great ride."

CHATTOOGA SENIORS
Danny Bare, Devin Blackmon, Dalton Bray, Corey Curtis, Izzy Dammond, Garyson Edgeman, Tre Flowers, Blake Herrell, Clayton Johnson, Jackson Lowenburg, Malachi Mack, Cody Maynard, Devin Price, Dakota West, and N Shydan "Shy" Williamson
In his seventh year at the Chattooga helm, Head Coach Charles Hammon has completely changed the standard, expectations, performance and reputation of the Indians.
In 2018, the Indians tied the best Single-Season Chattooga Football record with nine wins, hosted a home playoff game and gave the Indian nation their first ever playoff victory at the Little Big Horn.
Coach Hammon does not give out many individual awards because of his old school philosophy that, "football is a team sport." Therefore it is a special honor to be among those who are singled out for individual performance.
Individuals recognized include:
Spear Award: Eli Hosmer
Effort Award: Baylor Wilson
Head Hunter Award: Jakoby Cottrell
Coach's Choice: Malachi Mack
Special awards for 1,000 Yards Rushing went to freshman, LaShaun Lester and sophomore, E.J. Lackey.
Captains Awards went to Danny Bare, Izzy Dammond, Devin Price, and Luis Medina.
2018 Indians Media Guide Season Wrap Up PDF