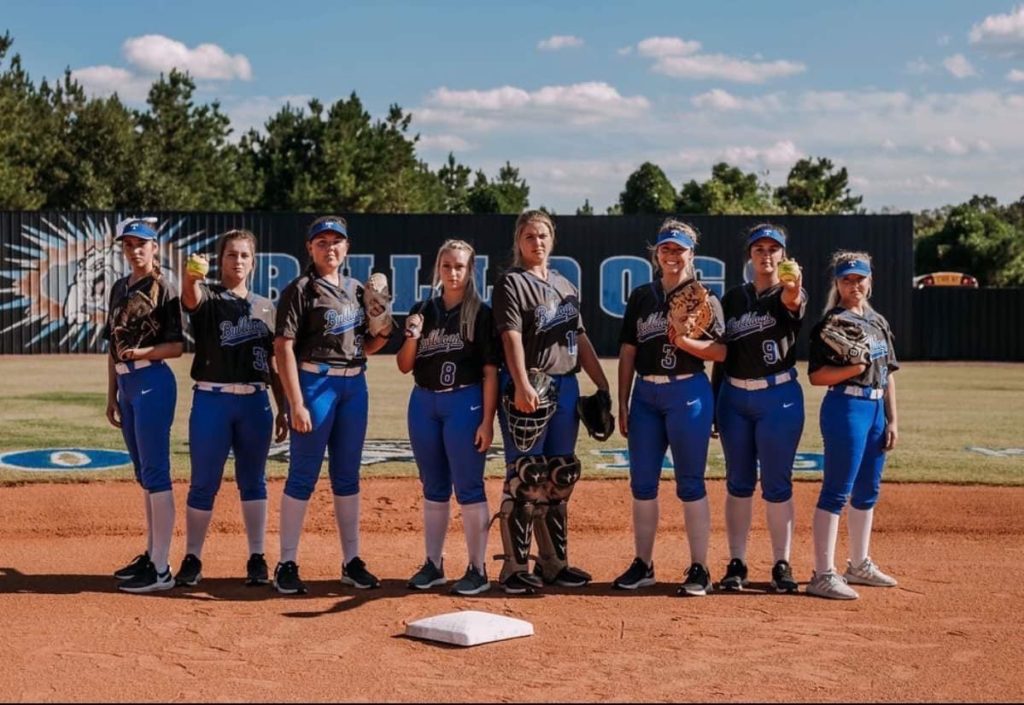 It was a another tremendous year for the Trion Lady Bulldogs softball team.

The Trion Bulldogs softball team finished the 2019 season with a remarkable record of 25-5 and earned GHSA State Runner-Up honors.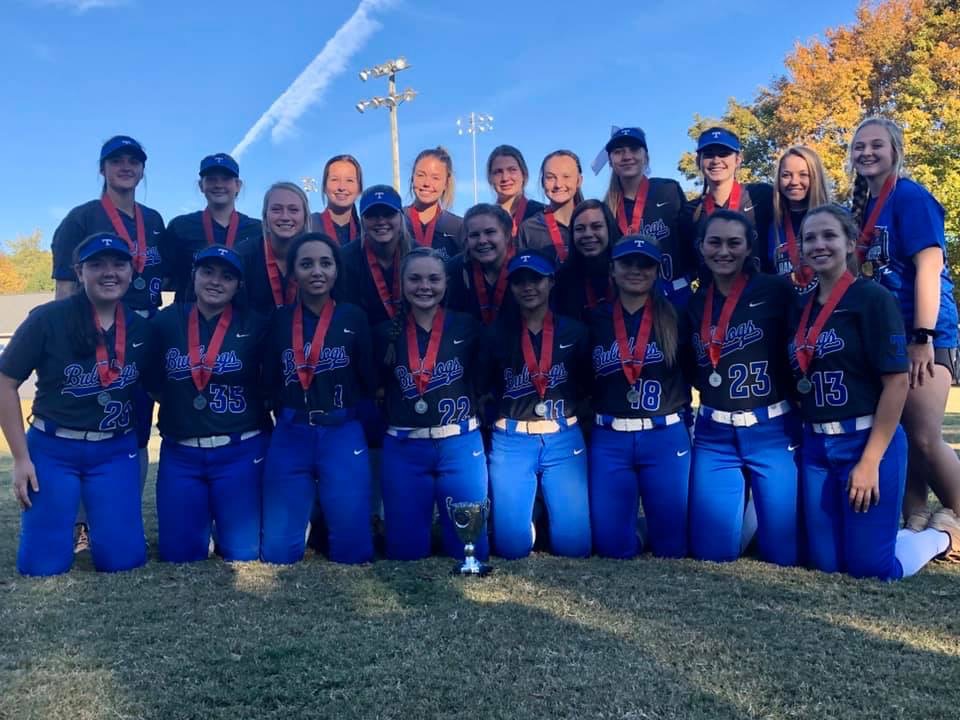 "I'm so proud of the fight and determination that this group showed on their way back to the state championship game. On the first day of the Elite Eight Championship tournament on a very controversial call we saw the tide of game we were winning against Gordon Lee slip away from our grasp and were left heartbroken. It would have been very easy to lick our wounds and head home. However, this group had other things in mind and showed why our calling card is Bulldog Tough," Coach Jason Lanham said. The Bulldogs lost the first game of the Elite Eight to rival Gordon Lee in an 8-3 defeat.
Fight back to the 'ship
Game 1: Lanier County, 9-0 victory
The next morning the Ladies gathered the pieces of their broken heart and took out their frustration out on another group of Bulldogs from Lanier County. Mosley, Murdock, Carlock, and Smith all had multiple hits and RBIs which led to a big 9-0 victory. Jenna Mosley socked one home run in the fourth inning. In the circle, Shepherd would fire a no hitter that was preserved in the 7th inning by a remarkable diving catch in left by Bailey Coker, who happen to play the entire tournament in a knee brace with a torn meniscus. Lanham said,  "she refused to let her teammates down and is just another true testament to what Bulldog Tough is all about."
Game 2: Georgia Military, 8-4 victory
The Bulldogs dusted off the win, and then turned right around to see yet another group of Bulldogs, state Class A power and familiar Columbus foe Georgia Military College in their path and they out swinging early and put our Lady Dogs down 3-0 early but the this group as they always do, found that Bulldog fight that defines them as they stormed back to claim an 8-4 victory with huge contributions at the plate from Mosley, Murdock, and Smith. The Bulldogs scored four runs in the second inning. Freshman pitcher, Aubrey Burke would get in on the action as well closing out the game on the mound in strong fashion. Burke recorded five outs to earn the save.
"This would leave Trion as the Top Dog on the day advancing the Lady Bulldogs to championship Saturday and the Final Four but with a mountain still to climb to get back to the big game" according to Coach Lanham.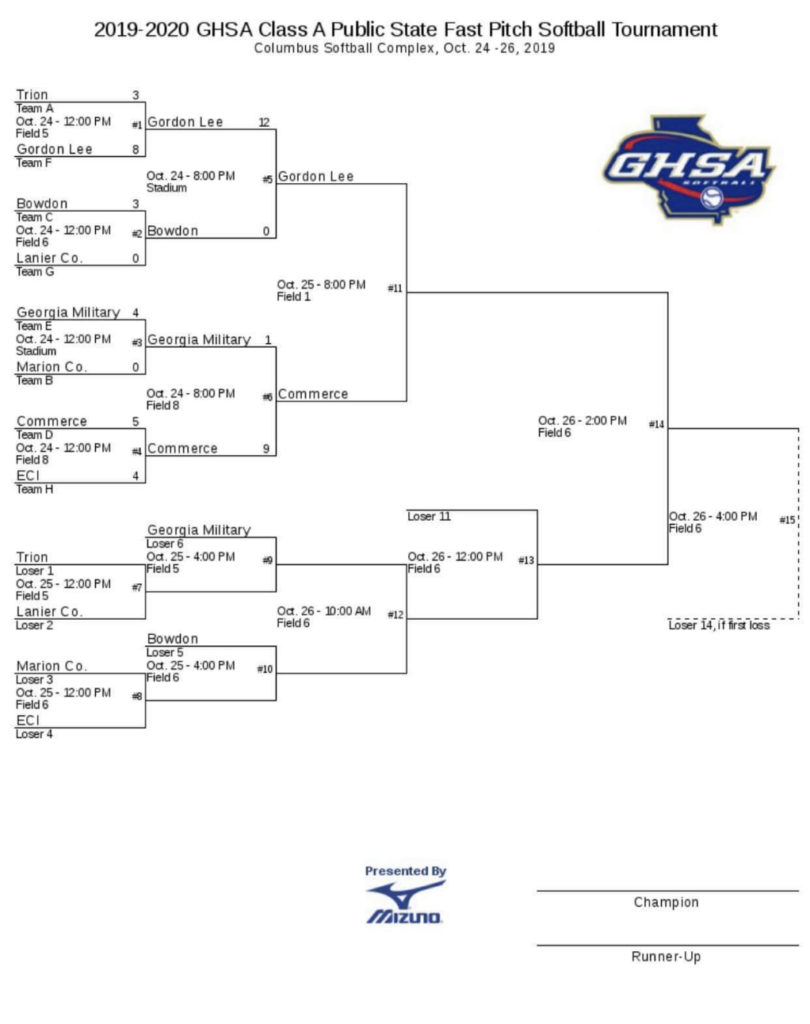 Game 3: Bowdon, 2-0 victory
Saturday morning Trion would face region rival Bowdon who was blocking their path to the Championship game. Shepherd was once again up to the challenge hurling a 2-0 shutout victory for the Dogs. Shepherd lasted seven innings. Lauren Woods and Chloe Murdock each provided clutch two out RBIs to help continue this improbable run. Shelby Carlock went 2-for-3 at the plate to lead the Bulldogs over Bowdon.
Game 4 Commerce, 9-6 victory
Next up would on the run to get back in the Championship game would be well rested #4 state ranked Commerce.  Jodie Henderson got a huge two out 2 RB hit to put the Dogs up early. "But the wear and tear of the weekend begin to show and my team appeared to have run out of gas and this tired weary group saw their early lead quickly evaporate and found itself trailing by a score of 6-4 in the 5th with hope fading fast. However this group dug deep down and found something extra, something to be honest at this point I didn't even know if they still had cause they had given so much," Lanham recalls.
The Lady Bulldogs found the strength to throw another punch and tie the game at 6. Asia Lanham would make a tremendous diving catch in the bottom of the 6th with runners on to preserve the tie and set the Dogs up for some 7th inning heroics small ball style. The Dogs would get a lead off single from Bailey Smith, Lanham would reach on a bunt single, Jenna Mosley would reach on a bunt single, to load the bases. Chole Murdock and Shelby Carlock would each plate a run with RBIs groundouts and Gracie Burns would add a big two out RBI to give the Lady Dogs a three run lead, and Whitney Shepherd would slam the door shut on the Tigers in the bottom of the 7th and send the Lady Dogs back to the title game.
The 'Ship
In Championship game the Lady Dogs would take an early lead on rival Gordon Lee on hits from Murdock and Carlock but would eventually just find itself too beat up and exhausted from the long weekend to find that elusive last victory and would fall to Gordon Lee in the State Title game.
"At this point some may be disappointed but not this proud coach, as I reflect on what this group of girls had done I beamed with pride. We literally eliminated half the field on our run across the bottom bracket, we were beat up and banged up both physically and mentally but never backed down one inch," Lanham said.
"We fought with honor, pride, and Bulldog Toughness the whole way. This group of senior girls: Carlock, Henderson, Burns, Woods, Coker, Driver, Witt, and Shepherd have done so much and given so much to Trion Softball…they leave with 95 total wins, 4 trips to the State Championship tournament in Columbus Ga in which they have not finished outside the top 4 (16-4th, 17-2nd, 18-3rd, 19-2nd). I ask every group I have ever coach to put my life motto into practice "Leave It Better Than You Found It". Wow did they ever, thank you seniors for a job well done, their legacy is secure."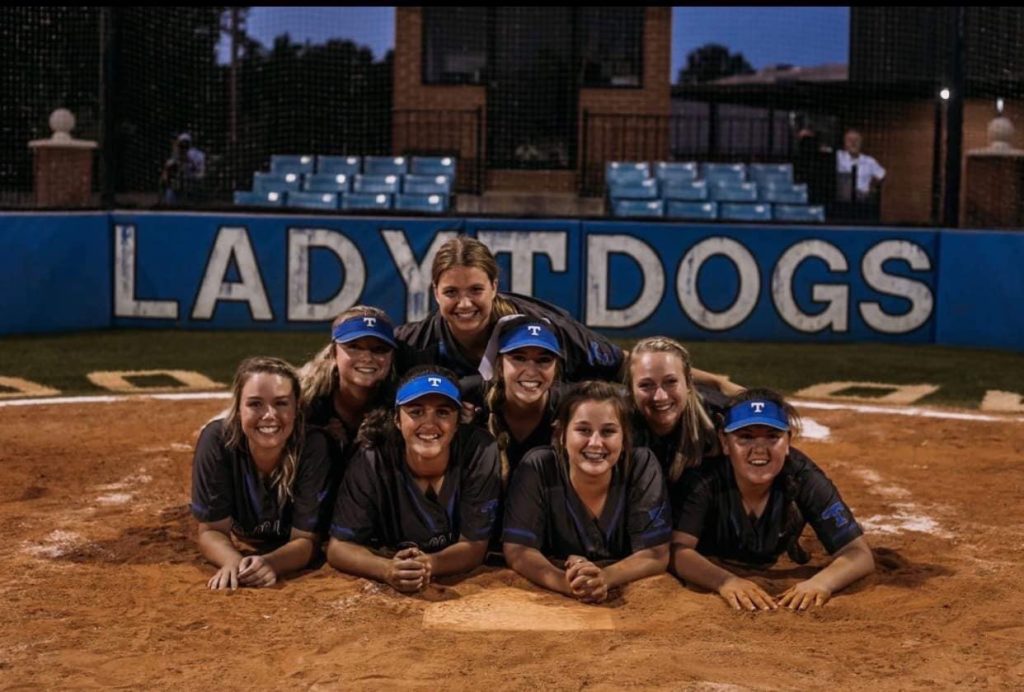 "Thank you to the rest of the 2019 Lady Bulldogs for helping make this season was so successful and special, we still have work to do but the path is clear. And last but least special thanks to the Trion City Schools Administration from top to bottom and our loyal community for it unyielding love and support of Trion Bulldogs Softball. In closing, I realize that championships on the field are important and we will constantly strive to achieve this goal but more importantly in my book is creating champions in life and at Trion we do that everyday!!!"