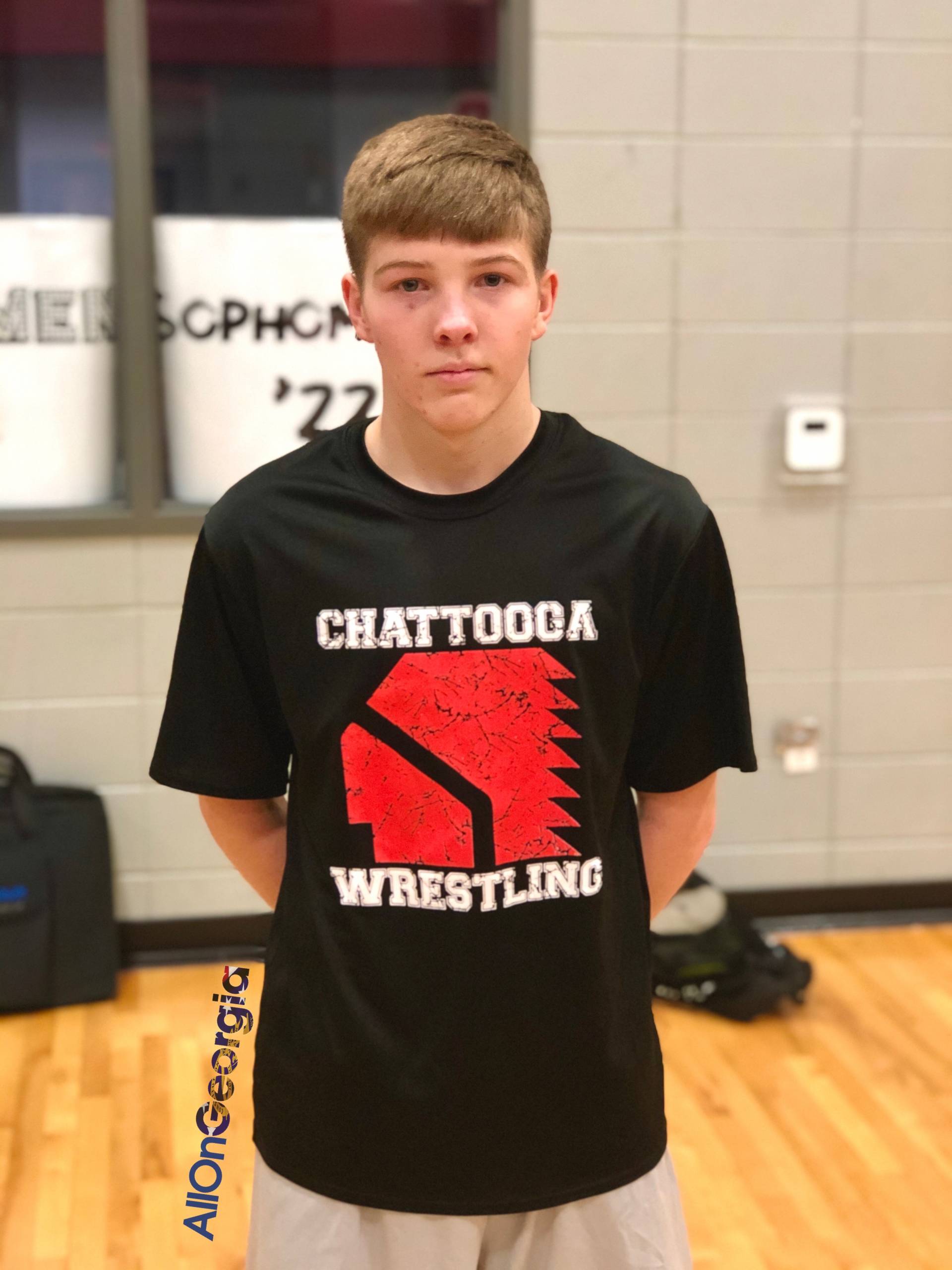 Heart of a Champion
What is the difference between 212 and 213. At 212 degrees, you can boil an egg. At 213 degrees, you can power a locomotive. For Griffin Jarrett, a regular Tuesday night on the wrestling mat became a record-setting performance as the senior grappler picked up his 212th career win (a 16-0 Tech Fall) to tie the Chattooga High School Career Wins Record, and then his 213th win to take the Career Wins Record with a 15-0 Tech Fall over the highly-touted 120 pounder, Hunter Burnette, of Gordon Lee.

Head Coach Brian Beasley said 213 is nothing short of an amazing accomplishment. "Ever since he was a freshman he has wanted to break records and be a 4x state champion. Two records have fallen and he is on the verge of his fourth state title. Few are as driven as he is to succeed and that is not only on the mat. Griffin is a joy to coach and we are looking forward to what the rest of the year has in store for him and the team," said Beasley.
Jarrett is the second ever 3-time State Champion wrestler from Chattooga and the first one to do it in consecutive years. This season represents Jarrett's chance to make history again as the sole 4-time Champ; a goal Jarrett sees as simply one more step in a journey towards greatness.
Dade County Dual
For the Indians, Jarrett led the way in a standout performance against Dade County. The Wolverines only had four wrestlers win, out of 14 weight classes, but forfeits cost the Indians heavily. With seven Indians winning matches, the forfeits proved too much to overcome as Dade took the dual match 42-38.
Winners for Chattooga included; Griffin Jarrett (120) 16-0, Wes Conley (126) Fall, Mason Sterner (152) Fall, Rowan Burdick (160) Fall, Ty Veatch (195) 7-3, Alex Mears (220) Fall, and Luis Medina (285) Fall.
Gordon Lee Dual
The Wolverines departed early due to inclement weather conditions so the Indians took the mat and knocked off Gordon Lee 53-24. Chattooga only lost two matches on the mat, picked up a few forfeits on the way for Sterner, Burdick, Cottrell, and Veatch, before Falls coming at the hands of Mears, Medina, and Conley, while Jarrett picked up his record-setting 213th win with a Tech Fall.
Next Up
The Indians move on the the McCallie Invitational this coming weekend in an Open Tournament that many consider the toughest regular-season tournament in the southeast. Hosted at the McCallie School in Chattanooga, the tournament is loaded with nationally ranked wrestlers and Luis Medina is still the only Indian wrestler to ever win the coveted Championship trophy.