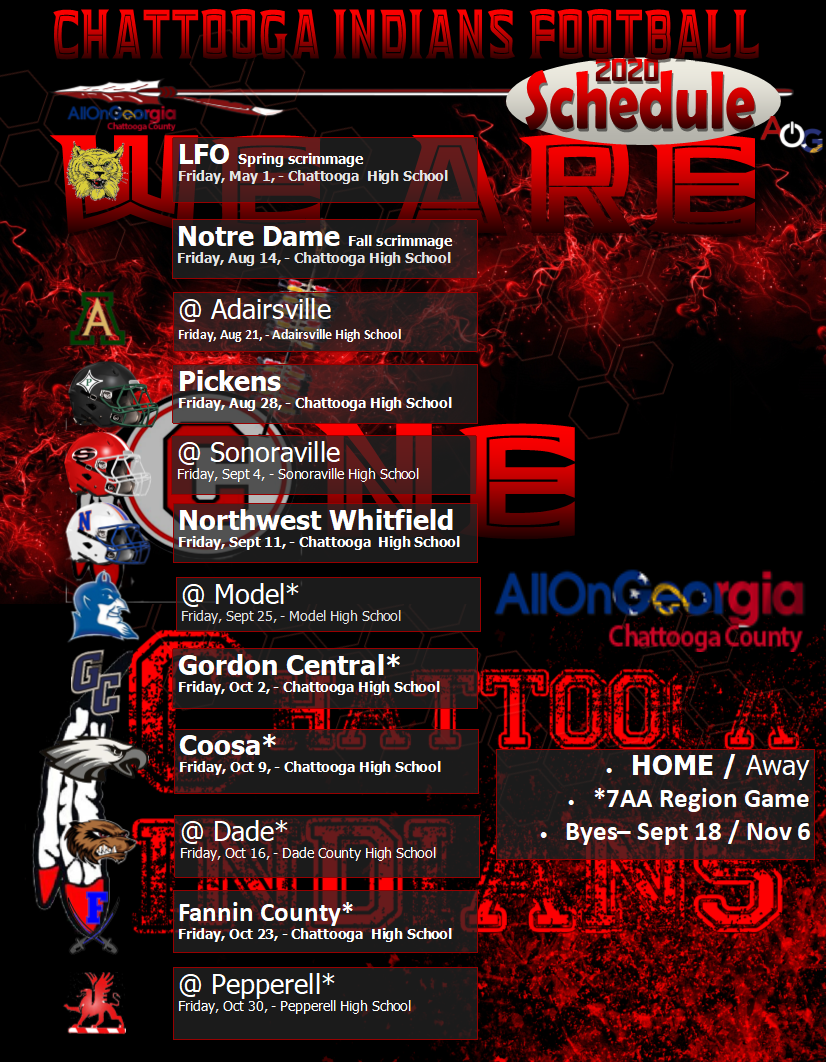 When it comes to football, it's never too early to start thinking about next year!
With the 2019 football season in the books for the Chattooga Indians, attention turns to how the schedule and region will look next year following reclassification and realignment.
Chattooga's 5-5 regular-season record included three region losses to Rockmart, Pepperell, and Model. Much to the relief of the region, Rockmart has been reclassified as a AAA school and departs Region 7AA after a dominating run. Along with their departure, the Armuchee Indians will be joining Trion in Region 6-A.
New Kid on the Block- the Rebels
Moving down from Region 7AAA to join Chattooga will be the Rebels of Fannin County. Following back-to-back 2-8 seasons, the Rebels were slowly turning the corner with a 4-6 campaign in 2018 and their first winning season of 6-5 in 2019. The third-place region finish was enough for the Rebels to make a playoff appearance before being reclassified as a AA school.
Pate Returns with the Phoenix
Chattooga will host scrimmage games in the Spring against LFO, and in the Fall against Notre Dame. Dropping from the schedule after a two-year arrangement are Heritage and Wesleyan, being replaced by two-year agreements with Pickens and the Phoenix of Sonoraville. The 2020 schedule will only feature SIX region games so Northwest Whitfield will fill out the regular-season "Non-conference" matchups.
Region games will begin on September 25th with Model, followed by Gordon Central, Coosa, Dade and then, newcomer Fannin County before finishing up the season with the traditional Pepperell game.
Look for big changes in Chattooga football as 2020 will be without Head Coach Charles Hammon and Defensive Coordinator Bob Smith and several key players including seniors Jakoby Cottrell (1st Team All-Region, 2-year team-leading tackles), Luis Medina (3-star defensive tackle, 1st Team All-Region), and Jamarious Mosteller (1st Team All-Region, team-leading receiver).