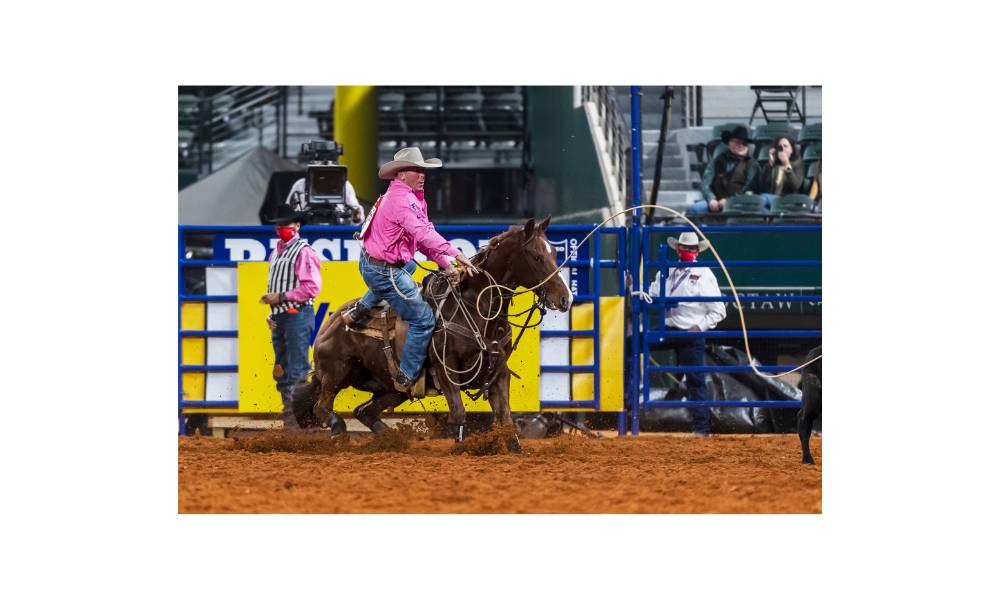 The burn has been slow, but things are starting to heat up for tie-down roper Ryan Jarrett. The Georgia-born cowboy had missed paychecks in each of the first three rounds of this year's Wrangler National Finals Rodeo at Globe Life Field in Arlington, but he's starting to find his place.
On Monday night, he put together his best run of the week, stopping the clock in 8.2 seconds. With that, he finished third in the fifth round and pocketed $15,654 in the process. He also placed the night before, with an 8.4-second run that pushed him into a tie for fifth place on the night. Through five nights at this year's championship, he has earned $31,154.
"You kind of have to get in the groove, and I'm not ever known to get with the groove right off the bat," said Jarrett, a 13-time NFR qualifier from Comanche, Oklahoma. "There's a lot of prize money left. We are going to chip away and get some of it and take it back to Comanche."
In fact, he and his family – wife Shy-Anne and daughter Junree – make the 280-mile round trip home every night for the 10-round championship. It allows him the opportunity to take care of business and sleep in his own bed.
"The first couple of nights, I stayed because we were preparing calves the following morning," he said. "The last few nights, I have gone home; I can get a half day's work done in the mornings before I come back down, so there's no need wasting it."
Sometimes being a rodeo cowboy means taking care of cowboy things at home, even while competing at ProRodeo's grand finale. Each night he arrives in Arlington, his mind is on his business. "The run still didn't go as good as I wanted," said Jarrett, the 2005 all-around world champion. "It just kind of worked out. It wasn't a flawless run. I think my horse needs to work a little better. I need to get a little closer so I can handle my slack a little better to be faster."
His horse is Snoopy, a solid sorrel Jarrett has ridden the last few years. Each night after the rodeo, he drops Snoopy off at Outlaw Equine in nearby Decatur, Texas, and allows the horse to get a little treatment before returning to action the next night.
"When we get him here, he's got his game face on," he said. "To me, it has been a little easiergetting to go home, thinking about something else. Whereas in Vegas, there's nothing else to think about but rodeo. You go home and refresh, rejuvenate and be ready to win something the following night."