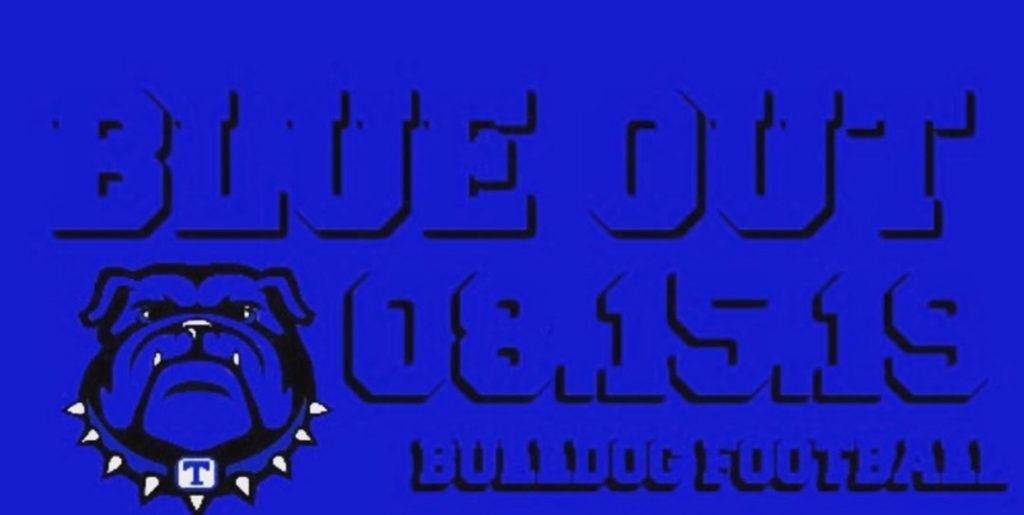 Trion Football kicks off the season Thursday evening at 7:30 p.m. in a scrimmage against Lafayette. The game will be a BLUE out.

The scrimmage will be four quarters with the varsity playing the first half, the JV and freshmen will see action in the 3rd and 4th quarter.  The kicking will not be live.  "We are looking to get our kids out there and compete.  I want to see us playing physical.  Excited to get these guys on tape so we can further evaluate them.  Hoping we see a little adversity to find out how we'll respond," Bulldog Head Coach Justin Brown said.
Coming off of an 8-4 season that included some epic highlights, including a 40-34 OT win against rival Gordon Lee and a 3-0 sweep of Region 7-AA opponents: Coosa, Dade, and Armuchee, Bulldog fans have been anticipating the 2019 Football Roster and Head Coach Justin Brown just released the updated list of Trion players.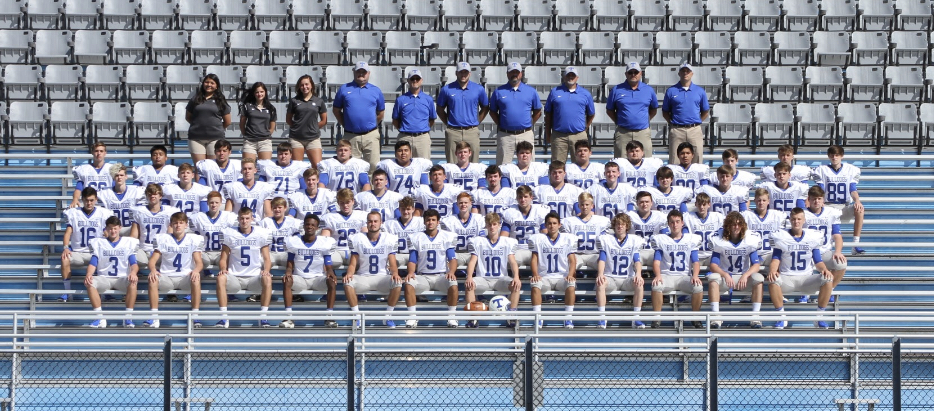 Following a successful Spring training camp, Trion jumped right into a busy summer. In June, the offensive line spent five days at the Mike Hodges camp designed to focus on fundamentals in the trenches. Skill position players attended a 7-on-7 camp at Southeast Whitfield and another at Darlington in June as well.
Brown says that many of the 14 seniors will be playing both ways in the Fall. Expect to see several of those seniors as two-way starters and one kicking. Alex Stewart, Clay Baker, Will Wyatt, Kodak Crappe, Rob Brown, Brantley Hastings, Byrce Wallin and Ross Moore are all expected to start on both offense and defense.
At quarterback, Brown will be relying on senior Lincoln Maddux to lead the Bulldogs' offensive unit. Brown made no bones about it, "I have huge expectations for Lincoln." Following a solid junior campaign, Maddux has stepped up to be a more vocal leader for the Blue. "He has grown into a leader. He had a great summer throwing the ball and has a command of the offense." commented Brown.
Depth at Quarterback: Connor Deparlier sophomore, Logan Eller freshman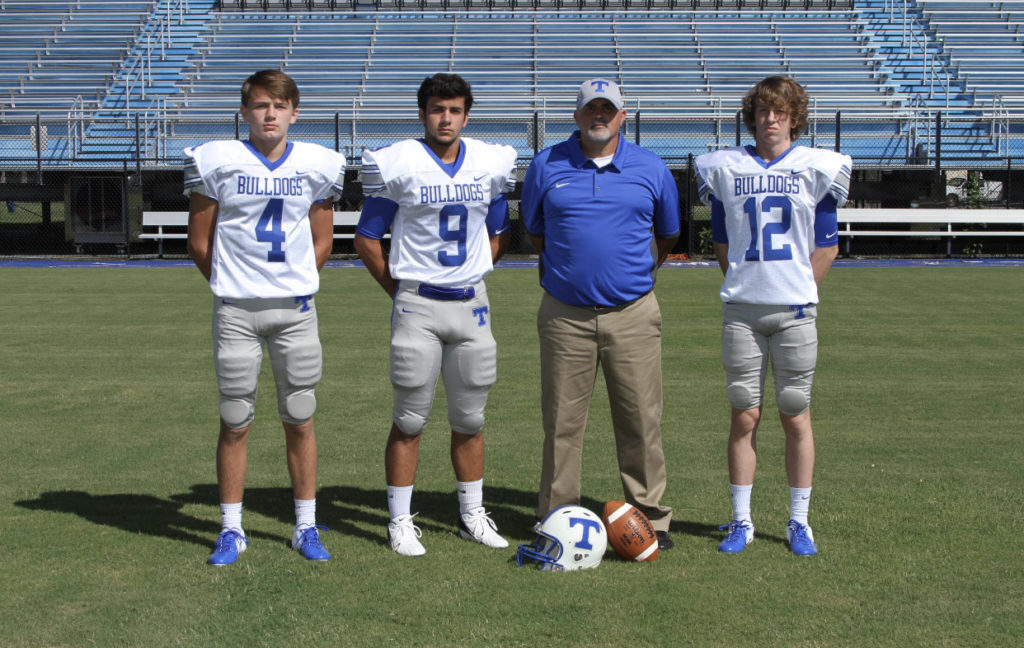 Rob Brown will be the A-back with big shoes to fill. Replacing Hagen Willingham, who signed with Berry College, Brown will need to replace a record rushing performance from Willingham and Coach Brown looks for a combined performance from his backfield unit. "We are going to need all our backs to step up with three new starters back there… we are going to be looking for productivity from all of them," said Coach Brown.
With 55 players on the 2019 squad, the coaches will need maximum performance from every Bulldog to improve on the 2018 playoff-team that ventured into the third week of post-season play.
TRION BULLDOGS ROSTER 2019
Jersey
Grade
Name
Jersey
Grade
Name
3
10
Linkin Farrar
35
12
Eddie Jimenez
4
9
Logan Eller
36
10
Skyler Renfroe
5
11
Jared Guinn
42
10
Zach Sharp
6
9
Cayden Watson
44
12
Kodiak Crabbe
7
12
Steven Johnson
45
11
Dayton Copeland
8
11
Brantley Hastings
51
10
Peyton Stowe
9
12
Lincoln Maddux
52
10
Bladyn Bowman
10
10
Rilley Blackwell
56
12
Ross Moore
11
9
Brody Brown
60
11
Hunter Hobbs
12
10
Connor DeParlier
61
12
Collin Harris
13
10
Devin Dalton
63
11
Mason Jenkins
14
11
Jackson Blackwell
62
9
Jackson Morrison
15
10
Ben Allen
65
12
Kyle Krueger
16
11
Riley Reeves
66
10
Jackson Drennan
17
12
Kaleb Maynard
68
10
Hugo Francisco
18
10
Bryce Cordell
70
12
Alex Stewart
19
9
Gus Hames
71
11
Eli McQuese
20
12
Bryce Wallin
72
12
Clay Baker
21
10
Daegen Vaughn
74
10
Eliab Calderon
22
10
Barrett Coffman
75
12
Bo Jones
23
12
Will Wyatt
77
9
Ayden Abee
25
10
Evan Witt
78
10
Kaleb Park
26
10
Rob Brown
79
11
Kaleb Craig
27
10
Issaic Stewart
80
11
Wesley Vasquez
28
9
Crawford Lee
82
9
Ben Perry
30
10
Elijah Stewart
85
9
Jordan Thomas
32
12
Braden Miller
89
9
Nathan Willingham
33
10
Brantley Willbanks
2019 Trion High School Football Schedule
Date Opponent Location Time
8/15/2019 LaFayette (scrimmage) Home 7:30 pm
8/23/2019 Coosa Home 7:30 pm
8/30/2019 Open
9/6/2019 Dade County Away 7:30 pm
9/13/2019 Armuchee Home 7:30 pm
9/20/2019 North Cobb Christian* Home 7:30 pm
9/27/2019 Gordon Lee* Away 7:30 pm
10/4/2019 Mt. Zion* Home 7:30 pm
10/11/2019 Christian Heritage* Away 7:30 pm
10/18/2019 Darlington* Home 7:30 pm
10/25/2019 Open
11/1/2019 Bowdon* Away 7:30 pm
11/8/2019 Play-In Away 7:30 pm
Home games in bold
*denotes a sub-region game
 9/20/2019 Homecoming
 10/4/2019 Future Bulldogs Recognition Night
 10/18/2019 Senior Night
2019 Coaching Staff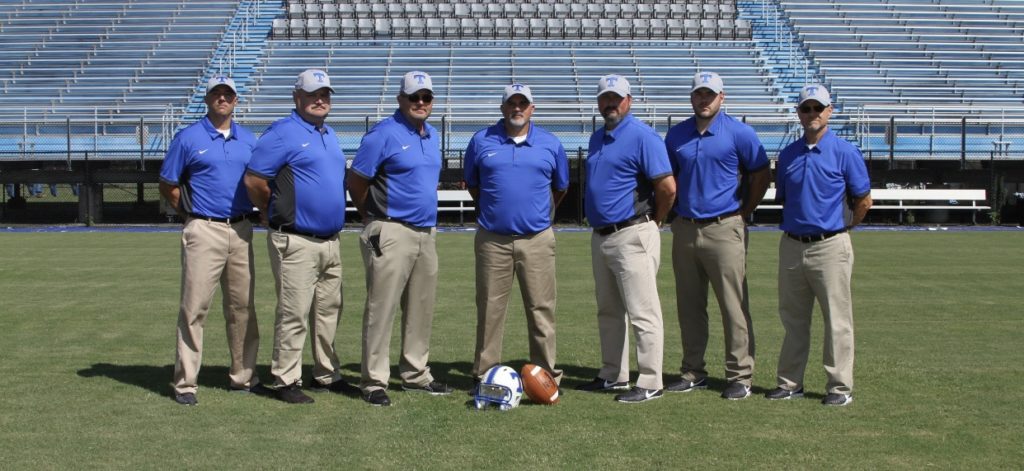 Justin Brown- Head Coach, Roone Gable- Defensive Coordinator, Dean Hollis- Defensive Line, Cody Simpson- Secondary, Tim Barrett- Assistant Head Coach & Offensive Line, Garrett Brown- Running Backs, Jarrett Gill- Wide Receivers, DeWayne Tinney- Assistant Line Coach.
Cheerleaders
The 2019 Trion High School Varsity Cheerleaders: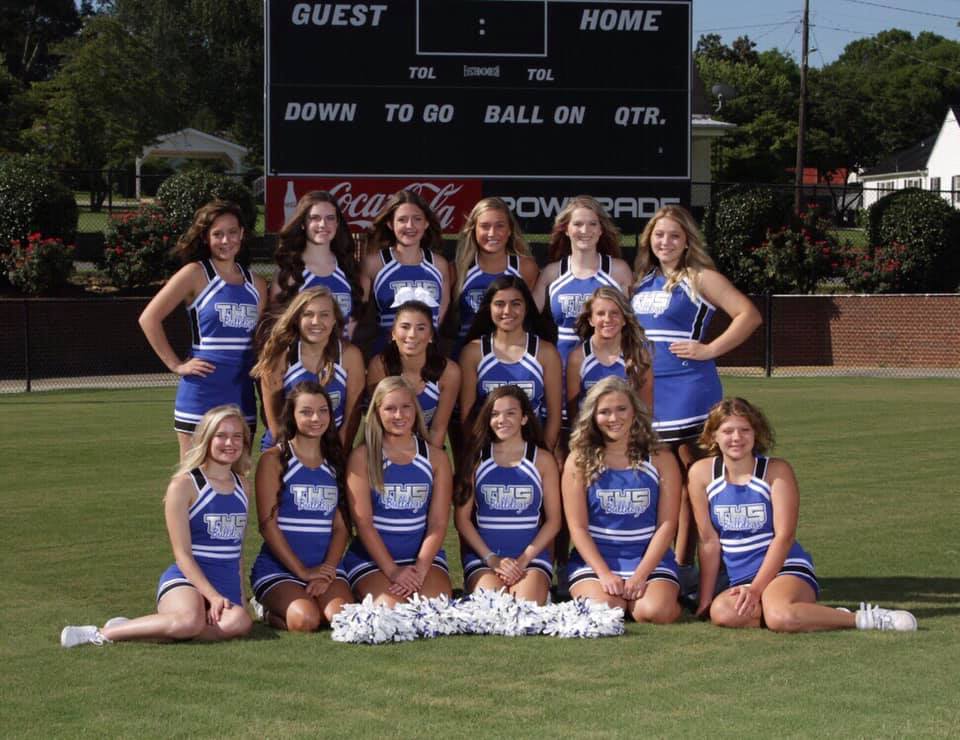 left to right front row- Isabelle Walters, Kylee Park, Grace Wofford, Brenlee Collette, Tate Campbell, Jessica Dover
left to right middle row- Kaylie Bell, Alexia Pence, Melissa Sanchez, Savana Evans
left to right back row- Haley Saylor, Maddie Weaver, Julia Wilson, Kiersten Woody, Cayley Blalock, Kylie Rowe
Kayla Willingham and Hayley Tanner are the coaches.