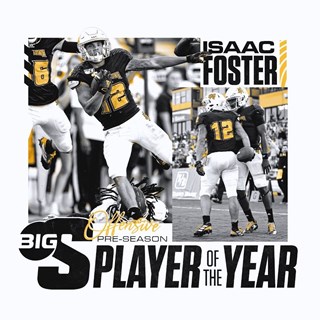 The Big South Conference announced its 2021 preseason accolades Thursday with Kennesaw State picked to finish second in the league, while the Owls swept the offensive and defensive player of the year honors.

Prior to the fall 2020 season being canceled, Kennesaw State was the preseason favorite for the fourth consecutive year, but as voted by the league's media and head coaches, the Owls are now picked second in the conference behind Monmouth heading into the spring campaign.
There is no room for discussion in the player of year honors however, as linebacker Bryson Armstrong is the Big South Preseason Defensive Player of the Year, while running back Isaac Foster is the league's Preseason Offensive Player of the Year.
Foster's 2019 season was cut short due to injury, but through seven games he was one of the most dynamic running backs in the country, averaging 14.9 yards per carry and 162.3 all-purpose yards per game. Two of his four rushing touchdowns last season were over 65 yards and he owns two 100-yard kickoff returns for touchdowns in his career.
In search of its third Big South Conference championship in the last four seasons and its fourth consecutive FCS Playoffs appearance, Kennesaw State is looking to join Coastal Carolina as the only programs in league history to make the playoffs in four consecutive seasons.
Kennesaw State has dominated the Big South during the last three years, winning 15 of its last 16 conference games and doing so by a 31.6 average margin of victory.
The Owls return seven of 11 starters on the defensive side of the ball that ranked as the No. 3 defense in the nation last year and held opponents to 278.7 yards per game and 18.7 points per contest.
The offense will look to keep on rolling with eight starters returning from a team that led the country in rushing at 342.4 yards per game, while ranking No. 1 in the nation in passing yards per completion.
Kennesaw State opens the season Feb. 27 against Shorter University, before hosting Charleston Southern March 13 in the Big South Conference opener. Single-game tickets to all four home games this spring are available by clicking here.
Via: KSU