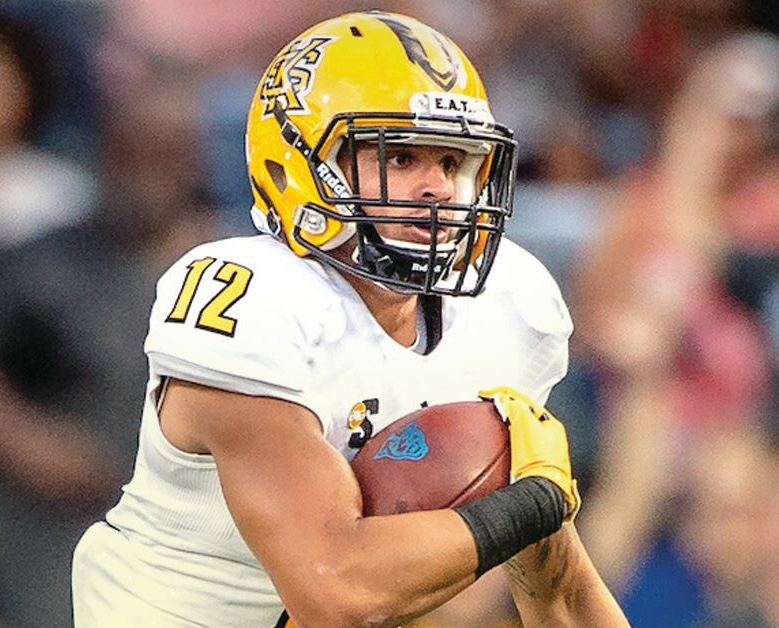 The former Chattooga standout suffers a severe leg injury in the third quarter of Saturday's game against Presbyterian.
Kennesaw State running back, Isaac Foster suffered a severe left leg injury in the third quarter in Saturday's game against Presbyterian. The Owls went on to win the game 55-10.
The injury happened when Foster fielded a punt at the Owls 38 yard line, he bobbed, weaved and powered his way through the defense until he got to the Presbyterian 5-yard line, where he was tackled and then the defender fell on Foster's left leg.
A cast was placed on Foster's leg before he was helped off the field and onto a cart to leave the field.
The result is a clean break and he will be out an estimated 6-8 weeks. There is a chance that Foster may be back for some playoff action depending how quickly he heals and how for of a playoff run the Owls make.
Foster's senior season at Chattooga High School saw him post 1627 yards on the ground with a team-leading 17 touchdowns. Going into the third round of post season play, Foster's resume included a staggering twelve 100+ yard rushing games and one 200+ yard game. In one game, Foster only carried the ball four times but scored on every carry. 
Following a redshirt season, Foster has become a steadily increasing element of the Owl offense and special teams, being featured on ESPN's Top 10 plays recently with the #7 play of the week on his 74-yard score enroute to a 183 yard rushing performance. Foster's two 100 yard kickoff returns last season as a redshirt freshman cast him into the national spotlight.
So far this season Foster has rushed for 506 yards on 34 attempts, scored four touchdowns, averaging 14.9 yards a touch and his longest run has been a 75 yard sprint.
On special teams Foster leads the team with six returns for 112 yards.