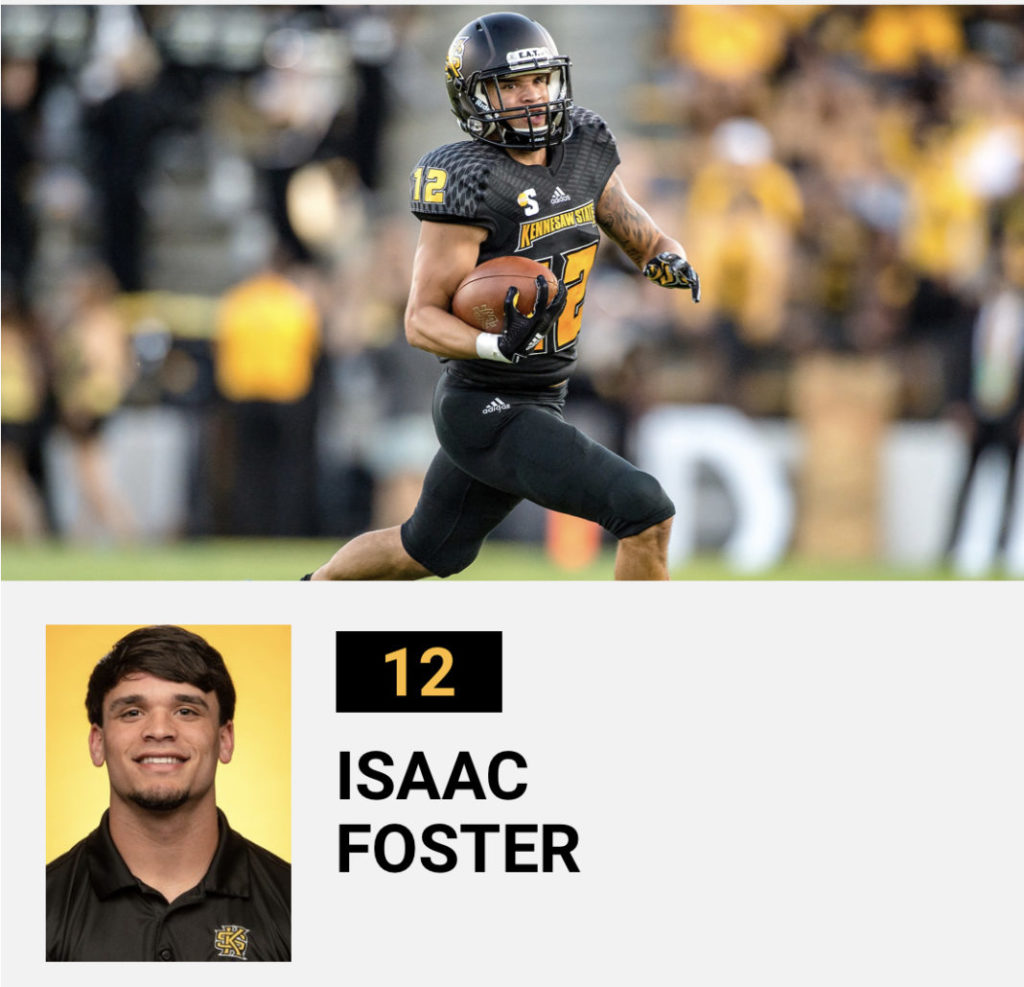 It can be difficult to standout on a Kennesaw State University team that saw 16 different players post rushing yardage in Saturday's 59-0 home-opener victory over Point University, so sophomore Isaac Foster focuses on being prepared to help his team whenever called on.
Seizing the opportunity on his three carries, the Kennesaw State Owl rolled up 22 yards for an impressive 7.3 yard average and tacked on a 4-yard reception for added measure.
But again, it was his fleet-footed return skills that put him in the spotlight as he took back the Owl's sole kick off return and went 54 yards back across midfield. Foster was one tackler away from his third special teams touchdown after posting not one, but TWO 100-yard kick off returns for touchdowns last season.
Foster's 2018 KSU season recap: 
Foster exploded on to the FCS scene in 2018 and ended as the 2018 Big South Conference Special Teams Player of the Year, Freshman All-American as a return specialist and 1st team All Conference.  He led Kennesaw State with 164 punt return yards on 20 returns and finished second with 272 kick return yards on seven attempts.
Foster etched his name in Big South history after he recorded two 100-yard kickoff returns for touchdowns. Foster had an electric year as the freshman became the first player in league history to record two 100-yard kickoff returns for touchdowns in the same season. He is the only FCS and FBS player in the nation with two 100-yard kickoff returns for TD's during the 2018 campaign.
Foster also made waves returning punts, returning 20 punts for 164 yards to rank No. 28 in the nation at 8.2 yards per attempt.
Foster's accolades come as no surprise to anyone in Chattooga County and his stellar performance in the loaded Owl backfield has placed him on the national map. Foster was an all-star dual threat running back and quarterback for Chattooga High School. Foster finished his career as the all-time leading scorer at Chattooga with 336 points, while racking up 3,243 yards on the ground during his tenure.
Chattooga Alumni Isaac Foster was also named to the the Big South Conference announced its 2018-19 Presidential Honor Roll.
The Owls will travel on Saturday, September 7th to take on Kent State at 12 p.m., the game will be shown on ESPN3
The next home game at Fifth Third Bank Stadium will be on Saturday, September 28th at 6 p.m. as KSU takes on Reinhardt. The home game will be shown on ESPN. 
Season tickets are currently on sale and can be purchased by clicking here.