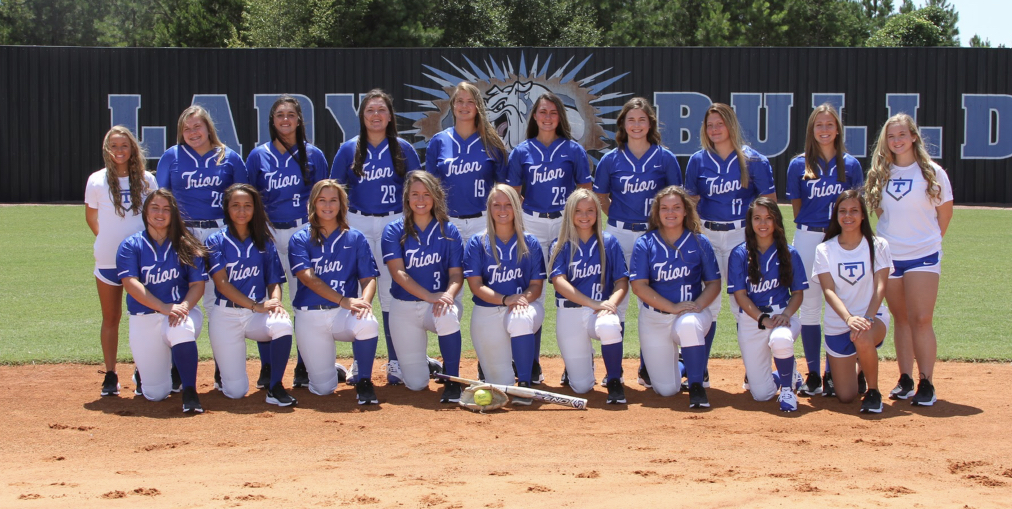 Five runs batted in from Gracie Burns helped lead Trion Softball past Dade County 9-1 on Thursday. Burns drove in runs on a sacrifice fly in the first and a grand slam in the fourth.

"It was a great start to our season against a quality Dade County team. We got a strong pitching performance from Whitney Shepherd as expected and got some timely hits from Carlock and Burns. We will continue to fine tune our game working on the little things, to make sure when its time we can do the big things," Head Coach Jason Lanham said.
The Lady Dogs secured the victory thanks to six runs in the fourth inning. The offense in the inning came from singles by Emma Witt and Jenna Mosley and a home run by Burns.
Trion got things started in the first inning when Shelby Carlock doubled on a 0-1 count, scoring one run.
The Lady Dogs put up six runs in the fourth inning. Witt, Mosley, and Burns powered the big inning with RBIs.
Whitney Shepherd was in the circle, she went five innings, allowing one run on three hits, striking out four and walking one.
#20 was on the rubber for Dade County. She surrendered nine runs on 11 hits over five innings, striking out four.
Trion tallied 11 hits in the game. Carlock, Chloe Murdock, and Burns each collected multiple hits. Burns, Murdock, and Carlock each had two hits to lead the team.
#6 went 2-for-2 at the plate to lead Dade County in hits. Dade County was sure-handed in the field and didn't commit a single error. #12 had the most chances in the field with two.
Trion has seven returning starters and is anchored by one of the best Class A batteries in the state, Pitcher Whitney Shepherd and Catcher Shelby Carlock. They are joined by SS-Jenna Mosley, 3rd Baseman- Gracie Burns, CF- Jodie Henderson, LF- Bailey Coker, and RF- Chloe Murdock.
The lady dogs both new and old have worked very hard in the off in the off season, lifting weights, playing travel ball, attending camps and doing voluntary workouts to make sure the 2019 Softball Season will be a success, according to Lanham.
"This shows our Bulldog Tough mentality that goes hand in hand with our team motto "Don't hope for it, Work for it!! This team is a great mix of young ladies with talent spread across the board and I look forward to coaching them this season," Lanham said.