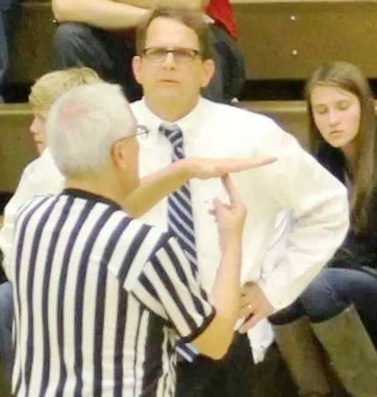 For the third time in as many decades, the Trion Bulldogs have turned to Coach Lanny Thomas to fill a leadership need on the hard court. And this time, he won't be alone. "We are extremely excited to bring the coaching combo of Lanny Thomas and Lamar Turner to our boys basketball program, both these men have had tremendous success in their past coaching ventures and are very well thought of in the basketball community. We look forward to watching the program grow under their direction," Athletic Director Jason Lanham said.

Thomas began his coaching career in 1988 at Chattooga High School as an assistant under Coach Lamar Turner. In their very first season together, Turner and Thomas led the Lady Indians on a State Championship run. The following season, Thomas moved on to his Alma Mater, Lafayette High School, for the next chapter of his career.
In 1989, Thomas led the Ramblers to the 7-AA Region Championship and was named Chattanooga Free Press All North GA Coach of the Year and Chattanooga Times All-Tri-State Coach of the Year in 1991.
Thomas was then hired by Trion High School in 1992 and, for the next four seasons, led the Bulldogs. After being away from the sport for a while, Trion eventually brought Thomas back in 2005. Trion went on to win the 6-A Region Championship in 2007 and Thomas was again named Chattanooga Free Press Coach of the Year.
Thomas resigned from coaching in 2014 with an illustrious career and over 200 wins.
The third time is a charm…
When 2018 head coach, Levi Hatcher stepped down to focus on his young family, new Trion Athletic Director, Jason Lanham knew just the man to fill the leadership void for the Big Blue. Thomas was lured out of retirement to coach the Bulldogs one more time.  "I look forward to getting back into coaching here at Trion. When I retired, I had no idea I would return. I would like to thank Athletic Director Jason Lanham and Principal Bryan Edge for allowing me to continue doing something I love." said Thomas.
The return of dynamic coaching duo of Thomas and assistant coach Lamar Turner will be exciting for Northwest Georgia basketball fans to watch.
Thomas will be taking over for Levi Hatcher who led the Bulldogs to a 17-12 season last year and an appearance in the Sweet Sixteen. "Coach Hatcher has stepped away to spend more time with his family," Lanham said.  "I hate that Levi will be leaving as head coach but I understand his reason. He has been a huge part of Bulldog Basketball as a player and a Coach. He was a major contributor to the 2007 Region Championship team. This program will miss him," said Thomas.
Justin Gentry will be taking the reins of Trion's girls basketball program, Coach Gentry is a long time assistant coach at multiple levels. "We are excited about the energy and enthusiasm he will bring to our girls program, we thank Coach Gaylon for his time at Trion and for helping rebuild the girls team," Lanham said.