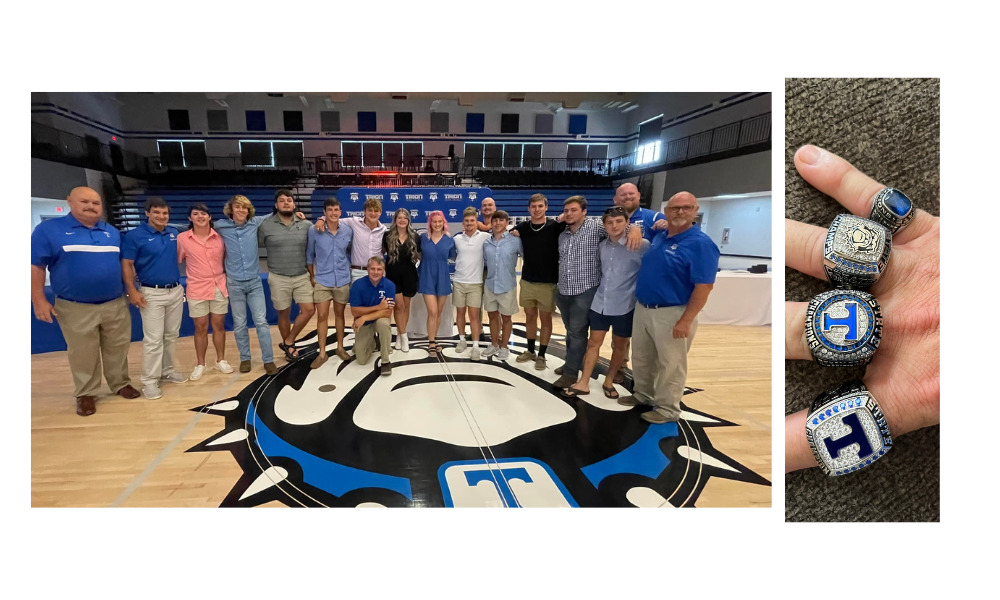 Trion Wrestling had a season for the history books that may stand the test of time. The team was called the Dream Team and all Bulldog  fans saw dreams come true as Trion claimed two team State Championships, the 1A Dual State Championship the 1A GHSA Traditional Wrestling State Championship.
The 2021-2022 Season Stats went like this… a record of 39-1.
Thanksgiving Duals Champion
Carrollton Trojan Dual Champions
Smoky Mountain Dual Champions
Clash at the Creek Runner-up
Rockmart Invitational Champions
Area Dual Champions
Dual Preliminary Champions
State Dual Champions
Area Traditional Champions
State Traditional Champions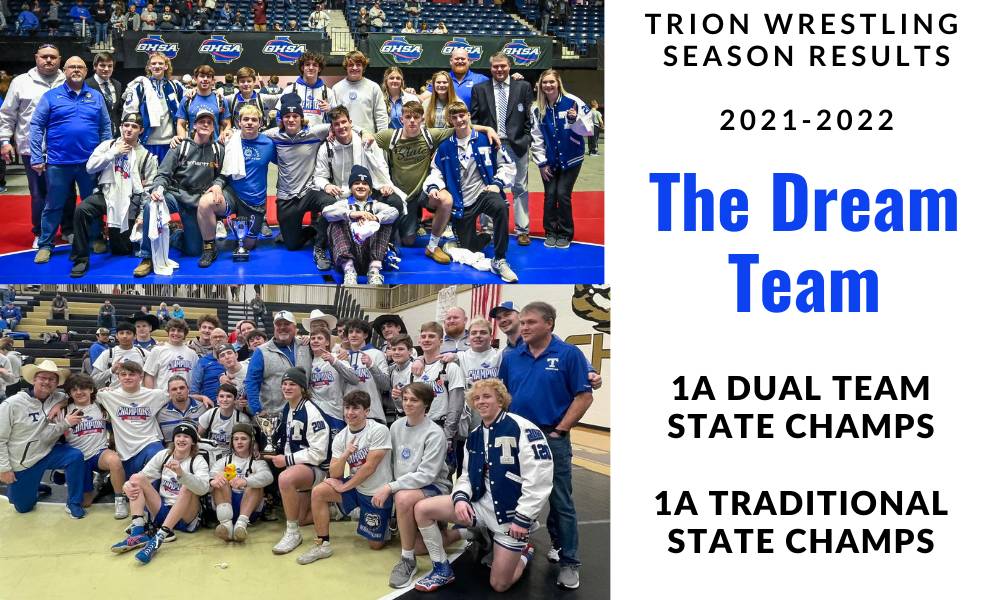 The team recently gathered to hold the end of season banquet and once again to celebrate the team and individual achievements.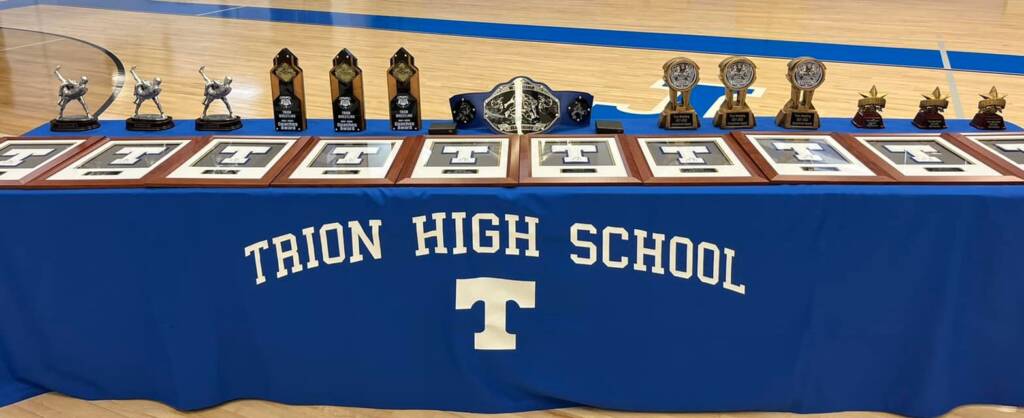 Awards included:
National Wrestling Coaches Association and The United States Marine Corps Character and Leadership
All American Award
Blaydn Bowman and Logan Eller
FCA Wrestler of the Year – Blaydn Bowman
Positive Athlete Award – Logan Eller
Georgia Wrestling Coaches Association Academic Achievement Award
Cohen Blaschke, Blaydn Bowman, Logan Eller, Gus Hames, Toby Maddux
National High School Coaches Association Academic All-Americans
Cohen Blaschke, Blaydn Bowman, Brantley Willbanks, Gus Hames, Crawford Lee, Jason Jenkins, Logan
Eller, Logan Potts, Toby Maddux
Most Improved Award – Carter Jackson
Building Champions On and Off The Mat Award (display the 7 core values for the wrestling team)
Logan Potts,Jason Jenkins, Seth Huskins, James Willingham, Alan Paiz, Braden Floyd, Linkin Farrar,
Jackson Drennan, Blayke Stowe, Zach Sharp , Kaleb Park
Uncommon Award – Crawford Lee, Andrew "Texas" Jones, Cohen Blaschke
Coaches Award – Bryce James, Blaydn Bowman, Gus Hames
Most Outstanding Wrestler – Toby Maddux, Logan Eller, Brantley Willbanks
Hammer Award – Daegan Vaughn (career record 127-21)
Four wrestlers passed the 100 career wins this season: Daegan Vaughn, Bryce James, Logan Eller and Brantley Willbanks
David "Mutt" Helms Wrestling Scholarship – Alyson Jones
Receiving Individual State Rings – Toby Maddux, Brantley Willbanks
Senior Awards
Alyson Jones, Macey Harris, Connor Deparlier, Bruce Ramirez Kaleb Park, Riley Blackwell, Jackson
Drennan, Linkin Farrar, Daegan Vaughn, Bryce James, Blaydn Bowman, Brantley Willbanks, Zach Sharp
Career team stats
High School Team Record 120-14
Middle School/High School Team Record 189-26
3X NGAC Champions
4X Area Duals/Traditional (Part of a 7 year streak)
3X State Champions Duals/Traditional
3X State Runner-up Duals/Traditional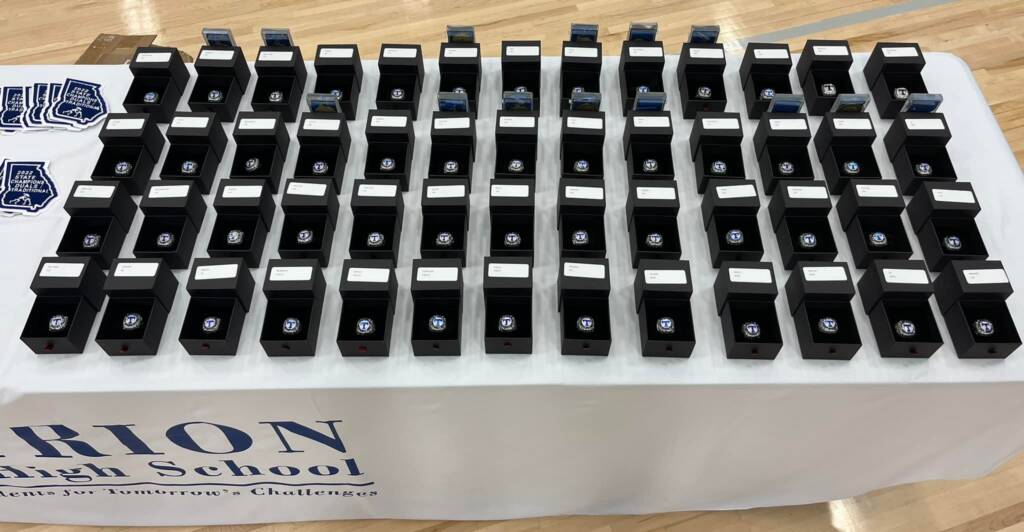 The Bulldogs receiving State Championship rings included:
Dr. Phil Williams
Jason Lanham
Coach Eric Brock
Coach Derek Murdock
Coach Dwayne Tinney
Coach Dustin Thrasher
Coach Dean Hollis
Coach Adam Cordell
Racheal Trundle – Athletic Trainer
Managers
Alyson Jones
Macey Harris
Mollie Edge
Sarah Brook
Wrestlers
Brandon Ramirez
Zeke Sebastian
Landon Dixson
Caden Watson
Dillard Stricklin
Ethan Moon
Price Wilson
Jon Mendez
Connor Harris
Jerod Ford
Cameron Durham
Brock Payton
Alan Paiz
Riley Blackwell
Braden Floyd
Brayden Broadrick
Logan Potts
Jason Jenkins
Daegan Vaughn
Seth Huskins
Crawford Lee
James Willingham
Andrew "Texas" Jones
Blayke Stowe
Bryce James
Gus Hames
Carter Jackson
Conner Deparlier
Toby Maddux
Cohen Blaschke
Linkin Farrar
Jackson Drennan
Blaydn Bowman
Lane Harris
Logan Eller
Brantley Willbanks
Zach Sharp
Kaleb Park