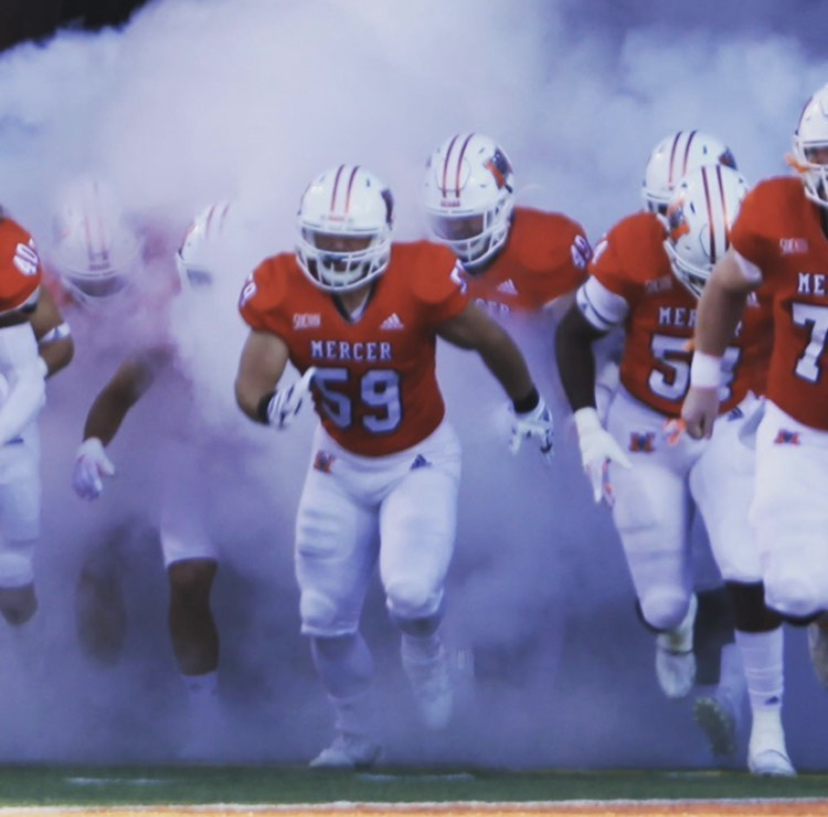 Head Coach Drew Cronic was brought to Mercer to change the attitude about football and to create a culture of winning on and off the field. And he may be just the man for the job.

After two stops in his head coaching career, Cronic demonstrated that he can win at any level. And winning he has done. On the NAIA level, Cronic led the Reinhardt Eagles to a 22-3 record in just two seasons with a 3rd place finish in his second year. Jumping to the NCAA D2 level at Lenoir Rhyne, Cronic then went 25-3 over the next two seasons, finishing 4th . Four Top-10 rankings and a 47-6 record opened the door in Macon, Georgia where the Mercer Bears have been looking to elevate football to the same demanding standards as the academic program on campus.
Cronic's first season in Macon with the Bears coincided with the arrival of Offensive Lineman, Clay Baker, the former Bulldog from Trion High School. Baker arrived on campus in 2020 amidst a sea of change and, after a 5-3 finish in the FCS's brutal Southern Conference, where the Bear's finished 4th , Mercer surged to a 7-3 record in 2021 claiming the #2 spot in the region and are now in the preseason Top 20 heading in to 2022.
Baker's intellect and small-town work ethic have served him well and put him in a position to earn significant playing time following the departure of his mentor and role model, Jason Poe. The 2022 graduate is now on a free-agent contract with the San Francisco 49ers. At 6'1" 280 lbs., Poe taught Baker that size is just one factor in snatching some attention from NFL scouts. Baker served as Poe's primary back up during the 2021 campaign. "We were together a lot at practice, and he showed me a lot of great techniques as a smaller Lineman." But Baker is no longer a "smaller lineman" as he credits "…an amazing strength staff that came in last year and increased everyone's weight and lowered all of our body fat percentages."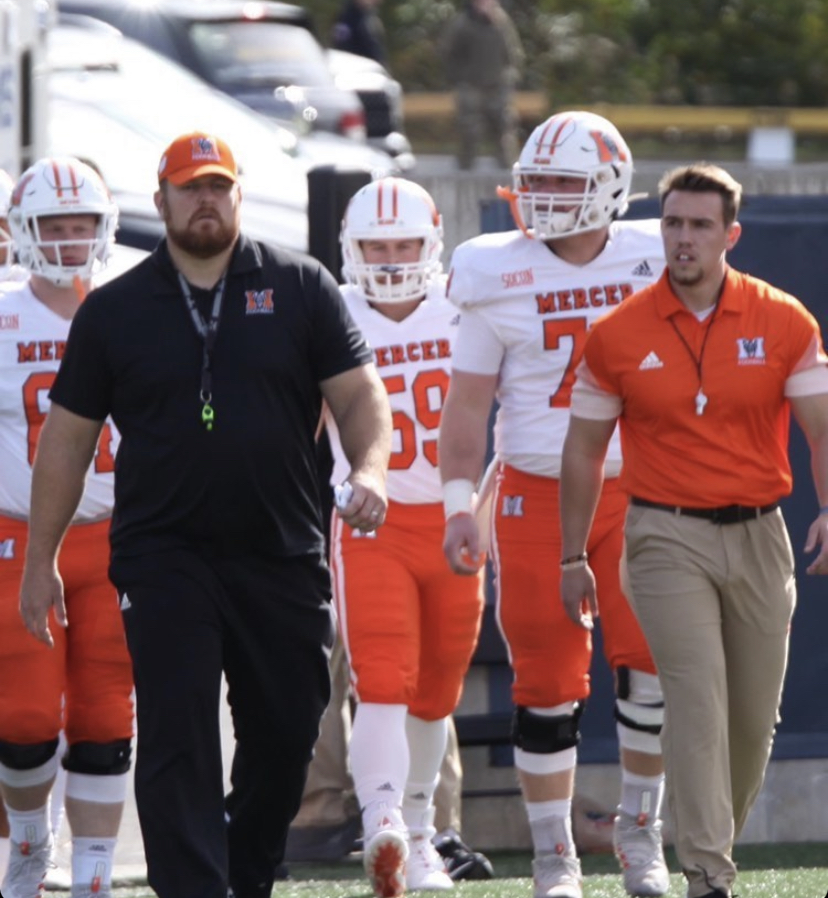 Baker packed on 45 pounds of muscle and, at 5'11" 265lbs, is now a force in the weight room and on the field. "My current maxes are 515 on squat coming off a high ankle sprain in the spring scrimmage, 455 on bench, 300 on clean, and a 40 time of 5.12" All numbers worthy of a second look by NFL scouts. Baker reports to campus for Fall Camp on July 29th but is enjoying a summer at home through a trust program that allows players with a high GPA to earn the right to conduct their offseason workouts off campus.
"Our coaches have it set up for guys that they can trust and have a high GPA can stay home over the summer, but we have to send videos of our workouts from our program." Baker said the program has been great and coaches also "FaceTime to check on us once a week." This gives coaches more time to focus on players "that aren't as accountable or need summer classes for GPA boost."
The summer workout program, according to Baker, has been "very rigorous. It's four days a week lifting, with four conditioning and agility workouts each week as well." In addition, players had "two position-specific drills, such as steps and single man sled drives for offensive
linemen." Baker and the Bears report to camp on the 29th where they will conduct a two-week session with six days per week including: three days of lifting, two meetings daily (one for positions and another for the entire team), followed by nightly walk-throughs. "So, it's nonstop football for two weeks with team building activities after devotions on Sundays."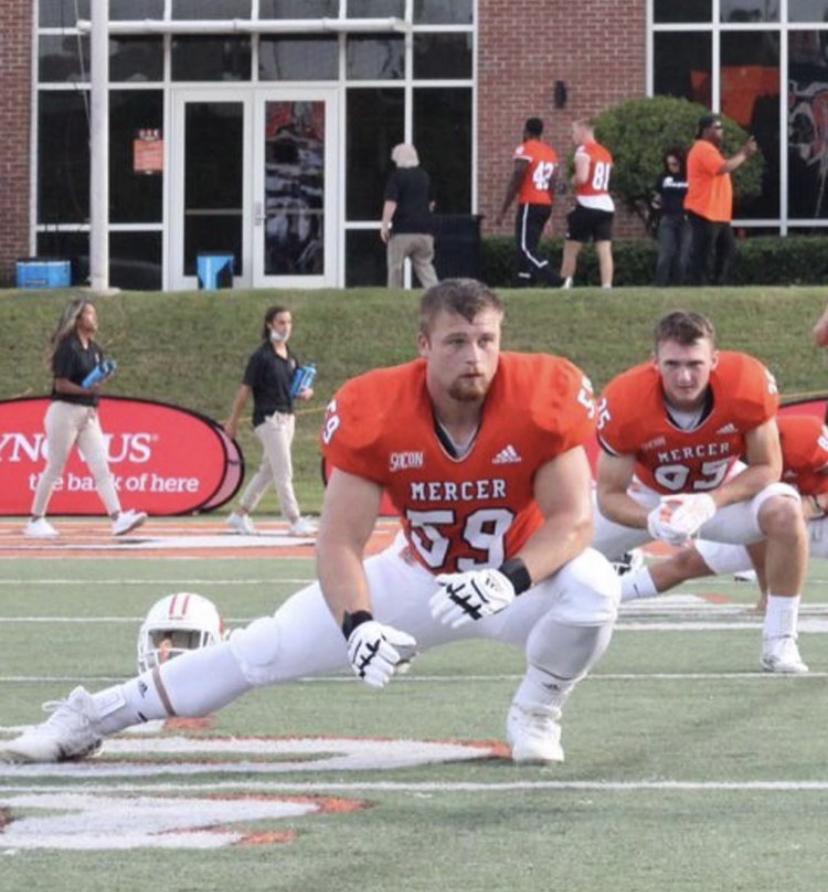 All this football work has been focused on Baker's primary personal and team goals for 2022-23. Baker is committed to "earning meaningful playtime on the OL as well as winning the SoCon conference as a team."
The Bear's 2022 season schedule is one of the most loaded in the FCS division. For Baker and his teammates, Week 2 looms large. "Of course, I have the Auburn game circled just for the fact that is our big SEC game, but coach Cronic has compiled one of the toughest schedules in the FCS for us this year."
The Bears finished 2nd in the SoCon last season, and it will be a battle to match that accomplishment this year. "Our conference is very tough with very high-profile players from each team so every week will be important for us this season." Mercer will face off  against a slate of FCS opponents and then the SEC West powerhouse, Auburn Tigers.
Off the field, Mercer is widely respected for the academic rigors, earning the schools seventh consecutive Barrett-Bonner Award. This award is given to the SoCon institution that places the highest percentage of its student-athletes on the league's academic honor roll. Mercer placed 78.5% of its student-athletes on the Southern Conference Honor Roll. This means that academics are a priority even for athletes.
Baker said, "keeping my GPA up is challenging. We, as a team, have study hall for at least four hours a week." The academic workload can be overwhelming to new players, but Baker sports a 3.3 GPA, and "I've made the All-SoCon Academic team both years so far." Baker is earning a dual major in entrepreneurship and supply chain management and Baker says that "the courses at Mercer are some of the hardest in the country and athletes have to spend all our time outside of our sports on studies."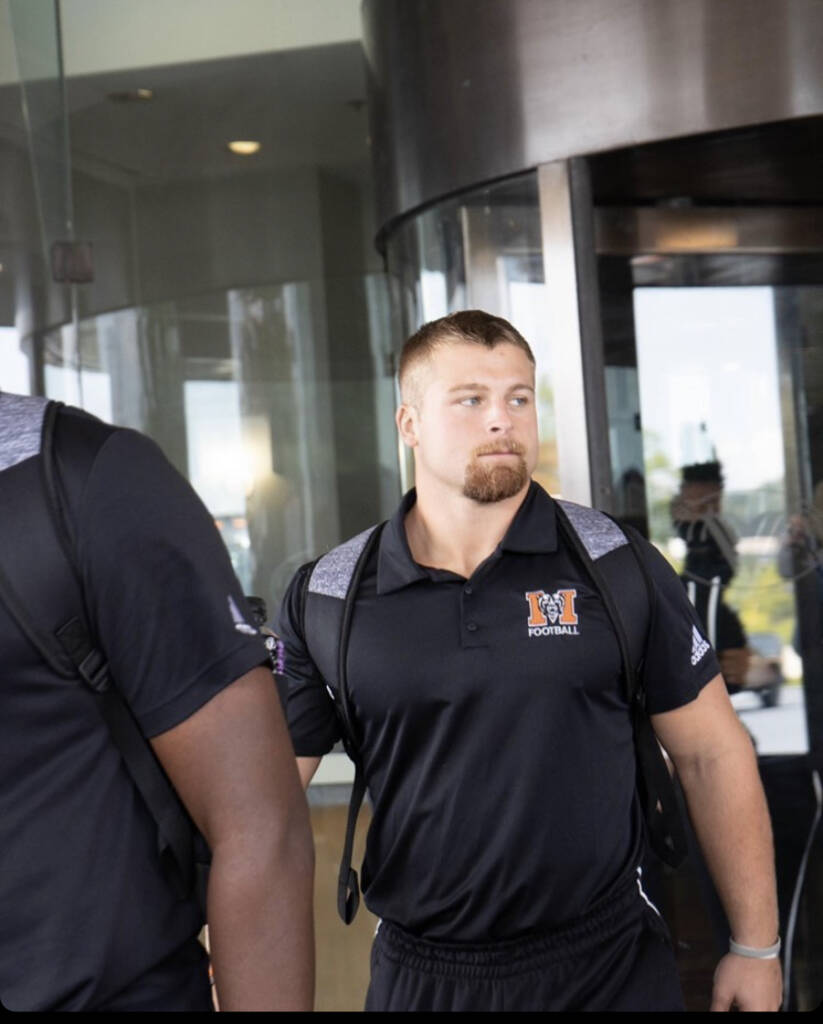 One of the team achievements that Baker pointed out as notable is that "since Coach Cronic has been at Mercer, we have kept a Team GPA above 3.0, which is very impressive." It is likely even more impressive that Baker counts this as one of their top accomplishments. The team atmosphere is critical at Mercer for changing their culture and attitude. Baker feels that his teammates "…are truly like a family. We can be fighting at practice, then all go eat at the cafe as soon as practice ends. We spend a lot of time together and we all trust each other." But Baker says this culture is more than just a football thing and that, "… at Mercer, winning is everything. And it's starts from the top down. Our president and AD are at every game on the sidelines and make sure we have the nicest facilities and best equipment for the FCS." Baker and the Bears have bought in to the Cronic method and says his coaches and administrators "have
emphasized that, at Mercer, whatever we do, we do to win."
Sharing his experiences with the next generation of athletes is a big thing for Baker. "My advice to younger guys is just work hard stay in the weight room and practice field as much as possible. Also, stay on top of grades! A high GPA will go a lot further than athletic ability."
Baker has adapted to the routine of college football and knows what coaches expect of their players and what he demands from himself. This includes hours of film, critiquing their own practices, reviewing playbooks "because our offensive schemes change each week depending on our opponent" and that his position coach, Coach Bodine, "expects us to watch opponent film own our own, so we spent at least 30-45 minutes a day on our own watching film."
Baker pointed out a difficult truth about being at war in the trenches of the gridiron. Foroffensive linemen, there is seldom glory, and the only recognition usually comes on the heels of a mistake or failure. "Being an OL at Mercer, or anywhere, is hard. There's no stats and we only get noticed when we miss a block. But at Mercer, we are like a team within a team. We are our own family. All my best friends on the team are O-linemen and we all know each other better than anyone else on the team." That bond doesn't just link the players. Offensive line coach, Bob Bodine, who is also the Offensive Coordinator, makes sure his players know that he is there for them on and off the field. "He has just the O-linemen over to swim at his house a few times during season…" and Bodine makes sure to room his linemen together as much as possible to reinforce those bonds. Says Baker, "We all know each other's strengths and weaknesses and can play beside each other because of that."
This level of trust and closeness could give the Bears an edge this season. It certainly gives them confidence. "Our Offensive Line calls ourselves B.W.A. (Bears with attitude). We have shirts with it on them and it's our thing for our team within a team."
Baker hopes to see crowded stands during home games this year and pointed out that Mercer has jumped to #28 in attendance in all of FCS last year. This surge in support is directly tied to success on the field and Baker says, "we expect to be in the top 20 this year. We are preseason ranked 19th nationally and expect to compile one of the best records in the most challenging FCS conference this year." With Mercer's first ever consecutive winning seasons with a full FCS schedule, Baker and the Cronic Bears are set to be a national contender and Clay Baker is proud to be a part of the team that "completely changed this program into expecting to win."
2022 Football Schedule