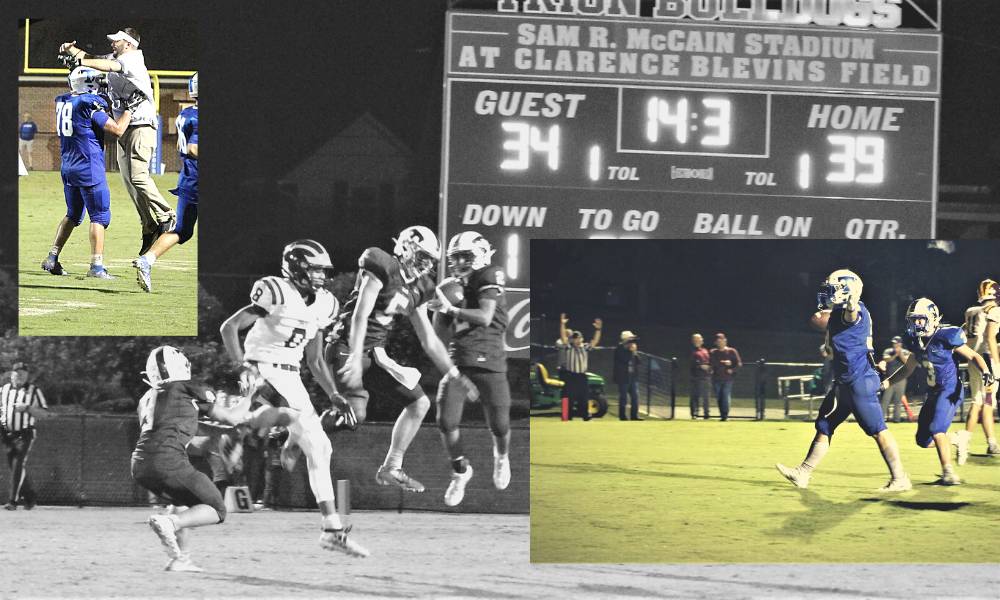 The significance of one win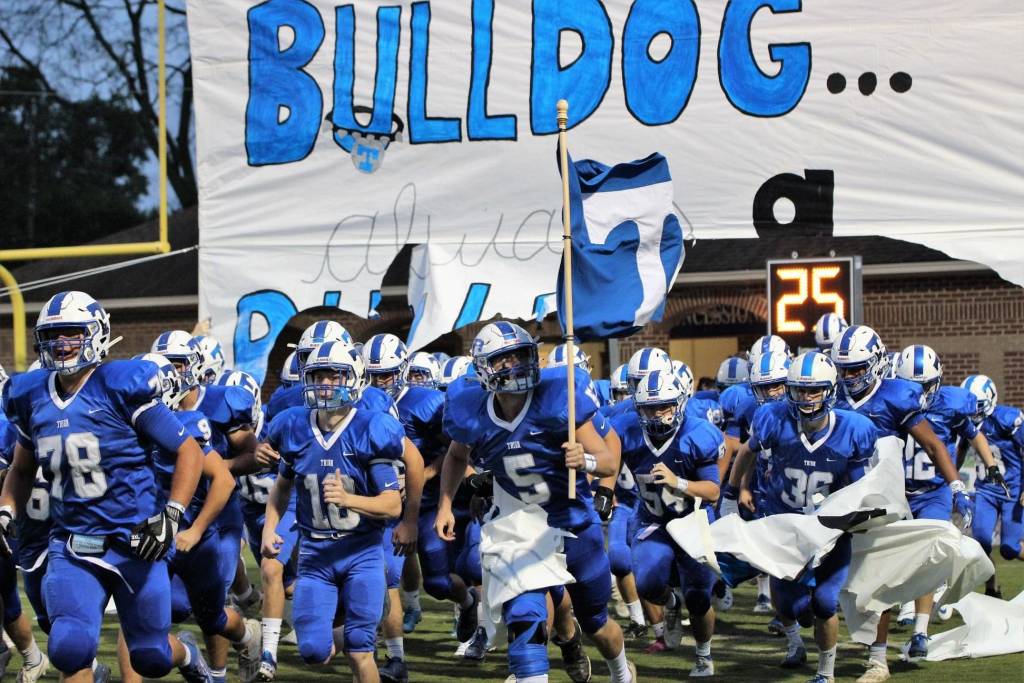 It had been 359 days since Bulldog Nation had celebrated a victory on the gridiron.  The seven game losing-streak ended Friday night as Trion defeated Dade County.
After losing 45-51 to Coosa and being shut out 31-0 by Model in its first two football games this season, the Trion Bulldogs rallied together to defeat Dade County, 39-34, on Friday night.
The victory was Sean Patrick's first win as the Bulldogs head coach. "I was just so happy for our kids. They deserved to have success. It was so much fun watching them celebrate and being excited about what they had accomplished. It was cool to see my family's reaction after the game. Heck, I think my wife was more excited than I was. I had a lot of people from my past call or text me this weekend to say congrats so that was nice," Patrick said.
Congratulations to Trion's Head Coach Sean Patrick on his first win. The Bulldogs defeated Dade County 39-34.

Posted by All On Georgia – Chattooga on Friday, September 25, 2020
The game was a hard fought battle. Dade fought through the air with the accurate arm of Makinley Everett who went 28 of 39 for 298 yards with five passing touchdowns. The Bulldogs answered on the ground with five touchdowns on 341 rushing yards. Running back Rob Brown rolled up 158 yards and found the pay dirt twice. Brantley Wilbanks had 90 yards rushing with two touchdowns. Bulldog quarterback, Connor Deparlier had 70 yards rushing and two touchdowns and added another 23 yards in passing.
"We beat Dade County because our players battled and competed. They never laid down or felt sorry for themselves. Coach Gable and the defensive staff made some really good in game adjustments that were huge for us. We did some different things coverage wise that Dade had a hard time adjusting to. Offensively, we were able to run the ball and control the line of scrimmage. For us to be successful, we have to run the football. We just told our kids at halftime to compete, compete, compete. Play for one another and compete. If we do that, the scoreboard will take care of itself."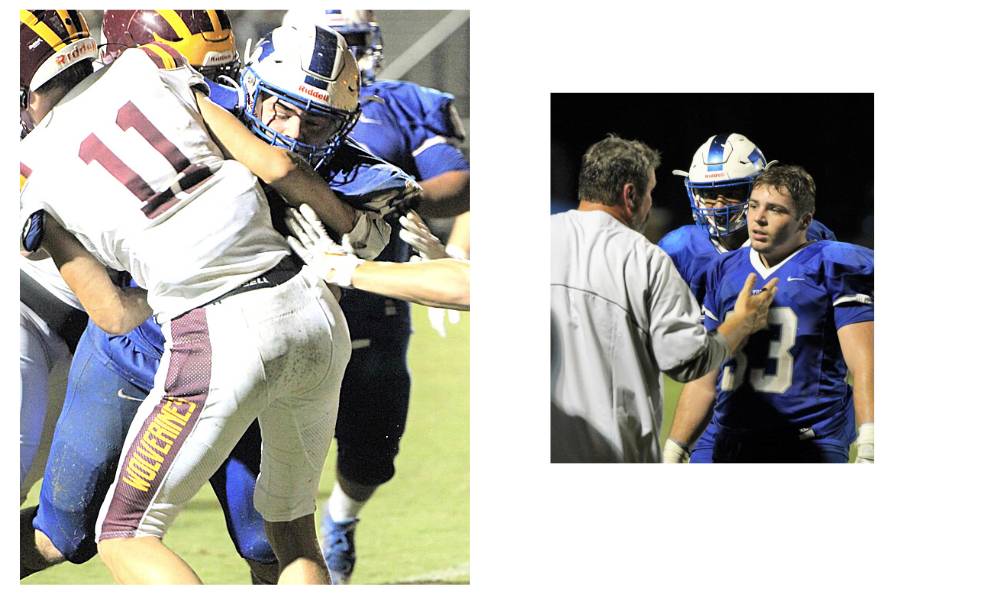 A seven game losing streak is not something familiar to Bulldog Nation, in fact the team's last win came on October 4, 2019 against Mount Zion, almost a full calendar year ago. "We needed to win. It was time. For our players, winning validated their hard work. But we can't be satisfied with that. We have to continue to improve each week to get where we want to be. There is a lot of work to be done, and our players and coaches know that. But winning Friday night definitely gave us a boost in the right direction," Patrick said.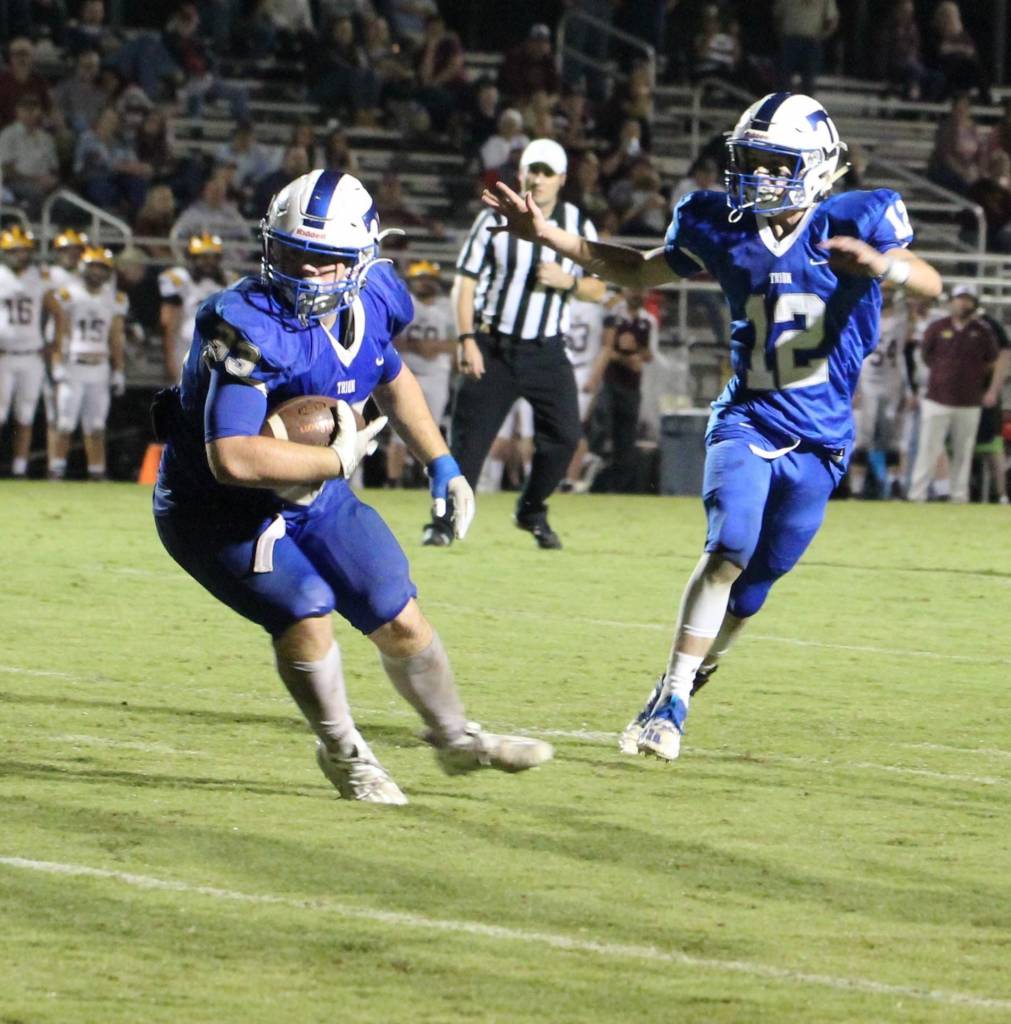 Trion is off this Friday, the Bulldogs will travel to Bowdon October 9th and begin Region play. "Our region is really good. I've seen all of the teams on film and they're all good. They are all well coached and have good players. We'll have to play well each night to compete. Again, we have to continue to improve and avoid complacency. If we're able to do that, then hopefully we'll have a little say in what happens in the region," Patrick said.
AllOnGeorgia asked Coach Patrick to tell our readers a little more about him:
Tell us about your background and how that has shaped you, from a child through college and your coaching career. What made you decide to be a coach? "My family has always been amazing. They've pushed me and challenged me to always do my best. They've loved me and encouraged when things didn't always go well or the way that I envisioned. I've always loved football, and realized at a young age that I better learn the game if I wanted to stay in it because I wasn't very good at playing it. I began coaching at ECI in 2006 when I was in college. I spent the bulk of my college years coaching high school football. I've been extremely blessed to work for and with some outstanding coaches. Guys like Milan Turner, Chad Simmons, Von Lassiter, Stacy Nobles, John Ford, Dwayne Tabor, Howard Ellis, Tucker Pruitt, and I could keep going. These guys have all either won or played for multiple state titles and have done it the right way. They've all put God first and genuinely care for their players. They all believe in building a culture that kids want to be a part of, and winning is a byproduct of that. I'm thankful that all of these guys invested in me and taught me how to conduct myself and my program the right way. Coaching is the platform that God has given me to spread the Gospel of Jesus Christ. Wins and losses are important, they truly are. But I believe that we have a higher calling to spread the Gospel and build young men of character."
Tell us about the difficulties of a new job along with Covid and everything that has gone into this season. "Transition is always tough. Not only on me, but the other coaches and our players. There are new ways of doing things, new schemes, learning people and what drives them, etc. Obviously, Covid 19 has made things more difficult, but that's the hand we were dealt and we'll roll with it. Our players and coaches have done a phenomenal job of overcoming obstacles and not letting Covid 19 be much of a distraction."
What do you and your family think about the atmosphere and community at Trion? "My family and I are very blessed to be at Trion. The community has welcomed us with open arms, which we are very grateful for. Moving can be tough, especially on your family. I stay so busy and have football to occupy my mind so the move didn't really bother me. It was probably a little more difficult for my wife and kids, but the community has done such an awesome job of embracing them, which, again, we are so thankful. My wife is awesome. She is so supportive. She bears a heavy load with our family, especially during football season because I'm gone so much. The community has definitely helped her transition and eased a lot of her anxieties. It was great to finally play at home last Friday night, and the community did not disappoint. What an electric atmosphere!!! It was fun, and our team fed off of the energy. Again, Trion is a special place and we're very blessed to be a part of it."
What would you tell people who aren't familiar with your program or this year's team? What are your areas of concern heading into region play and what is the team doing well? "We are an inexperienced football team and playing a lot of young kids. We're having to learn on the fly. But it is what it is. No one is going to feel sorry for us. We have to focus on us and improve daily. Our kids work, and we are improving. Our coaches do an outstanding job with our players. I can't say enough positive things about the coaching staff."