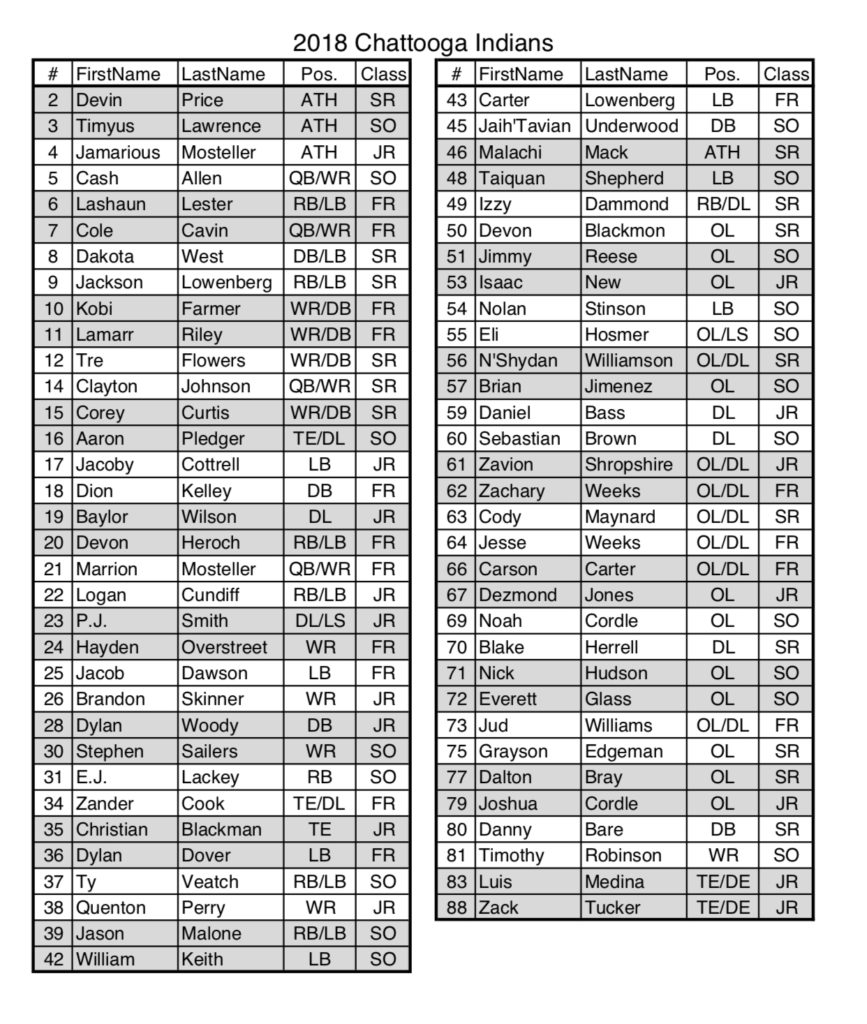 Football in Chattooga County will begin the Fall Season this Friday night, dressed in red jerseys, as they host the Cedartown Bulldogs in a scrimmage game.
Coaches from both teams have agreed to play the scrimmage following a modified regular-game format. While field goals and extra points will be live, there will be no live returns on kickoff and punts. Varsity squads will square off during the first three quarters while the JV and 9th grade teams will split playing time in the fourth quarter.
"Cedartown will be a very good test for our 2018 season. They should be as talented as any bunch on our schedule so I hope we can limit early mistakes, play fast, and be physical," Chattooga Head Coach Charles Hammon said.
Objectives
The Indians' objectives for the scrimmage will be keeping the game competitive. The Bulldogs are a legitimate 4-A powerhouse and Chattooga will be getting some valuable snaps at the quarterback position. With a run-heavy offense, the Indians will attempt to establish control at the line of scrimmage and control the ball. Limiting Cedartown's offensive possessions will be something every opponent will try to do this season so, when they do have the ball, Chattooga will lean on their defense to make big plays and create some three-and-outs.
Offense
Chattooga will be showing a dual quarterback system, with seniors Devin Price and Clayton Johnson both seeing plenty of playing time.
Chattooga has a very physical group of running backs beginning with #31 EJ Lackey. The sophomore had a stellar freshman year and will be looked to for the customary "Chattooga speed." When it comes to all-out power, the Indians have a go-to guy in senior Izzy Dammond. The 250lb fullback is a load to bring down and can blast open holes in the defense as a lead blocker. A new face in the Indians backfield will be freshman, Shaun Lester. The 5'10" 215 lb phenom is a potent combination of speed and power and has the ability to break off chunk plays or grind out short yardage.  Also in the running back stable for Chattooga are elusive speedsters, Timyus Lawerence and Jamarious Mosteller.
Defense
The Indians defense will be anchored by junior defensive end, Luis Medina and standout seniors, Jackson Lowenberg and Malachi Mack. Medina will need support on the defensive line as he looks to be double-teamed in most run packages. Sophomore Ty Veatch and junior Jakoby Cottrell should provide run-stopping support and the secondary will need huge performances from senior cornerbacks, Danny Bare and Tre' Flowers.
Cedartown:
Cedartown finished up 2017 with an 11-2 record (9-1 regular season), in a year that saw them advance three rounds into the state playoffs before falling by just 13 points to eventual State Champs, Marist. Cedartown is a serious contender to improve on their 2017 2nd place finish in Region 2-AAAA as they wrapped up last year as the #6 team in the state. The Bulldogs feature two star running backs, All-region standout, #4 Tony Mathis and #2 Kobe Pryor, the younger cousin of Cleveland Browns', Nick Chubb. Head Coach, Doyle Kelley has three players battling for the quarterback position and the scrimmage game should provide ample opportunity for all three to get snaps.
The Bulldog defense operates in a 4-3 scheme and is led by the two running backs, Pryor and Mathis, who play defensive end and outside linebacker.