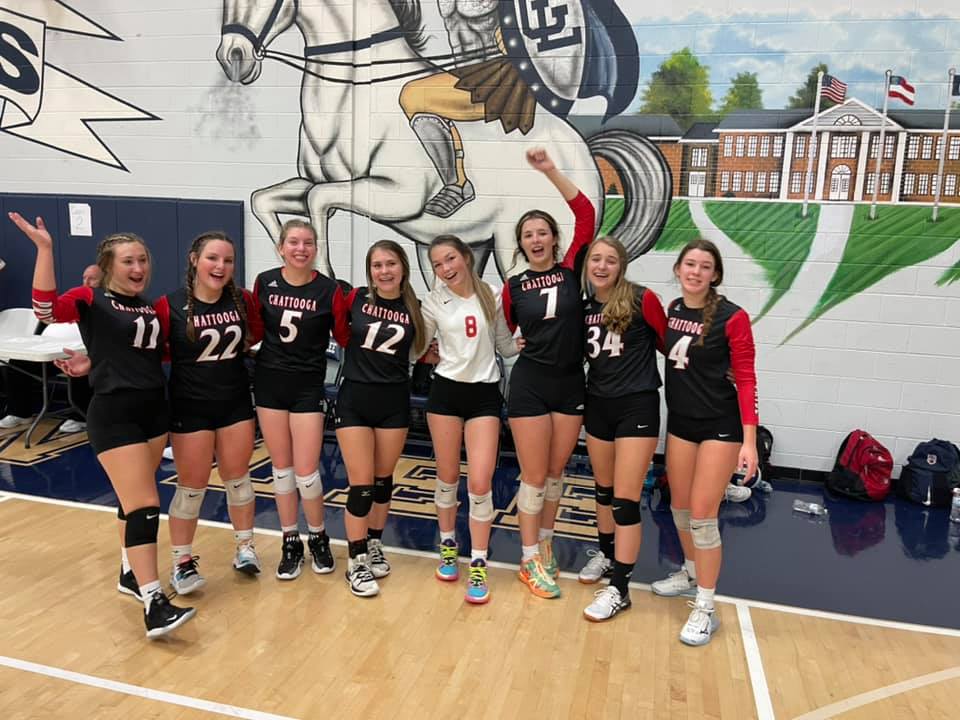 The Chattooga Lady Indians Volleyball team finished 3rd in the Area Tournament last Saturday at Gordon Lee High School. Chattooga defeated Gordon Central 2-0, lost to powerhouse Gordon Lee 2-0 and defeated Fannin County in a thriller, 2-1, to claim 3rd in the Area. The win over Fannin County gave Chattooga its 25th win of the season, a new school record. Chattooga's current record is 25-13.

"I was happy for the girls, they knew last week we were getting close to the record, and they gave it all to get it done," Indian Head Coach Wes Maddux told AllOnGeorgia.  Chattooga finished the week 6-1.
Chattooga is led by senior, Middle Hitter Abby Groce. Groce owns every kills and solo blocks record at Chattooga. "Abby is an offensive weapon, she can take over a match when she gets hot. Unlike most middle hitters, Abby also plays good defense," said Maddux.  "Abby will be tough to replace."
Groce has recorded 319 Kills (school record), 52 Aces, 36 Blocks and 197 Digs this season.
Junior Bailey Thomas plays Libero. "Bailey is a versatile player that can play all positions. Bailey has changed positions twice this season and has never complained to me once. We needed a strong back row player after Emma was injured and she stepped up, it made us a better team when she moved to Libero."
Thomas has recorded 280 Digs, 50 Aces and 423 Serve Receptions.
Junior Faith Yoder plays Middle Hitter. "Faith is our most consistent server and she always come through with a big kill when we need one. She is 1 of 2 players who made all summer workouts, she is a hard worker."
Yoder has recorded 82 Kills, 63 Aces and a 93% serve percentage.
Junior Serenity Swift plays as a Defensive Specialist. "She is a hustler. She has improved tremendously over the course of the season. I believe she has played her best volleyball over the last 3 weeks which has been important to our success."
Swift has recorded 129 Digs and 27 Aces.
Sophomore Joslyn Maddux, who played as a defensive specialist last season, made the move to Outside Hitter this season. "She has given us another offensive weapon to go along with Abby. Joslyn works hard at practice and in the weight room, she goes all out. She is a serious player, hates losing. She made all summer workouts also."
Maddux has recorded 154 Kills, 79 Aces and 250 Digs.
Freshman Libby Mobbs is the Setter. "I put a 14 year-old freshman in probably the most important position on the court. I believed she had the skill set to play the position. There were some rough matches early on for her but I stuck with her, she pushed through and has had a great freshman season."
Mobbs has recorded 455 Assists (school record) 71 Aces and 160 Digs.
Sophomore Rosie Elrod play Outside and Middle Hitter. "Rosie played the first part of the season with the JV to gain experience. I had to eventually move her to varsity to fill a need we had on the front row. She produced big time. She made probably the biggest play in the Fannin match. Fannin was on game point and Rosie made a huge block to tie the match 14-14, we scored the next 2 points to win the 3rd set and match."
Elrod has recorded 45 Kills and 9 Blocks in 26 matches.
Sophomore Kaylan Moseley plays Right Side Hitter. "Kaylan is a player who is always in the right position, covers well. She had some key digs for us in the Fannin match. She played and led the JV this season and worked her way into the varsity rotation."
Chattooga's JV players have also played a major role in this season's success. "They made huge improvements throughout the season. They challenged our varsity every day at practice and it made our varsity better," Maddux said.
JV players are Cathanna Nix, Kalysia Roberts, Katie Hogue, Katie Dillard, Preslee Hurley, Mady Henderson, Elizabeth Patty and Gracie Williams.
"Back during the summer I felt like we had the team to do some special things this season, and we have. We have set team and individual records but what I'm most proud of is how we have faced adversity. We've had injuries, sickness and players leave the team. These girls never flinched. They just kept playing with a "no excuses" mentality. They were not phased at all," Maddux said.
"Our team motto this season is "Finish." I felt last year we had opportunities to win sets and matches but we just couldn't finish teams off. Last year we were 2-6 in match deciding sets, this season 10-3. I am proud of them for that huge improvement. They are learning how to win."
"The only drawback to this season is our heart, our warrior Emma Evans tearing her ACL for the second time. She only got to play in seven matches. Although she didn't get a lot of court time this season, her work ethic and attitude rubbed off on this team and it made everyone better. Without her, we don't reach 25 wins."
Abby Groce made All-Area 1st Team. Bailey Thomas and Joslyn Maddux made All-Area 2nd Team.
The Indians will travel to Atlanta Wednesday, October 20th to face off against Pace Academy in the first round of the GHSA State Playoffs. Match time is 5:30.
3rd ranked Pace Academy has won four straight state championships.