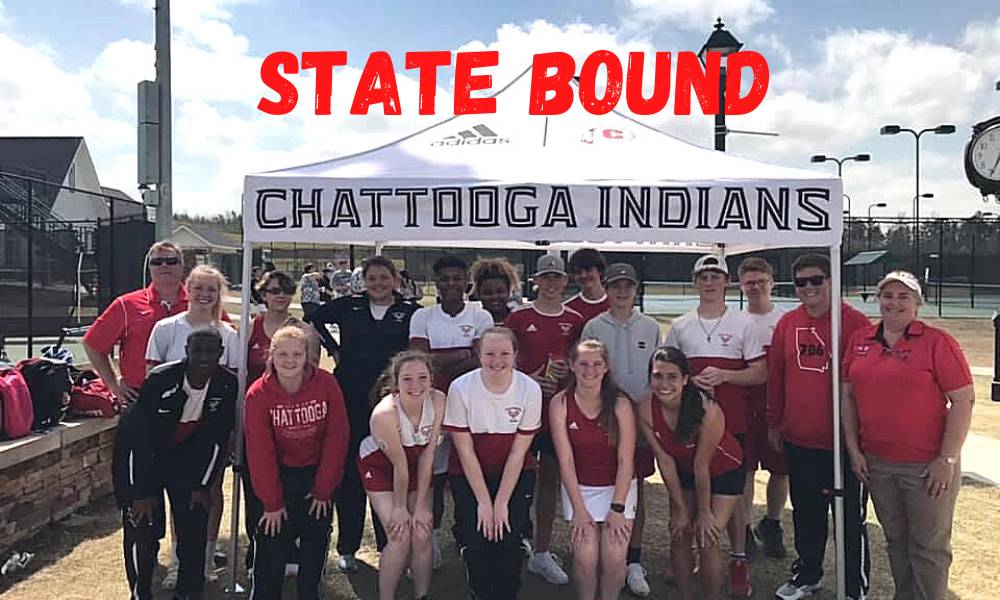 The Chattooga High School boys and girls tennis teams will be advancing to the GHSA 2021 State Championship Tournament.
The Chattooga boys defeated Pepperell, 4-1, in a mammoth underdog upset match.  In the regular season, the Indians had fallen to Pepperell 0-5 and 1-4.
The Chattooga girls defeated Coosa, 4-1 to advance to the state tournament.
"We are so thankful for the hard work and dedication these players have shown these past few years. Last year's season was cut short due to the pandemic. They were crushed.  They turned that heartbreak into victory through continued practice and determination," Coach Stephanie Ratliff said.
This is a first for Chattooga Tennis
"This is the first time we know of that both teams have made the state playoffs in the same year. We do not know if any other Lady Indian team that has enjoyed post-season play.  It is the Indians first trip to state tournament since 2017," Ratliff said.
Chattooga 2021 Tennis Roster:
Boys:
Colin Drawdy
Brody Mobbs
Bowdon Heathcock
Gray Beach
Walt Beach
Desmond Evans
Landyn Cameron
Girls:
Jessica Brown
Lorianna Beech
R. Hanna Smith
Elizabeth Patterson
Pippa Key
Erin Tapp
Jakera McElrath
Natalie Edwards
Savannah Greene
The GHSA Tennis State Championship will be held May 8, 2021 at the Rome Tennis Center at Berry College. Tickets will cost $5.00 and will be sold exclusively on GoFan, no cash sales at site.
Chattooga Tennis still has to wrap up the Region Tournament on Thursday.  The boys will play Fannin and the girls will play Dade, regardless of the outcome, the Indians have secured its spot in the GHSA State Championship tournament.