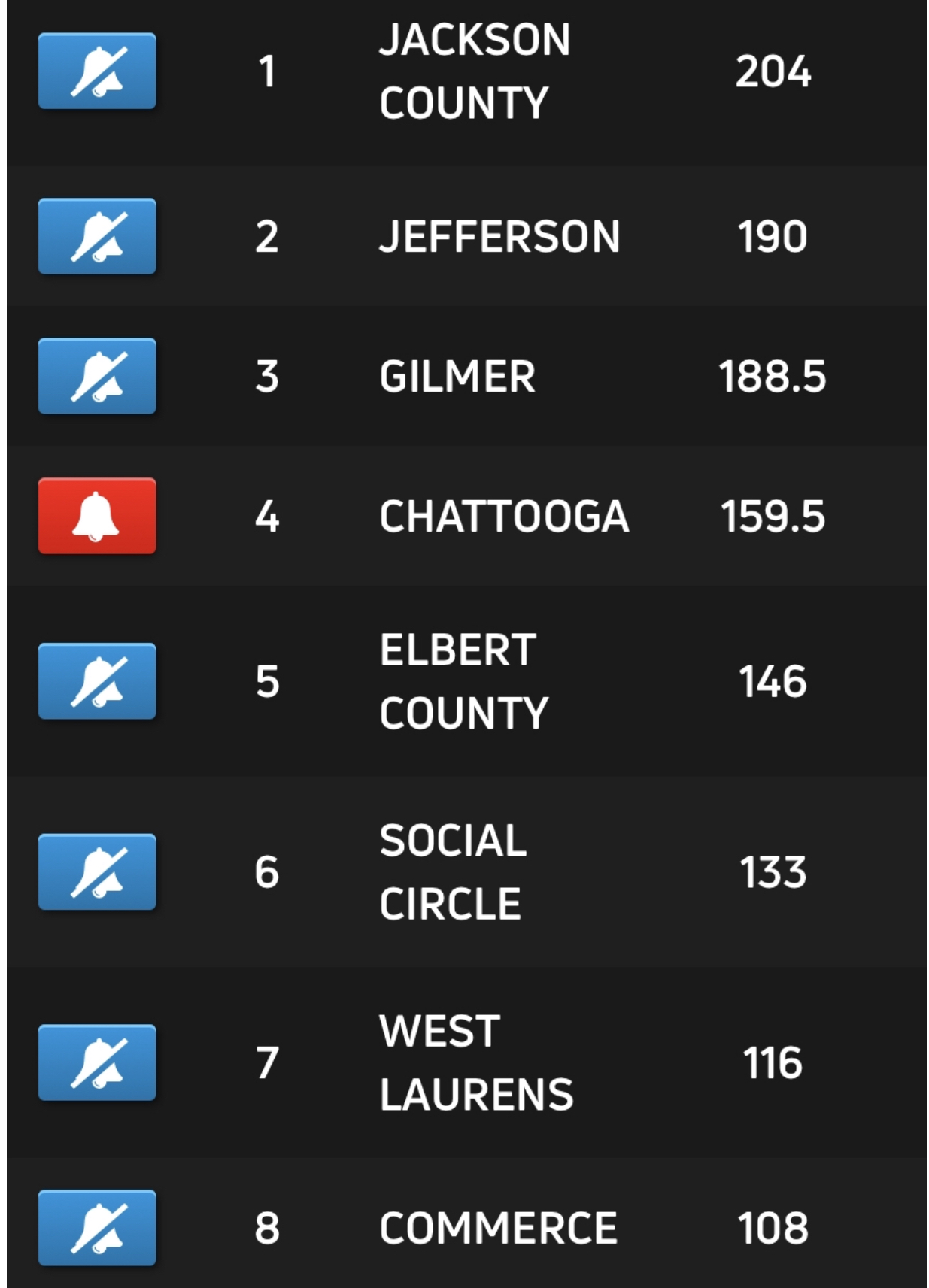 Indians Answer the Challenge
Despite missing several key wrestlers, the Chattooga Indians headed to Jackson County for the Panther Invitational. The individual tournament featured 18 teams and over a dozen defending state champions. From Northwest Georgia, only Chattooga and the Calhoun Yellowjackets made the trip. The Indians took 10 wrestlers and wouldn't be a threat to contend for the top spots against teams with full rosters, but they were eager to see how their athletes fared against other Class AA schools, Social Circle and Elbert County, the defending AA champs and runners up.

Fourth Place Finish is a Win For Chattooga
Winning the tournament was AAA's Jackson County and Jefferson close behind. 4A powerhouse Gilmer took the 3rd place spot and the Indians finished 4th. Chattooga was the highest placing AA team in the tournament. There were no schools with more wrestlers in the finals than Chattooga, and the Indians defeated #5 Elbert by 13 points and #6 Social Circle by 23 points. And they did this without returning state champ Luis Medina on hand, who was making an official football recruiting trip.
Gene Keith, Hector Velez, and Bayln Stephens all fought hard today but missed placing in the Top 6.
Tournament Placers
Ty Veatch (195) suffered a 1-point loss (5-6) to Gilmer's Dylan Galloway, but proceeded to battle back into the conso-semis where he fell to Commerce state champ Elijah Burns and eventually finished 5th after a forfeit over Galloway. Veatch's victories included a Major and a Fall.
Jakoby Cottrell (182) had two Falls before a 4-6 upset to Jackson County's Aiden Giroux but battled back to a 4th Place finish.
Jason Malone (145) was a surprise to many coaches on hand as he missed the state event last season following an injury. Malone was dominate in his performance with two Falls and a Major and his lone loss being a 0-3 defeat to eventual 2nd Place finisher Nolan Johnson of Elbert County. Malone took 3rd Place and added valuable team points for the Indians.
Finalists
Griffin Jarrett (120), Wes Conley (126), Mason Sterner (152), and Alex Mears (220) were all in the Finals, a number that no other team exceeded at the tournament.
Jarrett earned a tech fall in the opening round, followed by a pin of Calhoun's Armando Monroy, setting him up for a face off against Social Circle's State Runner Up, Tyler Snowden. Jarrett pulled off the 2-0 win in the semi finals before falling to AAA Jefferson's State Runner Up, Tyson Thurmond.
Mears was a force on the mat, pinning every opponent on his way to the finals. Meeting up with nationally ranked Chase Horne, the defending state champion from West Laurens, sent Mears home with a hard fought 2nd Place finish.
Tournament Champs
Wes Conley pinned all opponents, including Commerce champ Bryson Flint in the semifinals, before knocking off Madison County's Joshua Kincaid 7-1 in the finals.
Mason Sterner turned some heads after not competing last season and showing up with a statement performance in Jackson County. Sterner defeated State Placer, Will Hames, of Social Circle, 9-2, and then pulled off a convincing 7-2 win over Diego Jacinto in the semifinals. In the opening period of the finals matchup with Madison County's Chase Bond, Sterner overpowered his opponent before the match was stopped and Sterner won by injury forfeit.
Vision Quest
The Indians 4th Place finish solidified their threat to shake up the AA wrestling ranks in the battle between Region 7 and Region 8.
Calhoun took 12 wrestlers to the event and Chandler Serritt (132) and Myron Rodriguez (220) both finished 6th, leaving Calhoun with a 15th Place finish.