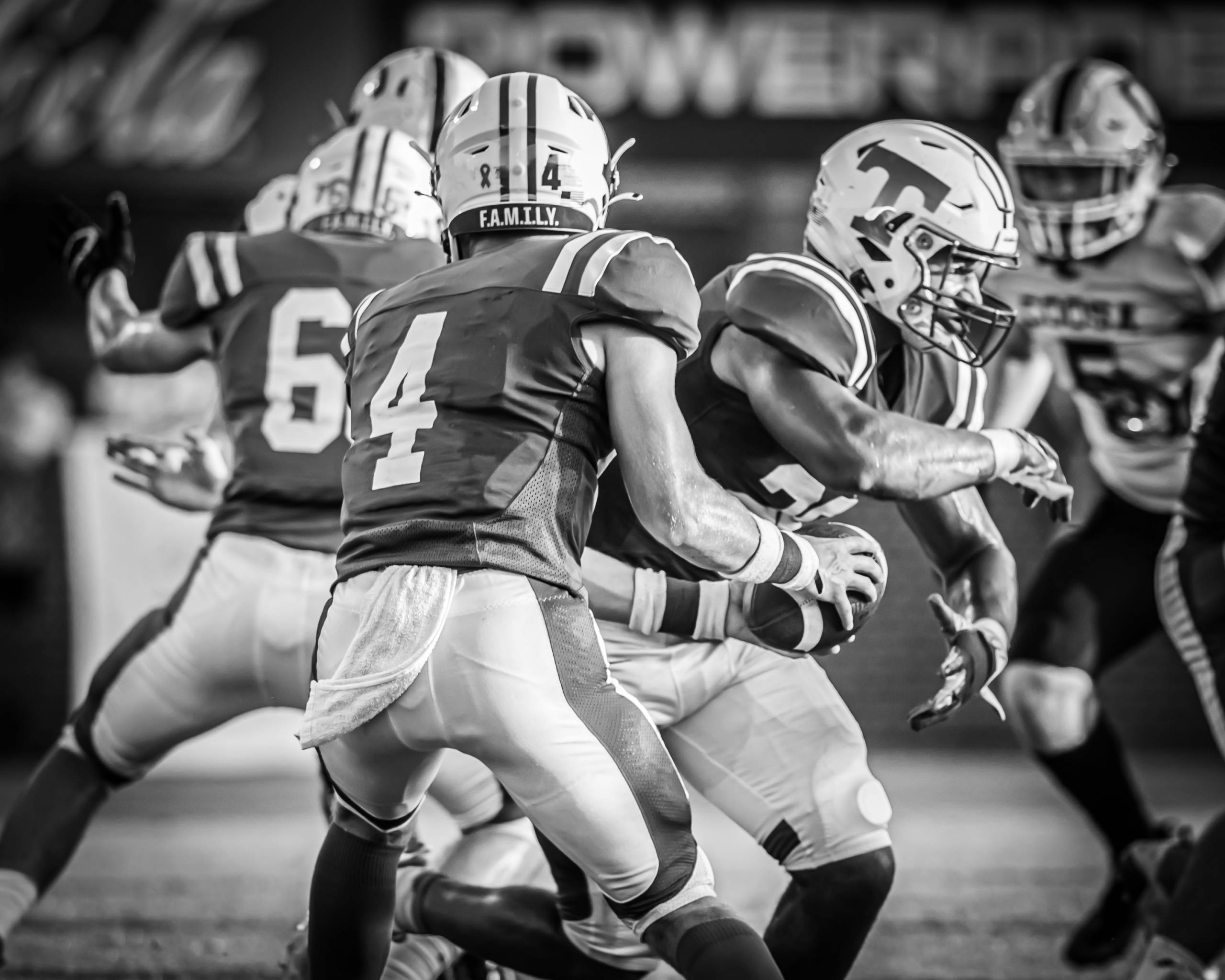 Over spring and summer, Trion Football players have been working, grinding for one thing, Fall Football. The players are calling this season their "Redemption Tour".
The Bulldogs went 3-8 in the 2020 season that was plagued by the Covid-19 pandemic, quarantines, and injuries.
Football season kicked off officially for the Bulldogs Friday night at Sam R. McCain Stadium featuring a rematch with the Coosa Eagles. The Bulldogs thrashed the Eagles in a 48-13 victory.
In his second season as the Head Coach Sean Patrick said he felt confident going into the game, "our kids had an incredible off season and were prepared to play."
In the locker room before the game, retired Trion Coach Jimmy Rosato gave each player a zip-lock bag with a key and a peppermint in it. The key to success and the mint for a fresh start.
The matchup with Coosa last year went to four overtimes and resulted in a Trion loss and a season changing injury to starting quarterback Logan Eller. The Bulldogs left the locker room determined 2021 would not be a repeat of 2020.
The good:
The Bulldogs started their offensive conquest with a long, controlled opening drive that resulted in pre-season All-State running back Rob Brown's first touchdown of the evening. Brown finished the 2020 season with 1245 rushing yards and 20 touchdowns, he would finish Friday night with four touchdowns.
On the ensuing kickoff, #50 Zach Sharp forced a fumble, and the tone of the game was set.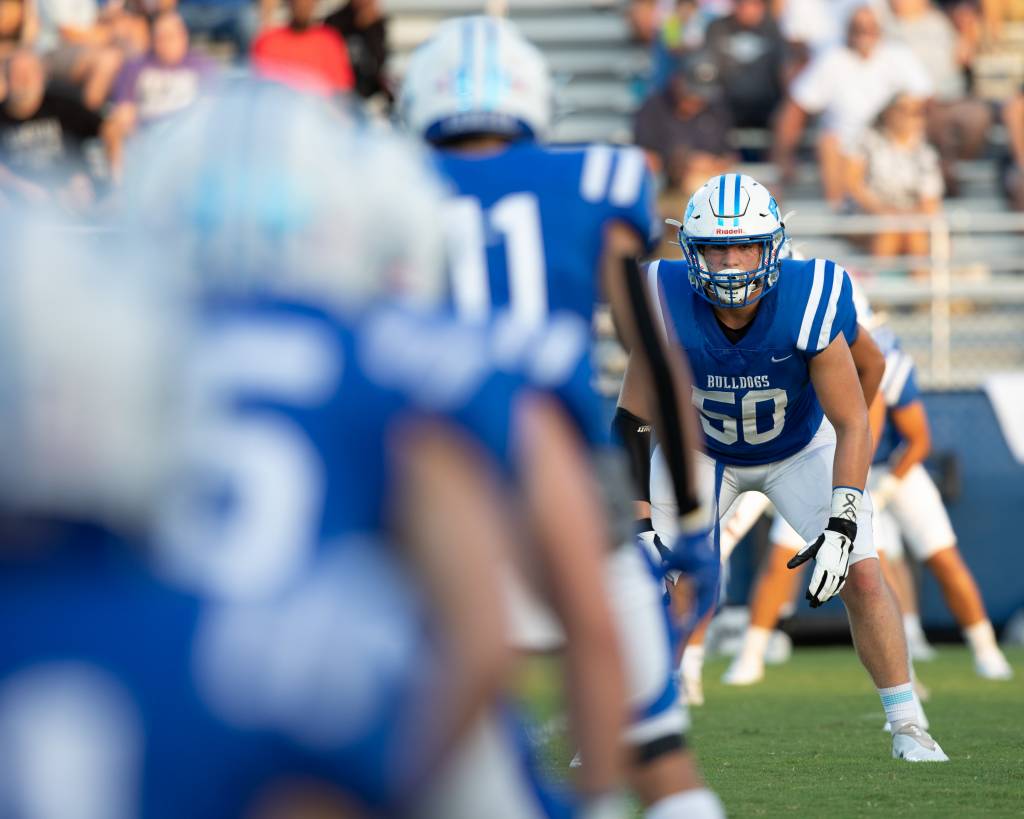 The Bulldogs scored on the ground, in the air, and on defense the remainder of the first half.
The halftime score was 42-0, Trion was literally making a highlight reel with every play.
Adding footage to their highlight reel included Senior running back Rob Brown who had four touchdowns on the evening and one that was called back due to a penalty.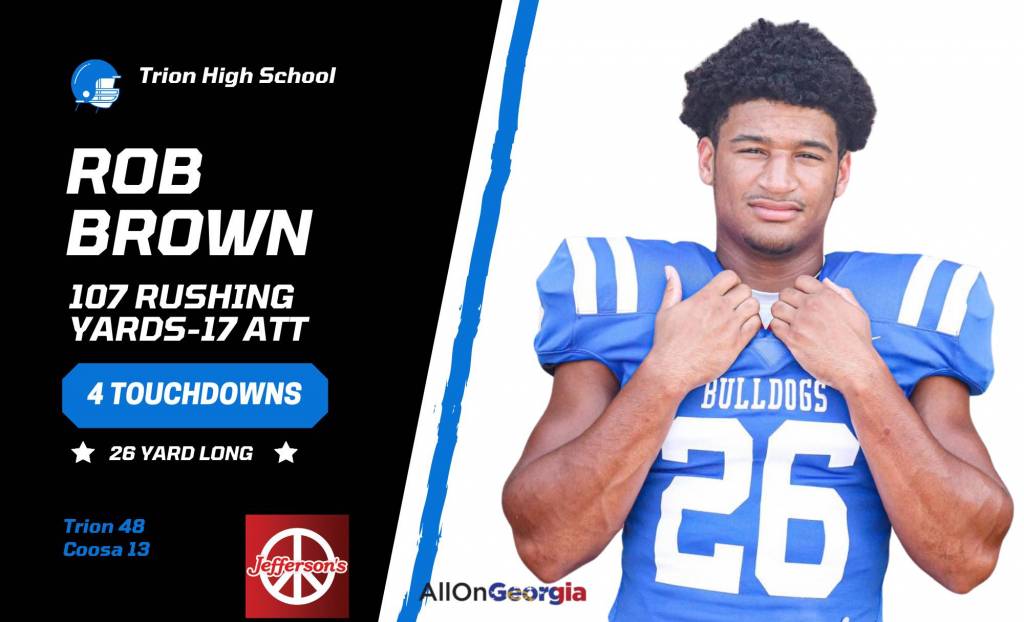 Receivers Connor Deparlier and Linkin Farrar each had a touchdown.  Farrar was the leading receiver with four catches for 100 yards.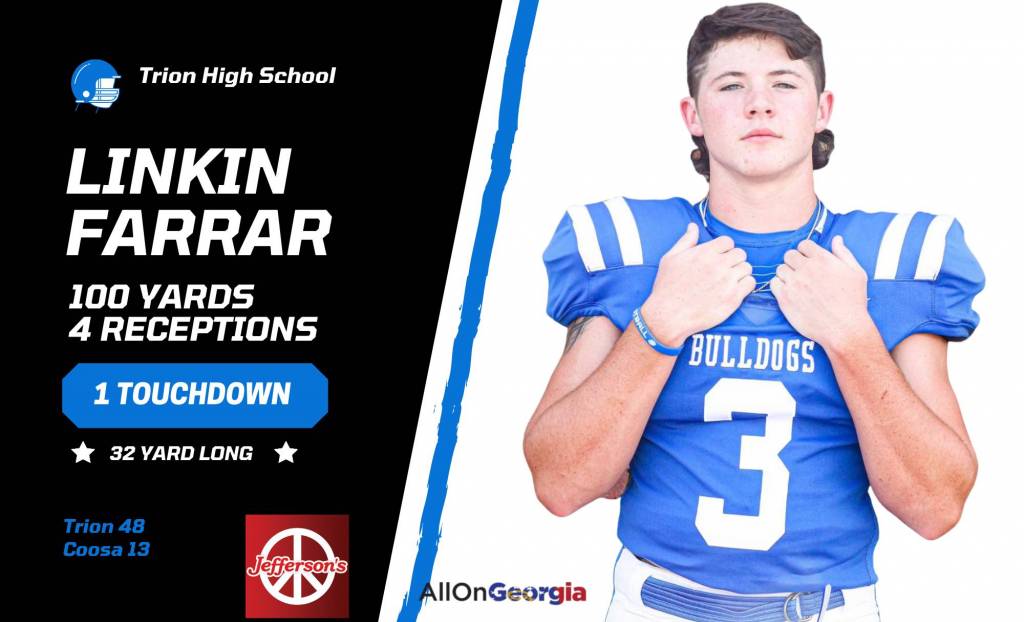 "I thought our kids played hard. I thought we executed well at times. I was pleased that we were able to spread the ball around, and had numerous players make explosive plays. We had no turnovers, which is a good thing. We were fairly balanced in our attack and took what the defense gave us. But with all that being said, we have a ton of room for improvement," Patrick said.
Sophomore Ezra Adams, 6'2″ 260 lbs., played his first high school game at right tackle. He had two surgeries on his knee last year that put him out the entire season.  "It felt great to be back out on the field with all my brothers. Just to see how all our hard work all came together Friday night was great," Adams told AllOnGeorgia.
Trion had 350 total yards of offensive production. 215 in the air, 135 on the ground. And Logan Eller got his first win as the Bulldog starting quarterback, a win he has waited one year to claim.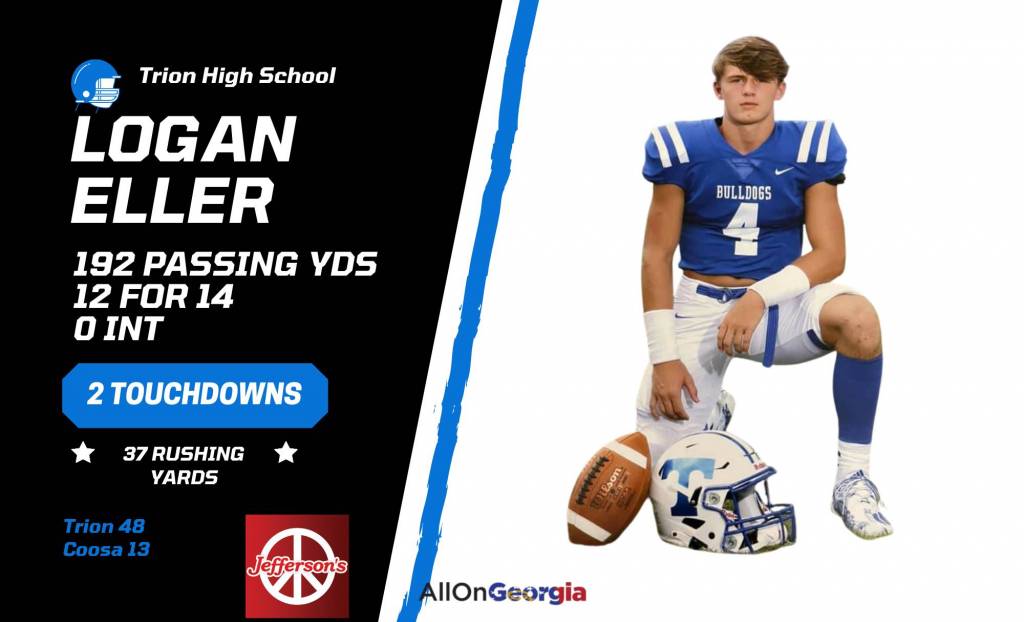 The Bad:
Toby Maddux left the game with an injury. Patrick says that Toby has a sprained ankle, "we will be very cautious with him and monitor him closely over the next couple of weeks."
When asked about what the locker room was like at halftime up 42-0, Coach Patrick had this to say, "when I got into the locker room at halftime, our entire team was huddled together praying for an injured player. Our kids genuinely care for and love each other, and it's fun to be a part of it. We preach playing to a standard regardless of circumstances. Up 50 or down 50, it doesn't matter. Always play to the standard. We just reminded our kids not to lose focus and play to the standard."
More Good:
The Bulldog defense limited the Eagles to only 102 yards of total offense, created three turnovers, and one sack. For a team that is known for power running the Eagles only picked up 80 yards on the ground.
Pre-season All-State Brantley Willbanks led the defense with five tackles, one assist, and two tackles for a loss.
Defensive End Cole Cavin got his first pick-6 after a monstrous hit by Bladyn Bowman on the Eagle Quarterback caused the ball to pop into the air and right into Cavin's hands, and then as the cliché goes, to the house for 6 points.
"Our defense played fast and physical. They have done a good job of creating turnovers, which have turned into points. Our kids are flying around the ball and good things happen when you do that. The weight room has played a pivotal role for our program, and our kids are so much bigger and stronger than they were last year," Patrick said.
The coaching staff for the defense is new, Joe McCoy and Dan Duff were hired as Co-Defensive Coordinators, moving up from the middle school. Their experience and familiarity with the players' abilities is proving to be a great thing as the starting defense has not given up a touchdown. Hunter Davis was also hired as Defensive Line Coach.
"I think a lot of our physicality stems from the weight room. Our kids are bigger and stronger and that makes a big difference. We also bang a lot at practice. I believe that hitting breeds hitting. You are a product of what you do at practice. Everybody talks about wanting to be physical, but it doesn't just happen. Typically, teams that are physical on Friday nights are also physical at practice," Patrick said.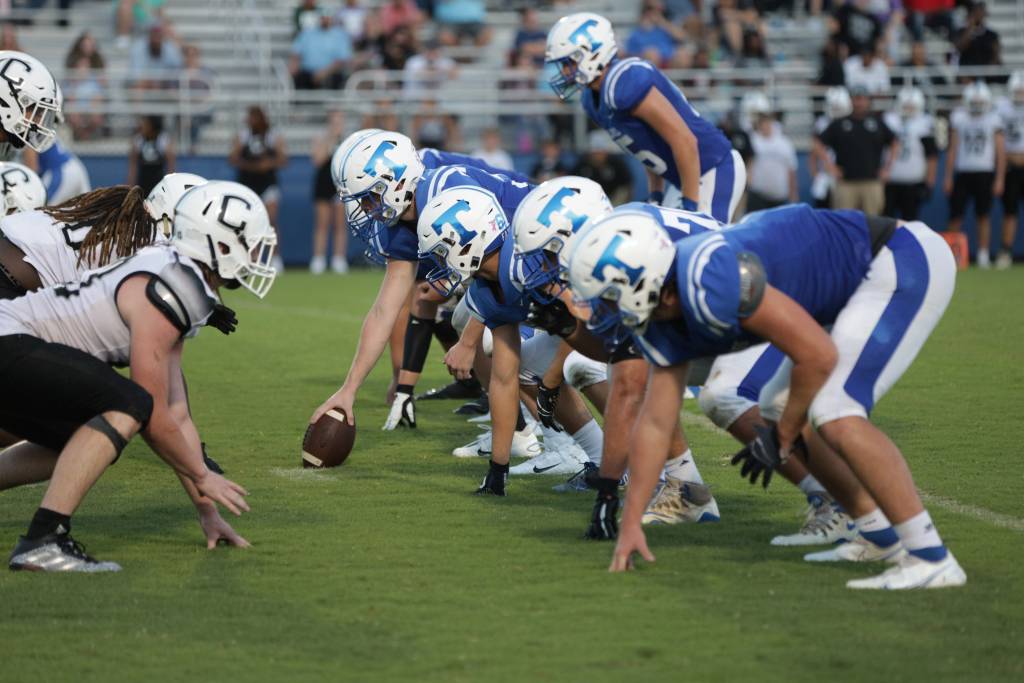 The ugly: Trion had entirely too many penalties. Trion had 9 penalties for 53 yards. "The pre-snap movement penalties are what were the most bothersome. They are a result of a lack of focus," Patrick said.
The best part of Friday night according to Coach Patrick was watching the excitement of the kids. "They have worked so hard and deserve success."
The Bulldogs hope to keep the momentum going for their Redemption Tour as they welcome the Model Blue Devils to the McCain Friday evening.
"Model is a physical football team. Coach Hunnicutt and his staff do a great job with that program. We better be able to match their physicality and intensity. Last season I felt that they bullied us, which was apparent by the final score. But ultimately, we have to focus on ourselves, and improve daily to become the best we can possibly be. Again, we have to play to a standard, regardless of situation or opponent," Patrick said.