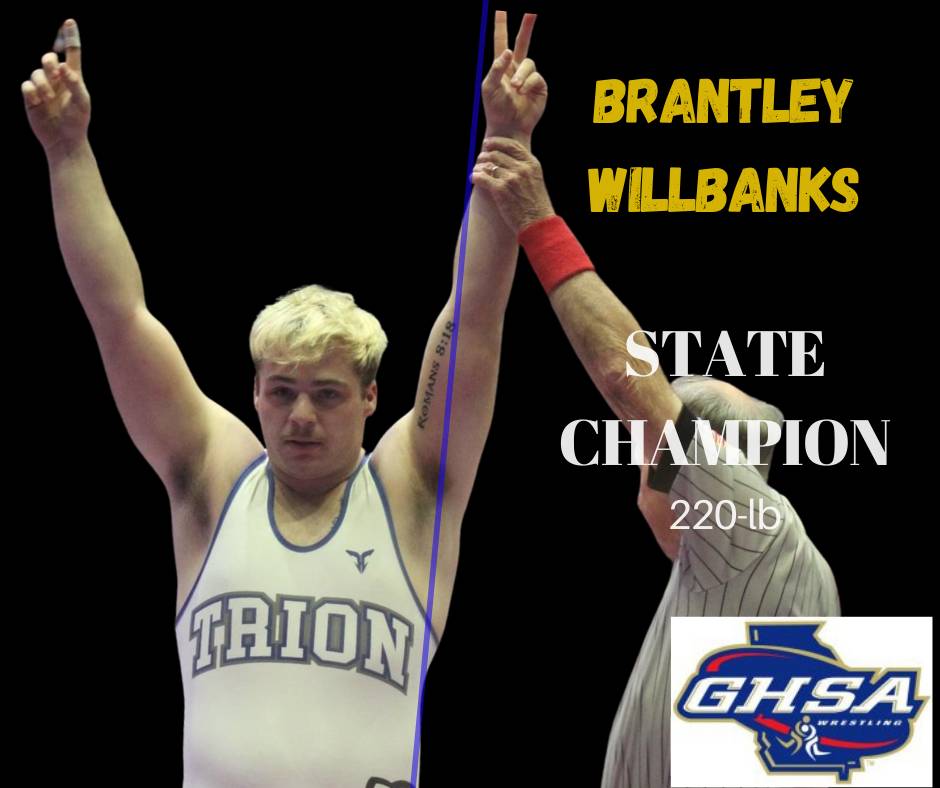 Last year at the GHSA Wrestling State Championship match Trion's Brantley Willbanks was one step from where he wanted to be on the podium, and at that moment in Macon his quest for perfection began.

This season Willbanks had a perfect 38-0 record, including three first period pins at the 2022 State Championship tournament. He was crowned the 220 lb 1A State Champion and stood on top of the podium.
"Capping off this season undefeated and winning state was a goal of mine since I lost in the finals last year. It feels great and it shows that the hard work does pay off," Willbanks said.
In fact, Trion wrestling Coach Eric Brock said Willbanks is his first wrestler to have a perfect season, "I have had some that were close, but I have never coached a wrestler who went undefeated."
"My matches at the state tournament were matches I had prepared for all year. I had all pins in the 1st period which is due to the hard work and preparation that goes in towards those matches everyday in practice," Willbanks said.
Willbanks said having his hand raised and standing at the top of the podium as a state champion was like no other feeling and described it as surreal. "It's crazy to think that this is a dream I've had since I started wrestling at four years old. I accomplished it and I couldn't be more happy."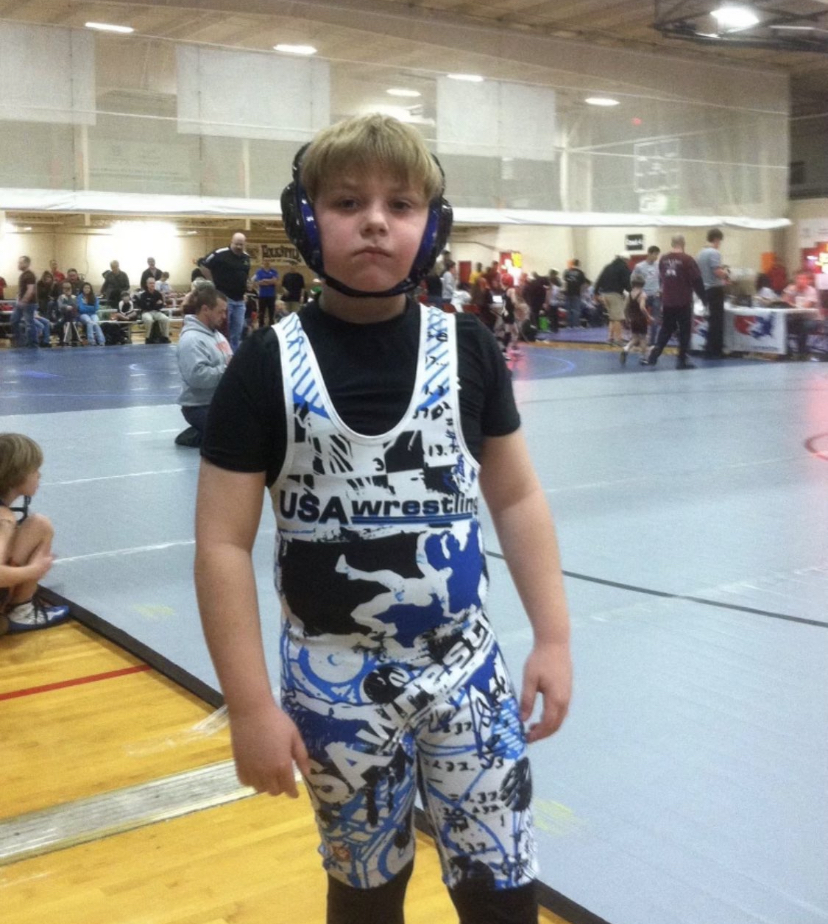 A teammate:
In addition to the individual state championship Willbanks won, he has been a part of two dual team state championships. "The state championship that means the most to me is the team state championship we won this year. We won it when I was a sophomore and that was great and then we got knocked off and got fourth the next year. Returning to the top spot on the podium shows all of the work the whole team put in for that moment. Watching the whole crowd go crazy when we clinched it, that feeling is one I'll never forget."
Willbanks' favorite wrestling move is the lat drop, "I've won a lot of matches with that move."
He has also won a lot of matches because of his work ethic. "I workout five or six days a week. My current maxes are 375 bench, 540 squat and 285 power clean," Willbanks said.
When asked what he has learned from his Coach, Willbanks had this to say: "Something Coach Brock has taught me that will stick with me is that ultimately it's not about winning championships and the rings. It's more about the type of person you leave the program as, that being a better person is more important that your personal record."
But Brantley Willbanks' record of 118-19 over four years speaks for itself.
"Brantley is one of those guys that coaches love to coach.  He shows up everyday and puts in the work.  He is a great teammate and coachable.  Brantley will be missed," Coach Brock said.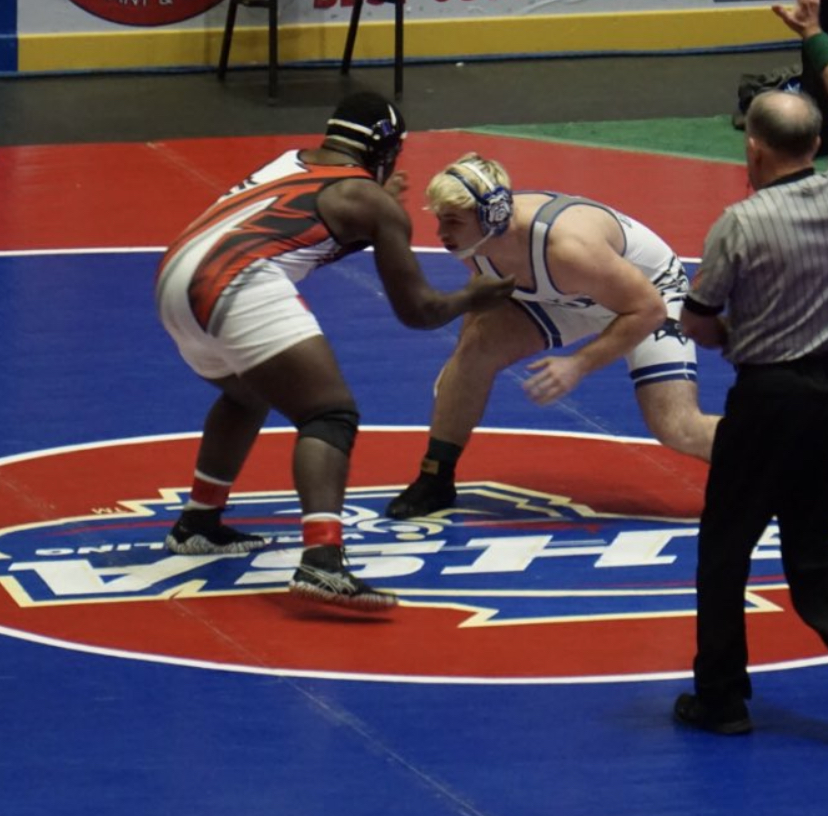 The Football Player:
Willbanks was recruited for both wrestling and football, and opted for the gridiron over the mat. "I ultimately chose football because I've loved the game ever since I was a little kid and it would be really hard to never play football again."
But he was quick to add, "I love the sport of wrestling and it's something that has taught me so much and it's going to be really hard to leave behind."
"Wrestling is different that any other sport because wrestling not only builds character but builds personal responsibility. If you lose a match it's on you, you got to get better and come back and win the next one," Willbanks said. "It's a lot like life, one loss doesn't define you, you have to get up and get better and go win the rest of them."
According to Willbanks his time on the mat has helped him on the gridiron. "I believe wrestling directly correlates to football. Wrestling teaches your feet to be quick and your hands to be quicker. It builds character and leadership that helps plentiful on the football field. I've learned so much from wrestling and I'm extremely thankful for the sport."
Willbanks recorded 268 tackles and 19 sacks as a Bulldog. He was named to the 2019 2nd team All Region as a Defensive End. In 2020 he earned 1st team honors as a linebacker and was an honorable mention for the All State team. In 2021  he was named the Region 6A Defensive Player of the Year and 1st Team All State team.
He signed to play football at Cumberland University.
Willbanks said his life motto is a wrestling saying,  "'shoot now worry later' which means take your shot now and worry what happens later. Go for it, go all out and worry about missing later," Willbanks explained.
Willbanks  maintains a 3.6 GPA. His favorite class is environmental science, and his favorite teacher is Coach Brown, otherwise known as Coach G.
When asked who his role model was he said his father, Bobby. "He gets up everyday and goes to work and has problems of his own but is always there for me and my problems while putting his aside. He is the best person I know, and I strive to be half the man he is one day."