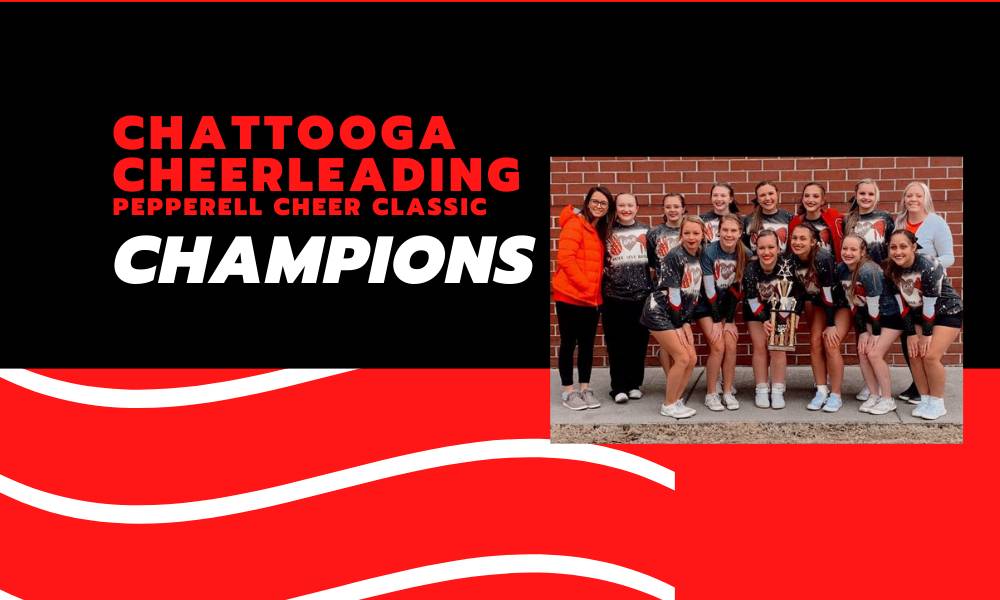 Chattooga High School Competition Cheer team took first place at the Pepperell Cheer Classic on Saturday, January 16. Cheer teams competing at the tournament included Dade, Bremen, and Coosa in the AA division.
This marked the first win for Chattooga Cheer Coach, Kelsey Ray Espy.
COVID-19 has impacted the cheer season drastically, "in June, we really didn't know what this season would look like. I still had high hopes going into my first year coaching high school, but I don't think anything could have prepared me for this year except for God alone. He knew what He was doing when He opened this door for me, so I've just been trusting Him to see me through," Espy said.
Typically, the GHSA Competition Cheer Season begins in August and ends with the state tournament being held the first or second weekend in November. This year the state tournament will be February 15 in Columbus. Chattooga Cheerleading started working on its routine in August, "this is the first year they have competed after holiday breaks, and that's an adjustment in itself for high school athletes."
The team has faced COVID quarantines over the past few months with a few girls quarantined here and there. But nothing as severe as last week, competition week. While preparing for the Pepperell Cheer Classic the team was hit with three quarantines, which meant they would only have 12 on the floor and the routine would have to be tweaked. "It would be easy to get frustrated about situations like that, but at the end of the day I'm glad my girls are trying to be safe and stay healthy. We aren't the only team who has dealt with quarantines, injuries, and other circumstances throughout 2020. We made lots of routine changes in a short amount of time this week among other challenges, and I sincerely could not be more proud of how the girls handled everything and I'm very proud of how they competed."
In fact, Chattooga Cheerleading had no deductions at all on the score sheets from the Pepperell Cheer Classic. While the Indians were forced to make last minute changes to the routine, they did so smartly, in a way to maximize the scoresheet on the day of competition. The team knew losing a stunt group because of the quarantines would lessen the difficulty score, but they also knew if they were able to hit and stick the routine perfectly, they had a chance to have their name called as the winners. In Cheerleading clean consistency beats difficulty when the other teams cannot execute their routine without point deductions.
"This is my first win as a coach, and I think I'm still trying to process, I don't even like to say 'my first win'. It's a great feeling as a coach when you really want your team to experience those moments of victory and they get it! I have to give credit where it's due, and I'm very thankful to one of our choreographers, Grant Magness with HotShots Allstars for coming in and helping make the necessary changes to maximize the scoresheet where we could. That's the great thing about having resources like that. He came in and saw our routine from a different angle. Of course, it wasn't at all possible without the girls that were on the floor. We missed the ones who couldn't be there, but many of the girls were in completely different positions and stunt groups throughout this version of our routine, and that's what teamwork is all about. Stepping up and giving your all for each other. Some of them were pushed out of their comfort zones. They definitely proved they are able to adapt in the face of adversity, which I think would be a good theme for this year. They are CHATTOOGA STRONG, and I sure am proud to be an Indian."
Chattooga Competition Cheer Roster:
Ellie Martin
Tabitha Neal
Kali Clark
E'Nivea London
Sarah Young
Savannah Green
Kelsey Tarrance
Dhimond Church
Denise Gottshalk
Brancyn Spears
Journey Hurley
Briley Stancil
Madison Wiggins
Olivia Young
McKenna Bentley