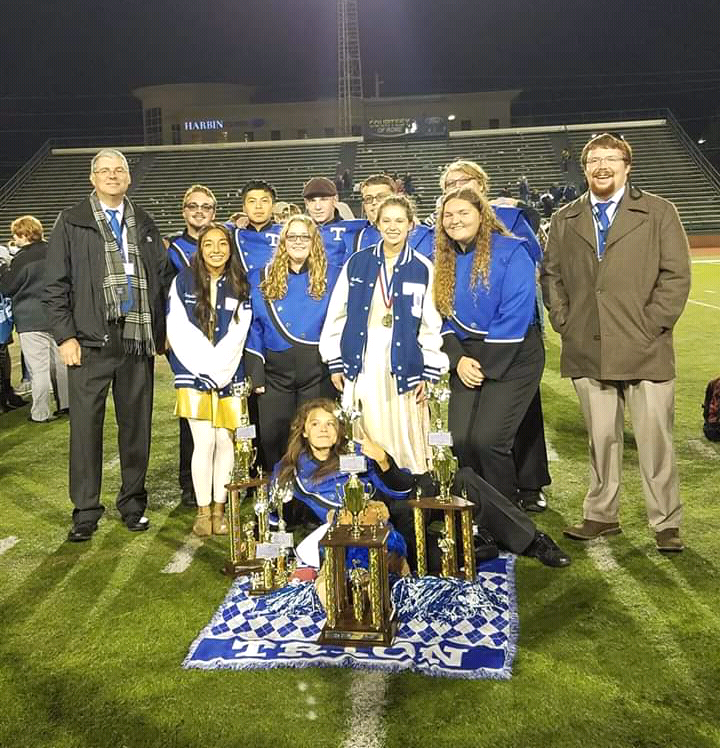 The Pride of Trion Marching Band wrapped up an incredible competition season, with The Pursuit of Happiness theme.  The Bulldogs competed at the Yellow Jacket Classic at Rockmart High School on October 20th. The Pride of Trion earned all Superior ratings for drum major, percussion, color guard, and the band as a whole.  The band finished first in Class A.  Additional honors include best-in-class drum major, Brooke Appelbaum, and second-in-class placements for percussion and color guard.
This past Saturday, October 27th, The Pride of Trion competed at Barron Stadium in Rome at the 45th Annual Peach State Marching Band Competition, hosted by Rome High School. Trion earned all Superior ratings for drum major, percussion, color guard, and the band. The band finished first in Class A, and additional honors include best-in-class color guard, and second-in-class honors for drum major and our percussion section.
Pride of Trion Band captains:
Carter Sparks and Kim Truong
Percussion Captains:
Dylan O'Kelley and Tyler McHan
"Since our first rehearsals back in June and July, I have seen the Trion Band grow by leaps and bounds musically and as a band.  We have progressed steadily throughout the season, culminating in our best performance yet at Peach State last weekend!  I am so proud of our kids and staff, and we could not have been our best without the great support of our booster group and school administration.  It's been a fantastic first year so far, and I'm looking forward to what we can accomplish together going forward," Band Director
Bob Steelnack
said.

Bob Steelnack is in his 23rd year as a band director and first here at Trion High School.  Previous appointments include Cartersville High School, Pepperell High School in Lindale, assistant director at Emma Sansom High School in Gadsden, Alabama and as band director at Ragland High School in Alabama.
Mr. Steelnack has a Master of Science in Education degree from Troy University and a Bachelor of Music Education degree from Jacksonville State University, where he served as section leader in the Marching Southerners.Prior to attending JSU he served as Saxophonist in the Army band program, assigned to the 14th Army Band at Ft. McClellan, Alabama.He graduated first in his class and earned a C1 instrumental proficiency qualifier while at the Armed Forces School of Music in Norfolk, Virginia.Mr. Steelnack also attended the University of South Florida and is a 1986 graduate of Pinellas Park High School in Largo, Florida.
Steelnack's high school bands have earned top honors at regional marching band competitions, and have performed in Orlando, Chicago, Virginia Beach, Myrtle Beach, Gatlinburg, and Washington, D.C. over the years. Steelnack has performed professionally as a saxophonist and clarinetist throughout the region with artists such as the Temptations, the Florida Orchestra, the Clocktower Jazz Ensemble, Ready-or-Not, and numerous community bands and touring shows.He has been featured as a soloist with various high school and collegiate ensembles, including the Troy University Summer Band and the JSU Symphonic Band, and appeared along with the Clocktower Jazz Ensemble in the 2002 feature film, "Sweet Home Alabama." He is married to Realtor and harpist, Fay Ellen Foster Steelnack .Combined, they have four grown children and two grandchildren, and a Boston terrier named