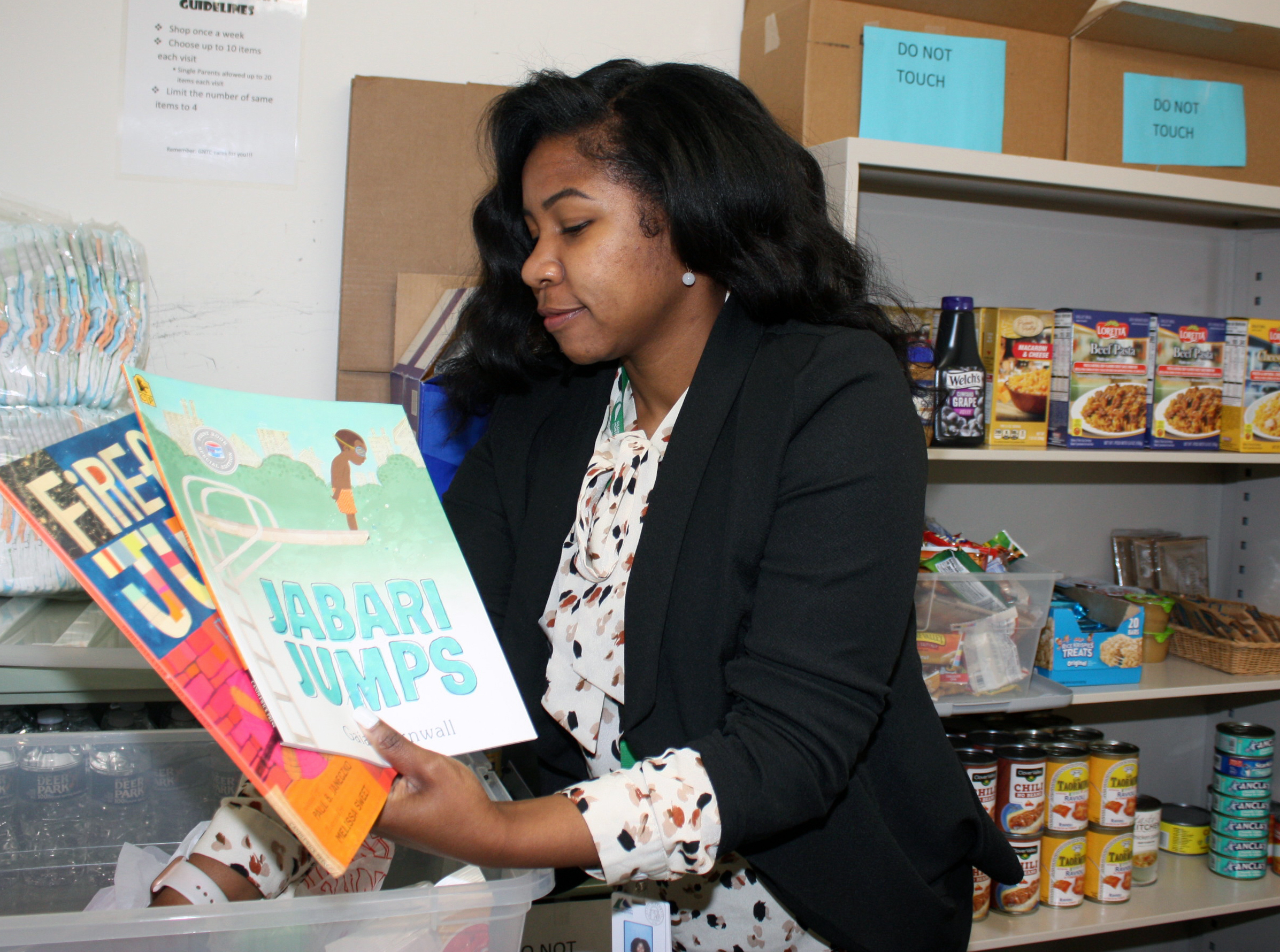 Daizha Staples, Special Populations coordinator at GNTC, manages the new program, which operates through the Office of Student Success. She also oversees all of GNTC's food pantries and clothing closets. The resources are available on the Catoosa, Floyd, Gordon, Polk, Walker and Whitfield Murray Campuses.

GNTC's Special Populations program serves single parents, out-of-work individuals, English learners, homeless individuals, foster care students, economically-disadvantaged individuals, individuals with disabilities and under-represented gender students. The program offers customized workshops and seminars, provides career training and exploration along with workshops and seminars that address life issues such as stress management, parenting skills, self-esteem improvement and job readiness training.
"I receive personal satisfaction from helping underrepresented students because when I attended a technical college, I was a Special Populations student who was economically disadvantaged, and these free resources were not available at the institution I attended," Staples said. "I know that I would've taken advantage of these resources if I had them, and that's why I am such an advocate for Special Populations students.
"This program aligns with GNTC's mission because we partner with organizations to provide workforce development opportunities that support student success throughout the communities of northwest Georgia," she explained.
When she was hired in November 2021, the Floyd County Campus had the only clothing closet, and the Floyd, Polk and Whitfield Murray Campuses had the only food pantries, she said. She established food pantries, clothing closets and Resource Centers on all six GNTC campuses in February 2022.
"The Resource Centers have diapers and baby wipes; male and female hygiene products; children's 'tool kits' that include reading books, outdoor playing materials, crayons, markers, bubbles, chalk and more," she said. "Moving forward I will increase the variety of resources available to our students."
The food pantries, clothing closets and Resource Centers are open to Special Populations students on all campuses.
"The only campus that has open access to all students is the Polk County Campus because the college received a donation to that campus specifically for all students, so the food pantry, clothing closet and Resource Center is open to all students on the Polk County Campus," she said.
The array of services offered by Special Populations includes:
GNTC Food Pantry – Allows Special Populations students to shop for food items once a week, up to 10 items, and for single parents, up to 20 items. On only the Polk County Campus, all students are eligible and are governed by the same item limit.
GNTC Clothing Closet – Allows Special Populations students to shop up to 10 professional clothing items once a semester if needed for job interviews and/or professional developmental events.
Lending Library Program – Loans textbooks for the semester for free to Special Populations students; however, access codes are not included.
Skills Workshops – Offers educational training and skills workshops to promote educational success through a partnership between GNTC's Special Populations and several community organizations and other educational institutions.
Student Success Workshops – Offers several workshops for all students to attend. For example, the First Generation Workshop (FGEN) series is currently offered and is targeted toward underrepresented students; GNTC encourages Special Populations students especially to attend because these groups of students are typically underrepresented.
Student Support Services – Offers several internal student support services to which Staples can connect students, such as Career Services, Student Success coaches, Special Populations free resources and ESPYR, GNTC's student assistance program.
Peer Meetings – Due to COVID, GNTC introduced several online workshops to take the place of in-person meetings. Moving forward, Staples plans to conduct several in-person events where Special Populations students can meet on campus.
Resource Center Referrals – Provides referrals to qualifying students to community organizations in the appropriate county from a list of available community resources confirmed by United Way.
The food pantries and clothing closets do not accept donations from the public; however, those who wish to donate funding to support the food pantries, clothing closets and Resource Centers are encouraged to contact the GNTC Foundation, Staples said.
"GNTC partners with the Voluntary Action Center (VAC) in Calhoun to provide food items to the food pantries at all six campuses," she said.
The clothing closets are stocked exclusively with professional attire donated by GNTC faculty, staff and administrators, she said. More business and dress shoes are needed for both men and women.
"GNTC received a Two-Generation Innovation Grant (TGIG) from DECAL (Georgia's Department of Early Care and Learning) in the amount of $25,000 to help our institution support current and future student-parents and their children," she stated. "The 2021-2022 TGIG we received helped us to facilitate these resource areas on all six GNTC campuses, as well as provide other resources and workshops throughout the year to support students that are parents."
DECAL helps to fund educational workshops, professional development opportunities and community partnerships to inform student-parents of community resources, she elaborated.
Staples attests to the difference these resources can make to students.
She exclaimed, "I had a single parent receive professional clothes from the clothing closet for an interview she had scheduled; she reported to me the following week that she got the job!"
"I had a homeless student living in their car meet me at the Resource Center to receive hygiene products and food items from the food pantry because they had in-person classes on campus and didn't have enough money after paying for gas," she said.
Staples said she has also successfully connected students with community partners for help.
"There was a student who suffered from tooth pain and could not afford to pay for a dental procedure; I was able to refer them to a community organization that provided free dental care," she said.
For more information, contact Daizha Staples. To schedule an appointment, use the Special Populations appointment form sent to all GNTC students at the beginning of each semester to schedule a time to meet her or to use the food pantry, clothing closet or Resource Center.
Georgia Northwestern Technical College provides quality workforce education to the citizens of northwest Georgia. Students have the opportunity to earn an associate degree, diploma or a certificate in aviation, business, health, industrial or public service career paths. This past year, 11,134 people benefited from GNTC's credit and noncredit programs. GNTC has an annual credit enrollment of 8,528 students and an additional enrollment of 2,606 people through adult education, continuing education, business and industry training and Georgia Quick Start. GNTC is a unit of the Technical College System of Georgia and an Equal Opportunity Institution.
# # #