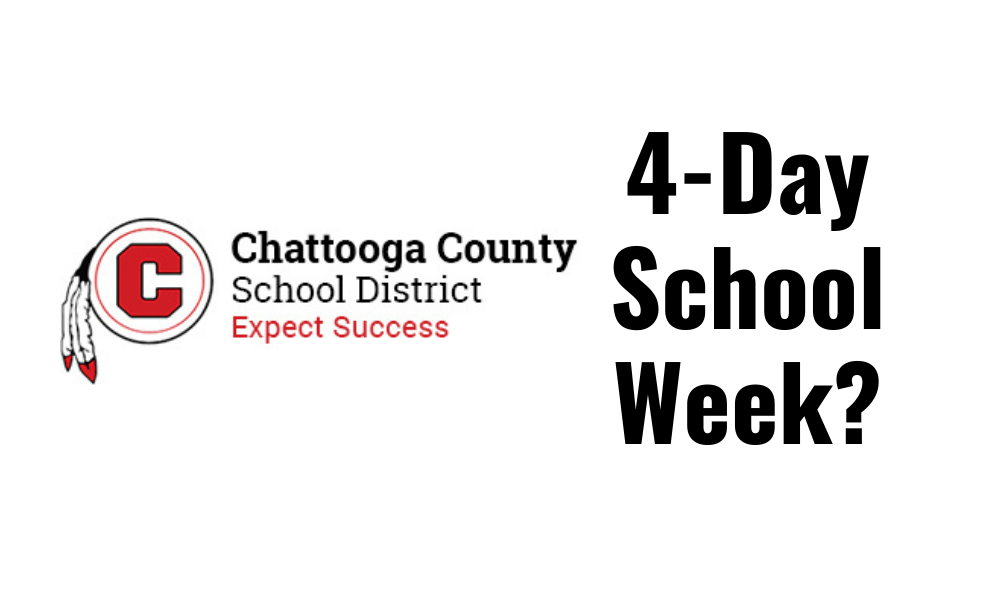 One election cycle after the Republicans won the Chattooga County Board of Education seats and changed the school calendar from a 4-day to a 5-day within minutes of being sworn into office, talk of the return of the 4-day is front and center again.
AllOnGeorgia reached out to Superintendent Jared Hosmer, Board of Education Chairman Eddie Elsberry and Vice Chairman Brad Hayes for their perspectives regarding the possible calendar change for the upcoming school year.
Why are we discussing this again? 
At the February meeting, Chattooga County Board of Education member B.J. Montgomery asked Superintendent Hosmer to prepare both a 4-day and 5-day calendar for the March 17 meeting. Montgomery stated "several parents, students, and teachers loved the 4-day calendar." Board member Spencer Hogg added to Mr. Montgomery's statement with his own personal experiences as a student at Chattooga High School under the previous 4-day calendar.
The calendar has been voted on during February meetings the last two years. So, it is definitely time for the board to consider and discuss the 2022-2023 school calendar.
Superintendent Hosmer: 
What, if any would be the benefits to returning to a 4-day school week in your opinion?
I have not had time to work in depth on the Board's request from Thursday night.  I will be gathering information and data in the coming weeks to share with the Board in March.
What, if any are the benefits of remaining on a 5-day school week in your opinion?
I have not had time to work in depth on the Board's request from Thursday night.  I will be gathering information and data in the coming weeks to share with the Board in March.
How have test scores and graduation rates been under the 5-day as opposed to the 4-day?
I will be looking at all data points in the next couple of weeks to share with the Board in March.
***AOG comment: the graduation rate in 2019 the last year of the 4-day was an all time high of 96.7. The 2021 graduation rate has plummeted to 79.6****
How would the 4-day impact non-certified positions?
We will be working on a plan for classified employees as we work on the two calendars.
Chairman Eddie Elsberry: 
What, if any would be the benefits to returning to a 4-day school week in your opinion?
Twelve years ago when we went to the 4-day week it was an economic driven decision. Now that we were on it for 10 or more years, we saw there was much more value in the 4-day calendar than just cost savings. The morale of the employees and students were at the highest they have been in many years prior. Pride in our schools and being a part of our schools was tremendous and one only need to visit the schools to see the improvements to facilities that we have been able to accomplish. The competition to attract and retain the best of the best teachers, coaches and administrators is tough in Northwest Georgia. Both Rome and Floyd BOE voted to give their teachers and staff raises of up to 8% to attract and retain their teachers and staff. We can't do that with the existing tax millage rate, it would take a pretty substantial tax increase to give and then sustain that amount of raise in pay. What we can do is offer teachers, coaches, administration and staff something that cost the system no money, that being a 4-day work week. A happy school is a school that will do better and one where learning is organic not forced fed by the number of days in a week or hours in a seat. I have heard some say it is a work incentive and not an educational incentive. When people and students want to come do work, education will happen.
Chattooga County Schools vision statement says that we want to 'prepare students for success through a rigorous education with high academic standards in schools where students want to learn, parents want their children to attend, and teachers want to teach'. I think we did that better when we were a 4-day week school system.
What, if any are the benefits of remaining on a 5-day school week in your opinion?
The five day school week is something that works and obviously is "tried and true" for many systems. I feel like it works great for many school systems but does it work best? One thing that separates us from those who haven't tried something new is that we have tried both calendars and found that just because our parents and grandparents went five days a week doesn't mean that is best. I am sure the 5-day week is best for urban and larger areas and maybe many schools who just don't want to change. People do not like change and the old philosophy of "that is the way we always did it" doesn't mean it works best.
The saying rings true " if you always do what you've always done, you will always get what you've always got"
How have test scores and graduation rates been under the 5-day as opposed to the 4-day?
Not sure….. I will let Superintendent Hosmer answer that one.
How would the 4-day impact non-certified positions?
I feel like we can come up with a solution that will be of little or no impact to the staff. I would ask anyone concerned about this to allow us to lay out a plan before jumping off the cliff. We care about our employees and want to do as best we can for all.
Vice Chairman Brad Hayes:
 (Hayes is the only remaining member who voted to return to the 5-day, John Agnew did not seek re-election, Sam Ballard passed away and Julia Houston resigned.)
What, if any would be the benefits to returning to a 4-day school week in your opinion?
​This is a difficult question to answer because the benefits and reasons Dr. Pullen (Superintendent) and the school board members in 2010 voted to adopt a 4-day calendar in 2010 is different than any reason to adopt in 2022. Research shows that superintendents and school boards adopt 4-day calendars to save money and save jobs. Did the Chattooga County School system need to save money and/or save jobs in 2010? The answer was "yes". So, two benefits to a 4-day calendar are saving money and saving jobs. In 2022, is there a need to save money or save jobs within the Chattooga County School system? Personally, I believe everyone loves to save money, but school systems should not be in the "saving money" business. The business of a school system is saving children. A school system should give every child the best education possible. Also, teach and train students for the real world. Another benefit to a 4-day calendar would be "convenience".
Several parents might love a 4-day calendar because their children only go to school four days a week. If students attended school in person for four days but attended virtually the other day, some parents felt that was more work on the parents or the sitter to make sure the student worked at home. I believe the system used "virtual learning" days because they were trying to keep kids healthy, but still
"in school". Personally, I think the most recent Friday and Monday as virtual learning days did help decrease our COVID numbers. 1180 radio reported for the last three consecutive weeks a decrease in both school systems in the county. However, it is now time to get back to our new normal. I have heard and read some people love having Mondays off to schedule doctor and dental appointments. Scheduling appointments on Mondays would be an example of changing the school calendar for convenience. Especially during COVID, most doctors' offices, medical clinics, urgent care facilities, and emergency rooms do not operate on school hours. Scheduling appointments after school any day of the week or on weekends is still an option.
What, if any are the benefits of remaining on a 5-day school week in your opinion?
​
Honestly, I think going to the 4-day calendar was one of the best and last options back in 2010. It was a "temporary" fix to a "temporary problem. Schools throughout the state of Georgia were in difficult times between 2008 and 2010. During a June 2010 meeting, Superintendent Pullen told the board and the public attending a meeting the following things: 1.) We face a massive budget shortfall, 2.) We could see as much as a $16 million decline in total revenue, 3.) The budget in 2006 was $1.8 million, 4.) The budget in 2010 was $375,000, 5.) I see a $1.5 million deficit in our budget, and a $2 million deficit if the state cuts QBE, 6.) Schools systems throughout Georgia were using "RIF" – Reduction In Force, 7.) Chattooga Schools had already cut 16.5 positions as of June 2010, 8.) A 10-day pay reduction across the board was put in place in Chattooga (called furloughs), 9.) Custodians and paraprofessionals were eventually pulled out and placed under separate companies, 10.) Bus drivers took a cut in their salaries. I would ask Superintendent Hosmer these same ten questions. I believe 2022 is not like 2010 for our Chattooga County School system.
The benefits of a 5-day calendar would be shorter days of instruction. For example, if every student has six hours a day of instruction on a 5-day calendar, those six hours must be divided out among the four days, which means longer hours and days. The bus pick-ups will be earlier. The start of the school day will be earlier. The end of the school day will be later. The bus drop-offs will be later, and during the winter months, it will be pick-ups and drop-offs in the dark. I live in the northernmost part of the county. Currently, the bus runs by our house at 3:47 pm. Between 2010 and 2019, the bus was dropping off at 5:47 pm.
Another benefit of the 5-day calendar is keeping and recruiting teachers. Some believe the 4-day calendar keeps and recruits teachers. However, teachers are still teaching the same amount of hours (if not more) on a 4-day calendar as the 5-day calendar, and the teachers are doing this on the same salary. When a school system goes on a 4-day calendar, teachers are not given a pay raise incentive. Oftentimes, teachers are required to work on their "off day" (Mondays) or if they are not required to work, they work and plan for the upcoming days at home.
Finally, a 4-day calendar could save a school system money on electricity. However, if the school system requires teachers to "work" on Mondays (off day), the lights, air, heat, and power are still running. During the previous 4-day calendar years, the school buildings in
Chattooga County was still open.
How have test scores and graduation rates been under the 5-day as opposed to the 4-day?
​This is another difficult question to answer accurately because it is almost like "comparing apples to oranges". The previous 4-day calendar was in effect for nine years (2010-2019), which gave the school system nine years of data and scores. Since the 5-day calendar was adopted, we have not completed a full year or had a "normal" year. The 2019-2020 school year was canceled in March 2020 because of COVID, and no standardized test was given in Georgia. Every student was placed into the next grade. The 2020-2021 school year was a year for "virtual learning." In the first half of the year, we had several students on Pearson. The last half of the year was virtual learning from home. The state required the standardized tests to be given, but with modifications. Again, most students were placed in the next grade. The 2021-2022 school year had a reoccurrence of COVID, and we were on virtual learning days for one month (Mondays and Fridays). The state is requiring standardized tests this April, but some modifications will be implemented (no re-tests are required). So, give the 5-day calendar a better and longer chance to provide accurate test scores and graduation rates. Student educational results come on behalf of how much the student puts into their education, which includes student apathy, attendance, and attitude. The parents and guardians must motivate at home in order to see results. The teachers and staff must motivate at school
in order to get results. Communication and motivation are vital in a student's educational success. No matter what calendar a school is operating on, student attendance and tardies or still a big problem. Whenever students miss school days or they are excessively tardy, they miss instruction. Student attendance was a problem before 2010. Student attendance was a problem between 2010 and 2019. Student attendance still continues to be a problem in 2022. On a 4-day calendar, one day absent will equal one and one-fourth of an absence.
Student attitudes are vital. No matter what calendar a school is operating on, student attitude is a big problem. Students of all ages do their best work before lunch. After lunch, teachers see more apathy and more attitude. The kids get tired after lunch. The kids will get tired on longer-hour days, and the kids will revert to their cell phones for their entertainment. Personally, I believe the removal of cell phones would be more beneficial to learning than the removal of one day of school. Put teachers up against cell phones, and students of all ages will find a cell phone to be more entertaining and interesting.
How would the 4-day impact non-certified positions?
​
Between 2010 and 2019 non-certified employees were hit heavily in their billfolds, pocketbooks, and insurance coverage. Bus drivers, cafeteria workers, custodians, and paraprofessionals run a higher risk of losing money or insurance benefits under the return to a 4-day calendar. If the 4-day calendar is designed to save the system energy costs, fuel, and money, the bus drivers will likely still deliver meals on Mondays. The cafeteria workers will still cook food on Mondays. The custodians will still clean and sanitize on Mondays (especially with COVID).
I am not sure about the paraprofessionals, but they deserve a salary just like all other staff members. Our paraprofessionals have been pulled and asked to go above and beyond their normal duties with COVID. Every educator/school employee has gone above and beyond since March 2020 to do the best we can for our students. I have been very proud of our accomplishments. At most board meetings,
Superintendent Hosmer states, "we are in good financial shape." The following was a quote from County Tax Commissioner Joy Hampton,​"This is a comparison of school taxes in Chattooga County in 2011 as opposed to 2018. In comparing the two years, taxpayers who pay county school tax are paying overall $962,839 less than they did in 2011 to the county school. This is a decrease of 17.40 percent in 7 years. "Since 2011, reductions in the millage rate have saved county school taxpayers $1,301,963.00." (October 2018)
Has your position changed on the 4-day schedule?
I suppose my position has changed on the 4-day schedule. The change has come with me doing even more research since I campaigned in 2018. I now go on record saying, "I understand now why Superintendent Pullen and the school board in 2010 supported a change to the 4-day calendar." In case of safety concerns, I understand that school systems may need to go fewer days in person, but that would be adding instruction back with virtual learning days. Thus, that is why I supported our virtual learning/hybrid schedules when we do it to keep students, staff, and teachers healthy. At this time, I see no reason (other than for convenience) that some people are wanting to go to a 4-day calendar. In 2018, the majority of voters elected me to serve on the Chattooga County School Board of Education. As a school board member, I realize I am only one of five voices/votes. However, I was still elected to serve both the minority and the majority in any given debate or educational decision. Chattooga County citizens and voters have mixed opinions on the 4-day vs. 5-day calendars. I am willing to give everyone their opinion, voice, and vote. However, for me and my house, we choose to be respectful. Like 2016, 2018, and 2020, voters will go to the polls again to vote for their candidate of choice. In 2018, the majority of voters either supported the 5-day calendar over the 4-day calendar or it was the "R" was supported over the "D". I will respect anyone's choice, opinion, or vote. I just encourage more citizens of Chattooga County to register and vote in elections. Also, support our local students in academic and athletic events. I have enjoyed my three years as a board member, and I have supported our youth and teachers. I pray my fourth year in my first term will be as rewarding and smooth as the last two years. I pray that COVID can become a thing of the past. Thank you again for your respect and support as I have served as an elected official in Chattooga County.