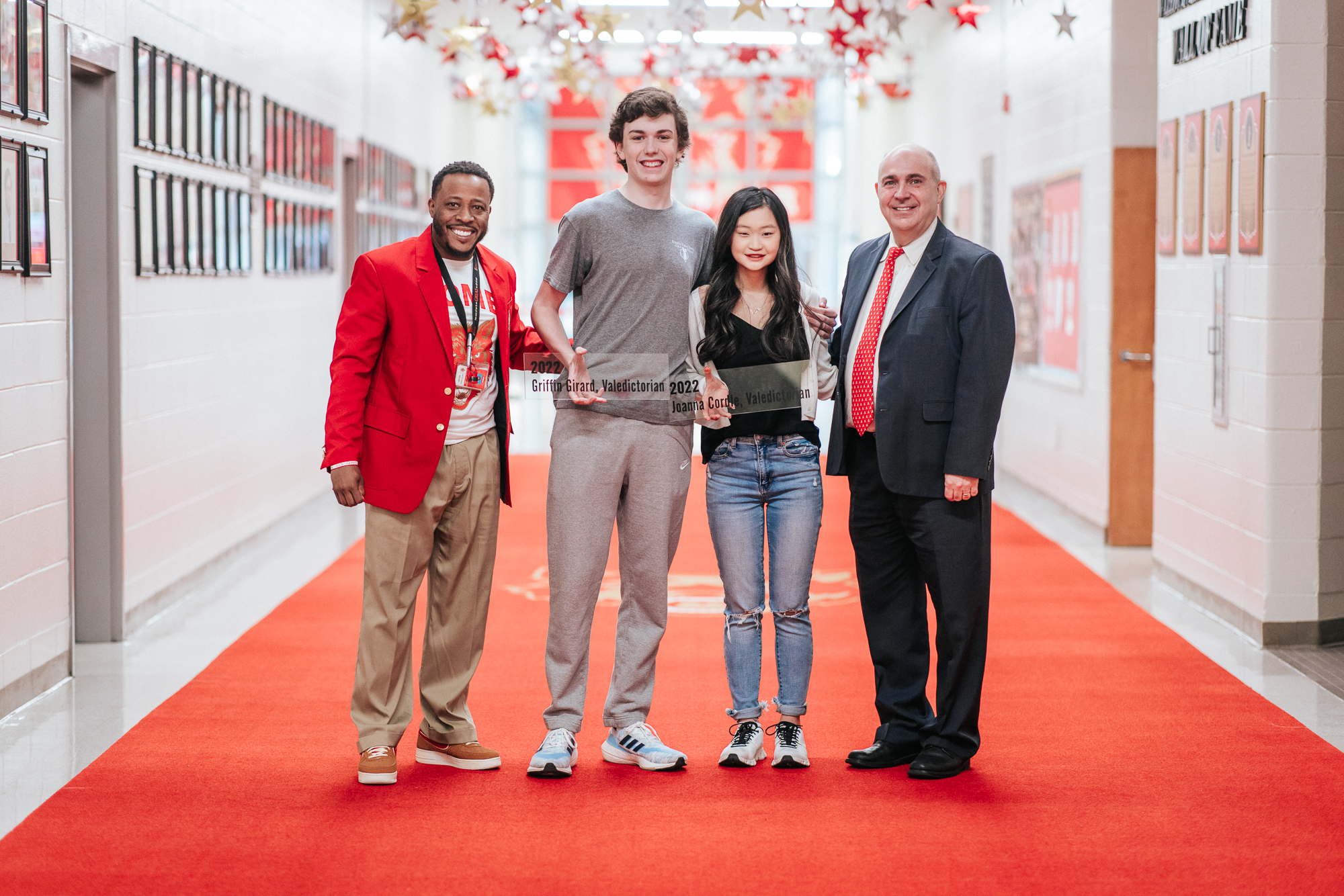 Never before, in the known history of Rome High School, have two students tied for the title of Valedictorian, until now. On Friday Feb. 11, against the resplendent red carpet of Rome High, it was revealed that Joanna Cordle and Griffin Girard will share the title of Valedictorian for the class of 2022.

Superintendent Louis Byars gathered with administrators and counselors in anticipation as the students removed the black paper from the hanging glass display, revealing their names and their shared title of academic success.
Cordle said that the honor to be named Valedictorian is nothing short of surreal.
"I know there was a lot of anticipation around it," she said, "but I was not expecting this at all."
Girard expressed his sentiments in the form of gratitude, "I feel like I've really gotten to know Rome High School and I've become really proud of my school and what it offers," he smiled. "I just think this is a big honor, especially because I love this school."
Principal Dr. Eric Holland explained that to be selected Valedictorian, a student must have the highest cumulative grade point average (GPA) from freshman year to senior year.
He explained the grade system further, "Students receive a 5.0 for taking an Advanced Placement (AP) class, a 4.5 for taking an Honors class and a 4.0 for taking regular classes. These kids each have a 4.7; that's a very high GPA ."
Cordle and Girard have essentially experienced their entire educational journey, to this point, side by side. The two began Pre-K at Berry College, where they attended through eighth grade, and have now undergone their high school career together, tying for the title of Valedictorian.
"We're happy to see students come from these other schools and finish their education here," Byars expressed. "We are able to provide them with the extra challenges like AP courses, dual enrollment courses, and of course our CTAE pathways. It's great to see these students be successful. They've got bright futures ahead and without a doubt, they will continue to be successful."
Although the two have been academically neck-and-neck all the while, they said they have never really felt as though they were competing, but rather working together.
"There have been many years that we've tied, in terms of grades and just where we were overall," Girard explained, "and so we just kind of worked together to see what we needed to do to put ourselves in a position to succeed."
Holland affirmed that there will be an official reception held in their honor in March.
As far as their plans for the next chapter in their educational journey, the options are unbounded.
Cordle said that she has been inspired by her AP and Honors biology classes at RHS and looks toward a degree in the subject.
"I really love the way biology answers all of these wide questions about our world," she said. "It really encompasses a lot of things and I want to be more involved in that."
Girard has plans to follow in his parents' footsteps and pursue a career in medicine.
While neither can be sure of which college they will choose to attend, it comes as no surprise that they have applied to many of the same institutions, such as the University of Georgia, Wake Forest University and Duke University.