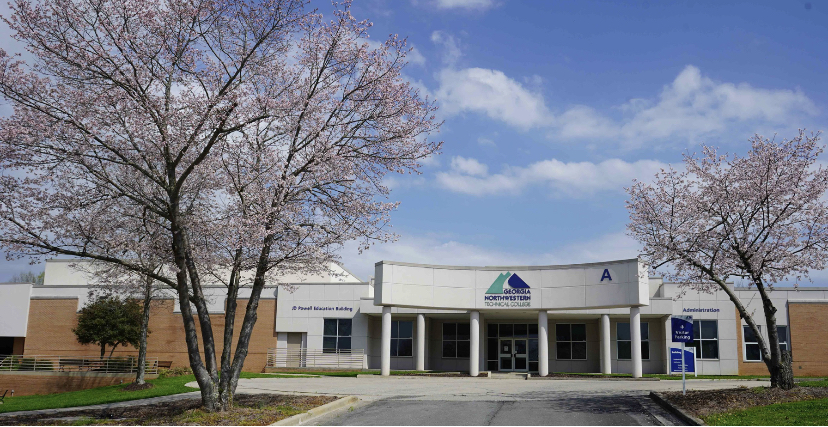 Georgia Northwestern Technical College 2021 Spring Commencement Ceremony

Date: Thursday, May 6, at 7 p.m.
Location: Floyd County Campus, Rome, Ga.
Students from Georgia Northwestern Technical College's (GNTC) nine-county service area will participate in a vehicle procession outside of the Floyd County Campus (FCC), in Rome on Thursday, May 6, to safely celebrate their success in completing their program of study.
The 2021 Spring Drive-Thru Commencement Ceremony will begin at 7 p.m. with a vehicle procession that will start behind the college on Hemlock Street. Family members and friends may ride with the graduates through the ceremony but will be asked to not leave their vehicles during the event. This is GNTC's third Drive-Thru Commencement Ceremony.
Stuart Phillips, vice president of Student Affairs at GNTC, will announce the names of the graduates and their respective programs during the ceremony. The graduates will then step out of their vehicles and walk the blue GNTC carpet to the center awarding area.
GNTC President Dr. Heidi Popham will greet the graduates and present them with their award during the ceremony. Each student will have their photo taken with Popham as well as a ceremony portrait taken by a professional photographer.
Students will receive their graduation packets prior to the ceremony, which will include any earned graduation cords. There will be a car decoration contest prior to the start of the ceremony with the top three winners receiving gift cards.
GNTC would like to offer special thanks to Shaw Industries Group, Inc. for donating the blue carpet and Allcove Industries, Inc. for cutting and binding the carpet for the ceremony.
Listed are graduates that are participating in the 2021 Spring Drive-Thru Commencement Ceremony showing (from left to right) the graduate's name and program of study. This list does not include students that have graduated, but are not participating in the ceremony, or students that registered for the ceremony after the commencement program was printed:
Associate of Applied Science Degree
Gabriela C. Arevalo, Business Management
Christopher Baine, Industrial Systems Technology
Eric Beach, Business Management
Jessica Alane Brock, Early Childhood Care and Education
Keasha Brown, Criminal Justice Technology
Quincy Chambers, Respiratory Care
Dawn Reid Charles, Criminal Justice Technology
Selvin J. Cornejo, Instrumentation and Controls Technician
Lori Marie Gallagher, Cybersecurity
Jasmin L. Garcia Barragan, Business Technology
Kaytlyn Green, Business Management
Anastasia Candida Hall, Accounting
Raphaella Hawkins, Business Management
Manuel Andres Hernandez, Industrial Systems Technology
Teresa Carpenter Hodgkins, Respiratory Care
Casey Jay Hunter, Business Management
Anna Johnson, Business Management
Jimmy R. Keithley, Business Management
Lacey Miriam Jean Leming, Business Management
Deidra Long, Business Technology
Amber Renee Lovell, Accounting
Breanna Luke, Business Technology
Vincent M. Mauro, Industrial Systems Technology
Alma Ofelia Morales, Criminal Justice Technology
Courtney Learine North, Respiratory Care
Steven H. Ollis, Construction Management
Madison V. Ozment, Respiratory Care
Labeth R. Payne, Business Management
Tjuana S. Perry, Business Technology
Jose F. Plaza, Computer Support Specialist
Charity Michelle Pogue, Early Childhood Care and Education
April Paulette Pyles, Business Technology
Jerry Ryan Redd, Industrial Systems Technology
Samantha Renee Reed Parker, Business Technology
Makinsey C. Reynolds, Business Management
Emmanuel Rodriguez, Industrial Systems Technology
Samantha Ruedas, Criminal Justice Technology
Miguel Angel Sanchez-Perez, Criminal Justice Technology
Victoria E. Smith, Early Childhood Care and Education
Celestina Snyder, Business Technology
Jessica Rae Staton, Accounting
Sarah Josie Summerville, Accounting
Rachel L. Whiteside, Accounting
Associate of Science in Nursing
Sydney A. Covington, Nursing
Sarah Michelle Green, Nursing
Sonja Powell, Nursing
Diploma         
Jessica Carnes, Business Management
Tomeka A. Carter, Computer Support Specialist
Rhonda Dekarske, Business Technology
Manuel Guzman Reyes, Precision Machining and Manufacturing
Kimberly Hicks, Accounting
Jesica Simmons Hollingsworth, Business Healthcare Technology
Kelli Renae Irvine, Business Healthcare Technology
Lesa Jackson, Health Information Management Coding
Edwin F. Ramirez Clara, Electrical Systems Technology
Dalton D. Thompson, Welding and Joining Technology
Maggie Rebecca Waid, Practical Nursing
Technical Certificate of Credit  
Susan Kristy Baker, Data Entry Clerk
Brittany Marie Dorsey, Health Care Assistant
Alondra Janet Huerta, Patient Care Assistant
India-Lynn Crystal Hutchinson, Early Child Care and Education Basics
Jazmin M. Jennings, Central Sterile Supply Processing Technician
Eric Mitchell, Medical Coding
Trinetta B. Morgan, Phlebotomy Technician
Monica Rodriguez, Medical Front Office Assistant
Markitta D. Schelleack, Construction Manager
Mikayla D. Shaw, Medical Front Office Assistant
Lindsey Thomas, Health Care Assistant
Hope B. Tyson, Healthcare Billing and Coding Specialist
Georgia Northwestern Technical College provides quality workforce education to the citizens of northwest Georgia. Students have the opportunity to earn an associate degree, diploma or a certificate in business, health, industrial or public service career paths. This past year, 11,820 people benefited from GNTC's credit and noncredit programs. GNTC has an annual credit enrollment of 8,591 students and an additional enrollment of 3,229 people through adult education, continuing education, business and industry training and Georgia Quick Start. For more information about GNTC, visit us at www.GNTC.edu. GNTC is a unit of the Technical College System of Georgia and an Equal Opportunity Institution.