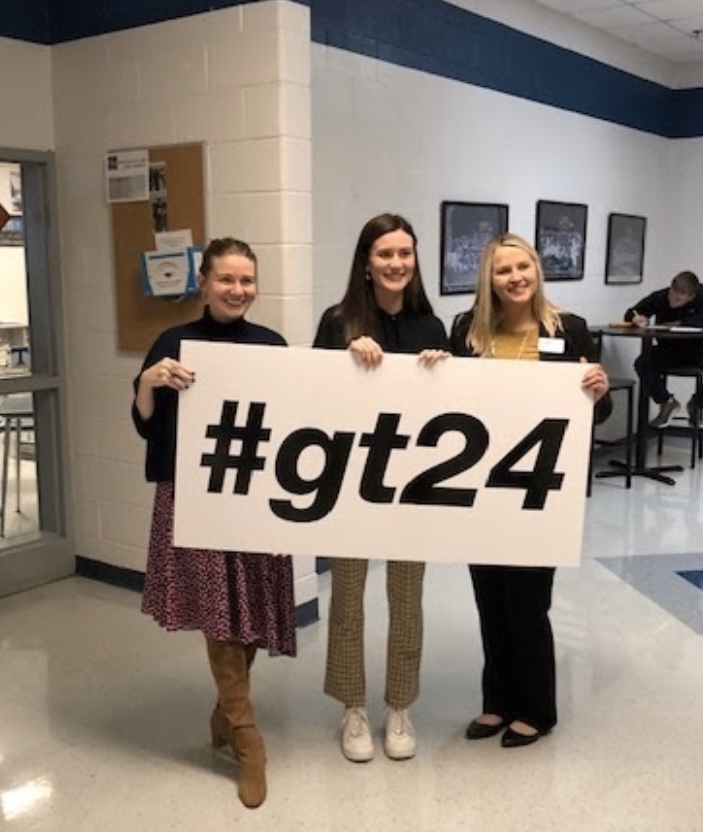 Published with Permission of the Bulldog Barker:


By Natalie Peterson
On Friday, January 17, Trion High School Senior, Sophie Harward, received an
unexpected personal visit during her calculus class.
Two representatives from The Georgia Institute of Technology interrupted her class to
personally present her with a letter of acceptance to their school. Harward, along with her
classmates and teacher, were shocked with joy to receive this welcomed information! Also
present were her parents who had been informed of the visit but kept up the surprise.
One of the school representatives who delivered the letter to Sophie was Alexandra
Thackston, a Senior Admission Counselor at Georgia Tech. She explained that this visit was
one of many for students who were accepted in early action. They wanted students in rural
Georgia areas to know that they are still on the radar of Georgia Tech admissions and they are looking out for them. Also, they especially welcome students from our own state and encourage future Georgia engineers to apply.
In the application process, Georgia Tech looks for qualities in individuals that set them
apart from other students, not just in academics. Sophie certainly has demonstrated leadership skills that would make her an outstanding applicant to the very prestigious institute . Harward's essay and application promoted her many endeavors that made her very competitive in the pool of other students seeking to attend Georgia Tech in the fall. She has worked hard throughout her high school career to distinguish herself and be a productive member of Trion High School.
She has been competitive in all TSA and architectural design competitions. She
designed and competed in a state competition with a tiny house and her design won her a state championship. Harward was involved in the starting of Green Team at Trion, which is a club for Trion High School students who have completed numerous service projects not just for the school but the whole community.
She started The Helping Hands Ending Hunger organization at THS originally, but has
helped the program broaden to other schools across Georgia. Her efforts have earned
recognition from State Government; she was invited by Congressman Graves to present and speak about the program.
Harwad has already completed 13 college courses before graduating high school
through the dual enrollment program. She is an extremely ambitious student with everything it takes to succeed. It is no surprise that Georgia Tech would embark to Trion, Georgia to extend a personal invitation for Sophie to tour and hopefully attend their university.
Thus far, Sophie has been accepted to Clemson University, Georgia Tech, and Auburn
University. Wherever she goes, she plans to seek a degree in Architectural Design and follow her dream of being an architect.
Harward represents Trion High School well and respectfully, whatever path she
chooses, we all know she is going big places to design structures of all sizes.