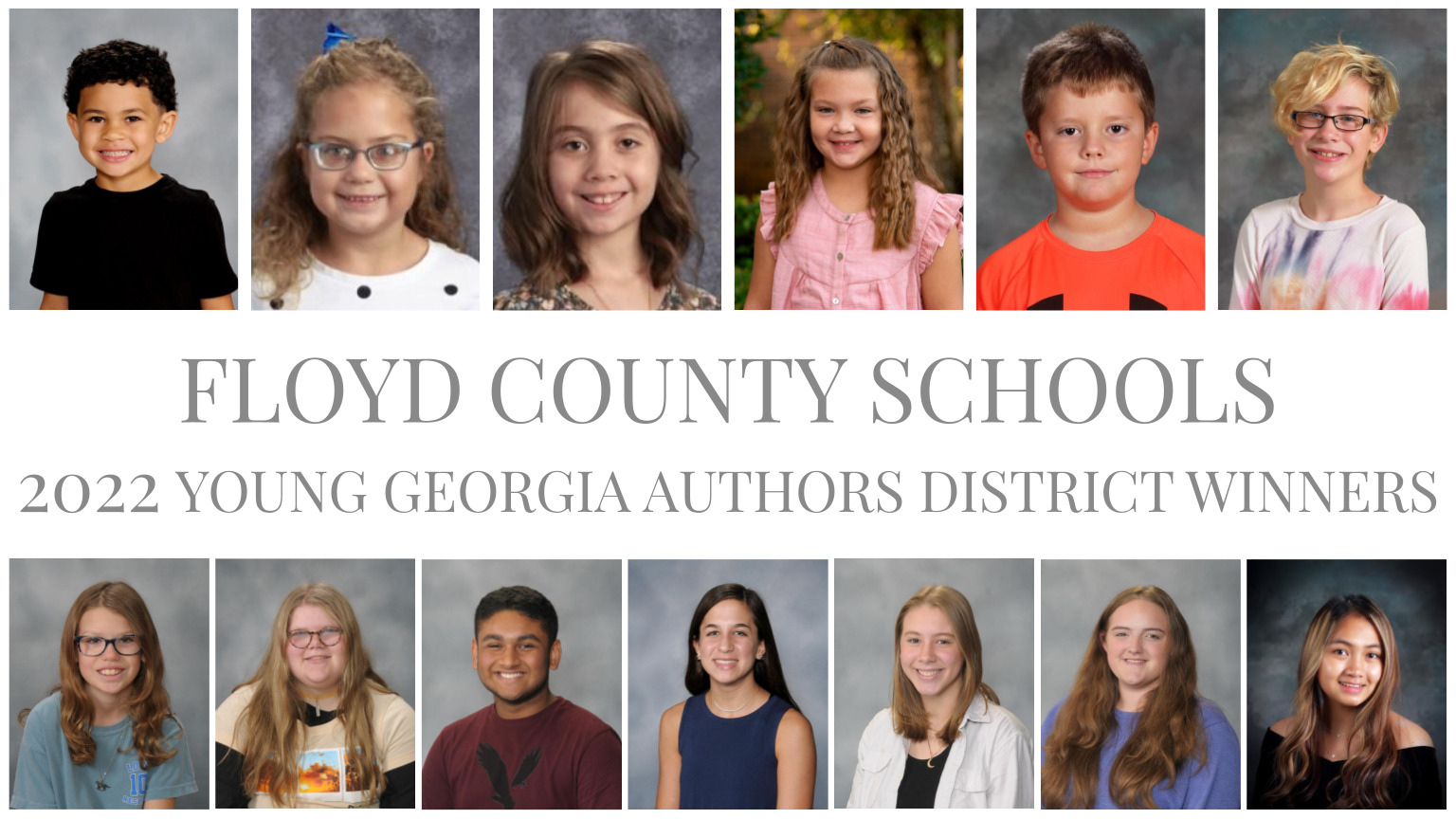 The purpose of the Young Georgia Authors (YGA) writing competition is to encourage students to develop an enthusiasm for and expertise in their writing, to provide a context to celebrate their writing successes, and to recognize student achievement in arts and academics.
This prestigious competition has been engaging Georgia students for more than two decades and is open to any student currently enrolled in Georgia public schools, grades K-12. The competition is sponsored by the Georgia Language Arts Supervisors (GLAS) and the Georgia RESA Network with support from the Georgia Department of Education.
Students must make it through the school level, district level, and RESA level competitions in order to advance to the state-level competition.
Congratulations to the 13 Floyd County Schools district winners:
Kindergarten: "All About My Dog" by Bentley Kinnebrew (Model Elementary School)
1st Grade: "The Lost Monkey" by Charleigh Flagello (Glenwood Primary School)
2nd Grade: "The Diamond Princess" by Hadley Parker (Glenwood Primary School)
3rd Grade: "Lili's Arm" by Mary Camille Kines (Johnson Elementary School)
4th Grade: "The Mad Chicken" by Delic Branham (Garden Lakes Elementary School)
5th Grade: "The Story of My Life" by Ivy Hardy (Pepperell Middle School)
6th Grade: "She May See What I See" by Kaitlyn Cole (Model Middle School)
7th Grade: "Distant Dreams" by Isabella Johnson (Model Middle School)
8th Grade: "Festival of Lights" by Manrajpreet Singh (Armuchee High School)
9th Grade: "Silence" by Natalie Long (Model High School)
10th Grade: "Broken Glass" by Lauren Butler (Armuchee High School)
11th Grade: "The Afterward and All the Things I Should Have Said" by Olivia Fields (Armuchee High School)
12th Grade: "I Got Through It" by Gail Anasco (Pepperell High School)