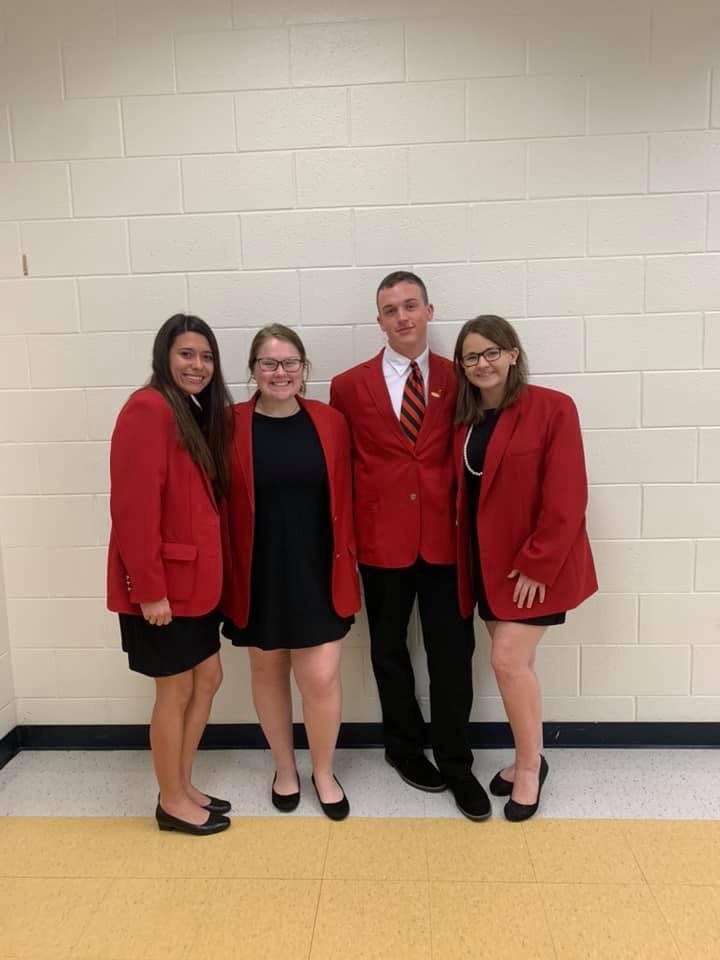 Four students involved in FCCLA (Family, Career, and Community Leaders of America) at Chattooga High School have recently advanced to state competition with their STAR Events. STAR stands for Students Taking Action with Recognition. STAR Events are a wonderful way for students to voice opinions, learn, as well as develop many skills.

Blake Bonanno, Jessica Brown, Caitlyn Daniel, and Savannah Turner were the four competitors to advance. Blake competed in Professional Presentation, his project focused on the hazards of vaping. Jessica competed in Sports Nutrition, she interviewed wrestler Griffin Jarrett to improve his nutrition plan on the mat. Caitlyn competed in Public Policy Advocate, she advocated for foster parents to receive TBRI training and to realize the affect trauma has on the brain. Savannah competed in Interpersonal Communications where she handed out a questionnaire and discussed how having older parents differed from her peers with younger ones. These competitions take major dedication and time.
Advisor Kayla Hartline stated, "STAR events allow students to truly grow while learning about themselves and their community. I am so proud of these students and can not wait to see them show off their positive growth while at state!"
State Leadership Conference will be held on March 20-22, 2020 in Atlanta.
About FCCLA:
Family, Career and Community Leaders of America (FCCLA) is a national Career and Technical Student Organization (CTSO) for young men and women in Family and Consumer Sciences (FCS) education in public and private school through grade 12. FCCLA offers intra-curricular resources and opportunities for students to pursue careers that support families. Since 1945, FCCLA members have been making a difference in their families, careers, and communities by addressing important personal, work, and societal issues through Family and Consumer Sciences education.
Today over 175,000 members in more than 5,300 chapters are active in a network of associations in all 50 states, in addition to the Virgin Islands and Puerto Rico. The work of FCCLA helps students and teachers focus on a variety of youth concerns, including parenting, family relationships, substance abuse, peer pressure, sustainability, nutrition and fitness, teen violence, and career preparation in four specific Career Pathways. Involvement in FCCLA offers members the opportunity to expand their leadership potential and develop skills for life—planning, goal setting, problem solving, decision making, and interpersonal communication—necessary in the home and workplace.