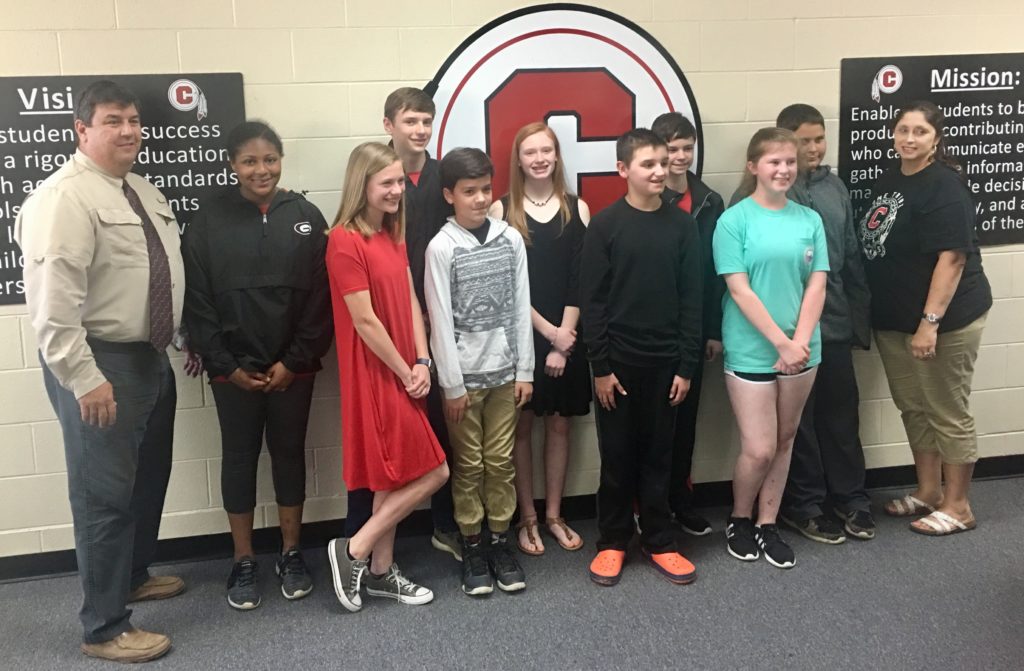 In March, seven teams and several individual Chattooga's Future Problem Solvers competitors in grades 6-9 were selected to compete in the Future Problem Solves State Bowl in Athens. Future Problem solvers is an academic competition in which students must blend their critical thinking skills with creativity to develop solution ideas for a societal issue that is predicted to become a major challenge in the near future. Ultimately, students must develop a plan to solve the problem and convince others to support their idea during a
presentation in front of hundreds of people.
Chattooga County Board of Education invited Chattooga's Future Problem Solvers to the April meeting to be recognized.
Invited from Summerville Middle School
were Shelby Burgess, Savannah Gray, Destiny Noel, Lina Ramirez, Khanija Avery,
Billy Cesareo, Ashely Ellis and Rylee Wells. This team is coached by Deborah Osborne
and Megan Ray.
Invited from Lyerly School were Landon Stephens, Kayleigh Byars, Kali Clark,
Carson Carter, Walt Beach, Nathan Reynolds, Jake Budnick, Braden Dillard, Addyson Daniel, John Michael Martin, EmmaRae Ward, Chloe Brown and Christofer Elias. This team is coached by Charlene Koonce and Kanissa Martin.
Invited from Menlo School were Chloe Bass, Dillon Brown, Alyson Christol, Ramsey
Elrod, Aubree Evans, Jacob Huitron, Emma Marshall, Tatum Money, Aleigha Satterfield, Haign Stephens, Faith Yoder and Olivia Young. This team is coached by Christie Dooley.
Invited from Chattooga High School was Sarah Beth Hampton, who is also coached
Christie Dooley.
As an individual competitor, Sarah Beth Hampton earned 3rd Place overall. This
qualifies her to represent Chattooga County as a competitor in the International Bowl in Wisconsin this summer.
All five of Chattooga County coaches were presented with the award of Rookie
Coaches of the Year.
The team comprised of Alyson Christol, Aubree Evans, Jacob Huitron and Aleigha
Satterfield earned 2nd Place for the Development of their Action Plan. They, along with Dillon Brown and Sarah Beth Hampton, earned 1st Place for the Presentation of of the Action Plan.
​