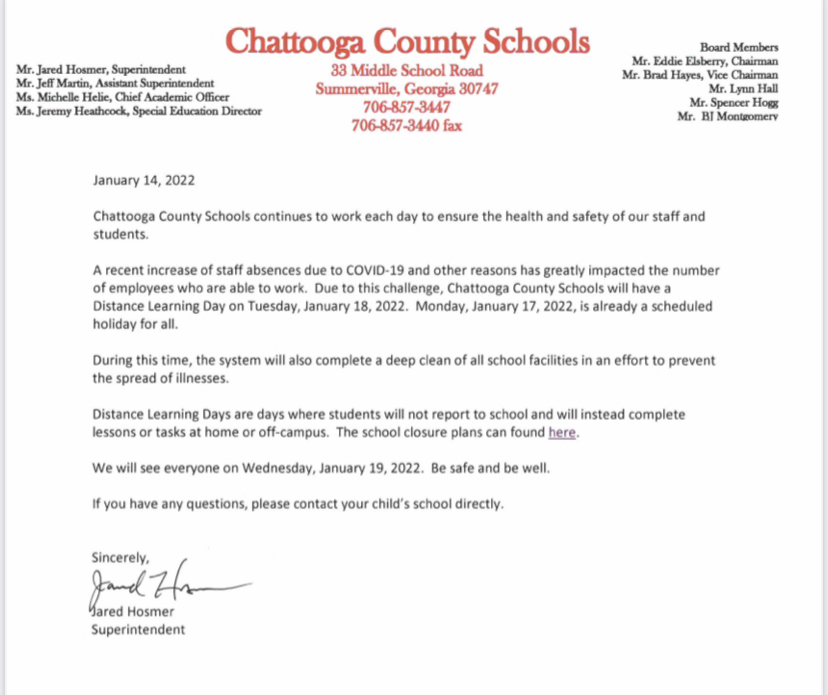 Chattooga County Schools Superintendent Jared Hosmer has released the following letter regarding the distance learning day scheduled for Tuesday.


January 14, 2022
Chattooga County Schools continues to work each day to ensure the health and safety of our staff and students.
A recent increase of staff absences due to COVID-19 and other reasons has greatly impacted the number of employees who are able to work.  Due to this challenge, Chattooga County Schools will have a Distance Learning Day on Tuesday, January 18, 2022.  Monday, January 17, 2022, is already a scheduled holiday for all.
During this time, the system will also complete a deep clean of all school facilities in an effort to prevent the spread of illnesses.
Distance Learning Days are days where students will not report to school and will instead complete lessons or tasks at home or off-campus.  The school closure plans can found here.
We will see everyone on Wednesday, January 19, 2022.  Be safe and be well.
If you have any questions, please contact your child's school directly.
Sincerely,
Jared Hosmer
Superintendent