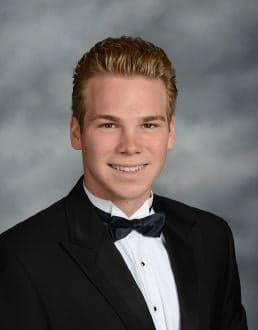 Caleb Veitch has been named Chattooga High School's Star Student. To obtain the STAR nomination, high school seniors must have the highest score on any single test date of the SAT taken through the November test date of their senior year and be in the top 10% or top ten students in their class, based on grade point average. Students then choose their STAR Teacher for having had the most influence on their academic achievement.

"I have had so many teachers help me throughout my academic career, and I had a tough choice when I was notified that I had to choose just one; however, after some careful decision making, there was no doubt in my mind that I should choose Ms. Benson," said Veitch. Ms. Benson has been an educator for 20 years and taught Caleb biology and currently is his chemistry teacher.
"She has this aptitude for teaching that I have honestly never seen. She is perfectly made for the job. No matter what mood I am in when I walk into her class first thing in the morning, she makes sure to liven up myself, as well as my classmates, as soon as she enters the room. I could go on and on about the hilarious jokes she makes throughout class that are so clever even I could not come up with them, which is saying a lot because I personally feel like I am hilarious. Aside from the jokes, however, Ms. Benson makes so many connections to other topics throughout class, tying together the standards of chemistry to other forms of science and even some very important life lessons, all while making sure to throw in one of her signature jokes every now and then. I cannot truly put into words how much she has helped me learn and grow as an individual, and she is always there to help me with anything I need, whether that be answering a simple question I have in class or writing a letter of recommendation for me at the drop of a hat. Of course, she is tough at times, but that has only made me more apt for conquering any challenges I may face. Ms. Benson has truly been one of the greatest teachers I have ever had."
"I know it may seem small in the grand scheme of things, but it is truly an honor to represent Chattooga High as this year's Star Student. Knowing that my diligence and persistence in my studies is being recognized truly means the world to me. I am sure you are familiar with the hours of studying and preparation that go into academics, especially when working to obtain a high score on the SAT. It is no easy task, but in this moment, the vigorous amounts of work I have put in are worth all of the effort," Veitch said.
Ms. Benson said, "I am so honored that Caleb has chosen me..It is like the peoples choice award, it is nice to be recognized," said Ms. Benson. Ms. Benson spoke of Caleb's academic accolades saying, "he has the highest SAT, perfect raw score on science an EOC Milestone, literary meet, student leadership, Beta Club, he has been #1 for all three years and I feel quite certain for this year as well… and while that says a lot, those are just numbers."
Ms. Benson continued to speak of the character of Caleb that sets him apart from the thousands of students she has taught throughout her career.  "He carries himself with grace and kindness, he is funny and has a great attitude," Ms. Benson said.
Caleb plans on attending Kennesaw State University's Honors College and majoring in biology and pre-med. Afterwards he plans to pursue a career in anesthesiology.
Until then, Caleb will be on the baseball diamond where just last week he went 8 for 13 at the plate with two doubles and six RBIs including a grand slam home run.