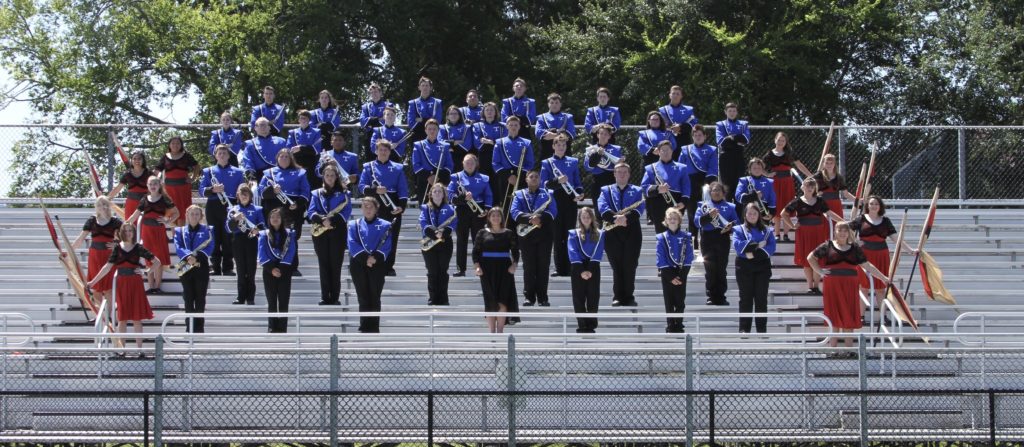 High school football nights wouldn't be the same without the Friday night sounds of high school bands. Marching bands have long been a special part of the Friday Night football experience.


The 2019 Pride of Trion Marching Band spent the summer practicing and perfecting its halftime show.
This season Trion's show is titled, "Ritmo de España."  Selections include, "Estancia," featuring tuba soloist Tanner Chisolm, and trumpet soloists Ben Cox and Gabe Byars.  Next up is the Santana tune, "Novus," featuring Ben Cox on trumpet, and the closing selection is the classic marching band hit, "Malagueña," featuring Eduard Perez on baritone and the Pride of Trion drumline.
Student leadership includes Drum Major Madilyn Cordle, Band Captains Kimberly Truong and Rhys Wallin, color guard captains Kaitlyn Burke and Kelsey Kingery, percussion captains Olivia Brown and Krista Ozment.
The Pride of Trion will be attending the follwing competitions this season: the Armuchee Invitational on September 28, the Rockmart Yellow Jacket Classic on October 19, and Peach State at Barron Stadium in Rome on October 26.
Trion High School Band Student Report
2019 Pride of Trion Band

Audie Brown 8 Flute
Olivia Brown 12 Percussion
Kaitlyn Burke 12 Color Guard
Gavin Burks 9 Front Ensemble
Gabriel Byars 11 Trumpet
Colton Cabe 10 Trombone
Brandon Carrillo 10 Percussion
Tanner Chisolm 12 Tuba
Madilyn Cordle 10 Drum Major

Ben Cox 12 Trumpet
Cotton Drake 9 Color Guard
Eli Duvall 12 Percussion
Nathan Elrod 8 Trumpet
Tanner Elrod 11 Alto Sax
Gavin Evans 9 Percussion
Marlee Gary 8 Color Guard
Gavin Gillespie 10 Trumpet
Carri Gilreath 11 Trumpet
Blayne Hayes 9 Percussion

Carter Jackson 9 Front Ensemble
Kirsten Jones 9 Color Guard
Jocelyn Juarez 10 Color Guard
Max Kilgore 9 Percussion
Kelsey Kingery 11 Color Guard
Peyton McHan 9 Front Ensemble
Jessica Mendez 11 Mellophone
Olivia Morgan 9 Color Guard
Cadee O'Neal 9 Alto Sax
Krista Ozment 11 Front Ensemble
Will Paseur 8 Front Ensemble
Bailie Pence 12 Percussion

Eduard Perez 11 Baritone
Connor Russell 9 Percussion
Zane Russell 8 Bb Clarinet
Lexie Shipp-Allen 10 Color Guard
Jacob Spraggins 11 Percussion
Greyson Stephens 8 Trumpet
Sara Thompson 9 Bb Clarinet
Kimberly Truong 12 Bb Clarinet
Ester Vicente 9 Color Guard

Alexis Walker 8 Alto Sax
Rhys Wallin 11 Tuba
Martin Welles 10 Alto Sax
Jesse Whited 11 Trombone
Belle Williams 11 Trumpet

Kayleigh Willingham 10 Mellophone
Rylee Willingham 10 Alto Sax
Will Wood 10 Front Ensemble
Elissa Woods 10 Color Guard
Matthew Woods 9 Baritone
Chesley Young 10 Percussion
Chloe Young 8 Front Ensemble