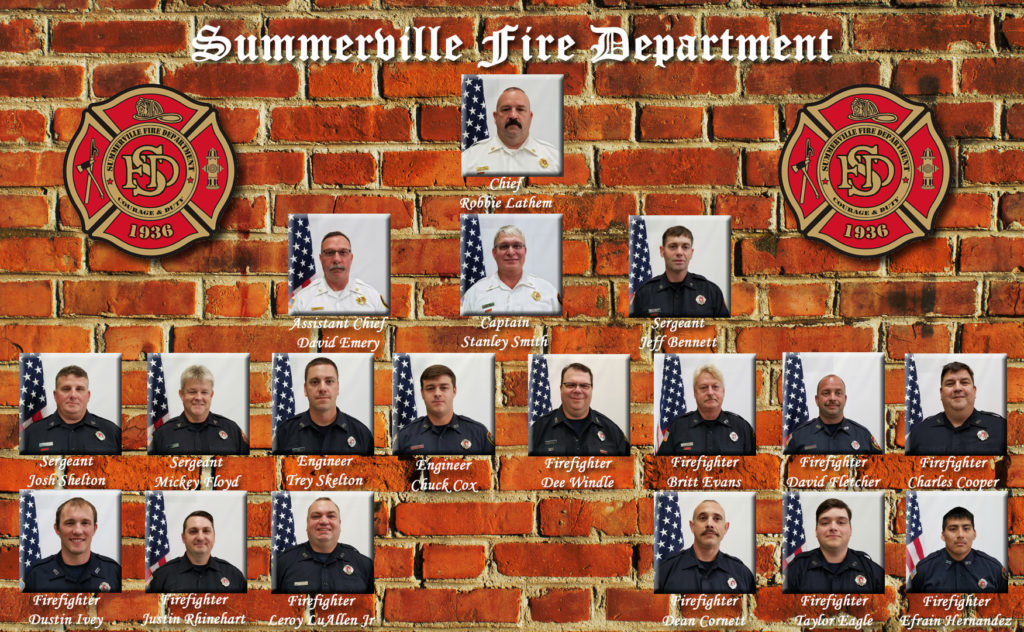 The City of Summerville has released some highlights from the fire department during Chief Robbie Lathem's tenure. As the 6th fire chief of the City of Summerville since 1936, Lathem says, "it is an honor and a privilege to work with the dedicated firefighters in our department. The City of Summerville firefighters not only provide exemplary fire and emergency services, they are also committed to continue the department's longstanding tradition of positively impacting the community by providing a "SERVICE FOR OTHERS,".

Some of The Summerville Fire Departments Accomplishments:
REVISED AND ADOPTED A NEW SET OF SUMMERVILLE FIRE SOG
DEVELOPED A STRATEGIC PLAN FOR THE FIRE DEPARTMENT INCLUDING 1YR, 5YR AND 10YR PLANS.
HOSTED OVER 110 HOURS OF TRAINING FROM THE GEORGIA FIRE ACADEMY AND OFFERED TO EVERYONE IN THE COUNTY.
THE DEPARTMENT AS A WHOLE AS ACQUIRED 1162 HOURS OF CREDITED TRAINING FROM THE GEORGIA FIRE ACADEMY SINCE JULY 1, 2016.
HAD A FIREFIGHTER COMPLETE HIS ARSON 1 AND ARSON 2 CLASSES TO BECOME A RECOGNIZED ARSON INVESTIGATOR SO NOW WE HAVE AN ARSON INVESTIGATOR ON THE DEPARTMENT.
IMPLEMENTED A SMOKE DETECTOR PROGRAM TO TRY AND HELP SAVE LIVES. SINCE IMPLEMENTED WE HAVE INSTALLED 686 SMOKE DETECTORS.
ADOPTED A 2 PAGE SYSTEM WHERE CAREER AND OFFICERS RECEIVE INITIAL CALL AND DETERMINE IF THEY NEED HELP FROM THE VOLUNTEERS TO TRY AND HELP ALLEVIATE THE HIGH CALL VOLUME.
PROCESS OF CHANGING SCBA TO SCOTT FROM SURVIVE AIR, WE HAVE 2 ENGINES PREPARED.
ACQUIRED NEW BATTERY POWERED HYDRAULIC RESCUE TOOLS FOR FASTER RESULTS ON A MOTOR VEHICLE ACCIDENT.
ALL MEMBERS HAVE TRAINED TO THE LEVEL 1ST RESPONDER AND AT LEAST REGISTERED VOLUNTEER FIREFIGHTER WITH A MINIMUM TRAINING CRITERIA SET FORTH FOR ALL FIREFIGHTERS TO OBTAIN.
ACQUIRED A FORCIBLE ENTRY DOOR SIMULATOR FOR BETTER TRAINING ON GAINING ENTRY TO A BUILDING.
ACQUIRED A FIRE EXTINGUISHER SIMULATOR TO HELP BETTER TRAIN THE FIREFIGHTERS AND CITIZENS ON THE USE OF A FIRE EXTINGUISHER.
RECOGNIZE A FIREFIGHTER OF THE YEAR FOR ALL THEIR HARD WORK AND DEDICATION TO THE DEPARTMENT.
RECOGNIZE YEARS OF SERVICE TO OUR MEMBERS FROM 5, 10, 15, 20, 25 YEARS OF SERVICE.
IMPLEMENTED A FIRE HOOD EXCHANGE, AFTER STRUCTURE FIRES FIREFIGHTER BRING THEIR DIRTY HOODS TO STATION FOR EXCHANGE WITH A CLEAN ONE TO HELP CUT DOWN ON RISKS OF FIREFIGHTER CANCERS.
ACQUIRED A SPARKY THE FIRE DOG COSTUME TO HELP WITH FIRE PREVENTION CLASSES WITH THE SCHOOLS.
TESTED 265 FIRE HYDRANTS AND PAINTED 175 FIRE HYDRANTS.
ALL FIREFIGHTERS FIT TESTED FOR USE OF A SBCA (SELF CONTAINED BREATHING APPARATUS) TO MEET REQUIREMENTS SET FORTH IN 7.13 OF NFPA 1500.
ALL FIREFIGHTERS THAT DRIVE AN APPARATUS OF SUMMERVILLE FIRE DEPARTMENT MUST HAVE A VALID DRIVER'S LICENSE TO DRIVE THAT PIECE OF EQUIPMENT. MINIMUM OF CLASS F LICENSE IS REQUIRED.
"All of this was made possible from the dedication and hard work of everyone at The Summerville Fire Department."
-Robbie Lathem