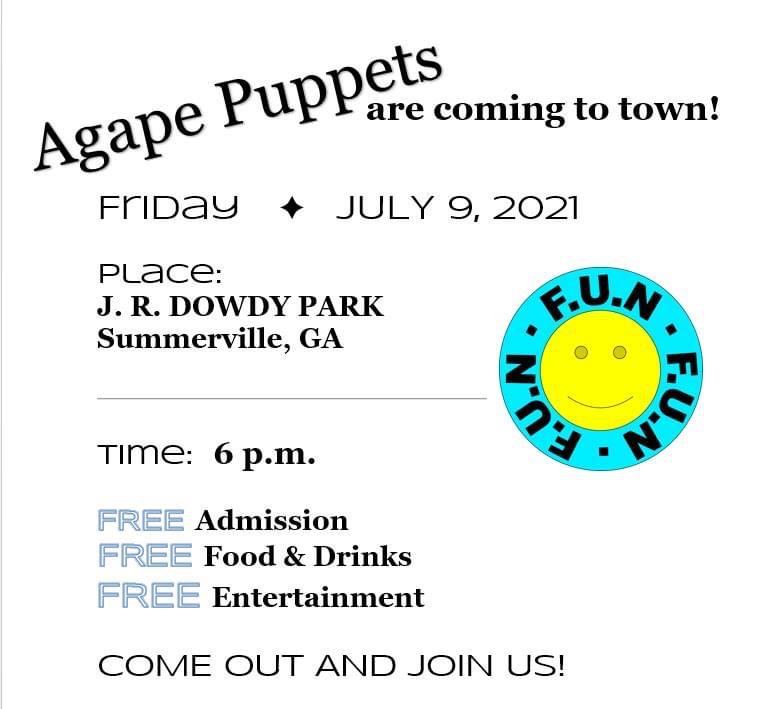 The Agape Puppets lead by Linda Summers will be coming to Dowdy Park July 9, 2021 at 6 p.m.


There will be free food and drinks, a free show, and admission is free. This is a family event for the community and the guaranteed summertime fun!
Background:

The Agape Puppets began when two little boys wanted to tell people about Jesus . Their Dad suggested puppets, but no one in the family ever imagined what God would do! The boys, Josh and Matt, had seen Hank Schum tell stories with puppets and chalk. They loved Uncle Hank! Mike and Linda Summer, with their sons, Josh and Matt, and their friends traveled the world and shared the Gospel. When Mike went to be with the Lord in 2005, Linda continued , pulled forward by the needs of the children and deep faith that Jesus would rescue her.  Through the years, many incredible young people have served with Linda in her world travels!
Ministry:

Each year, Agape Puppets shares the true love of Jesus Christ with over 80,000 children, teenagers, and adults across five continents.
For more information about Agape Puppets visit
https://theagapepuppets.org