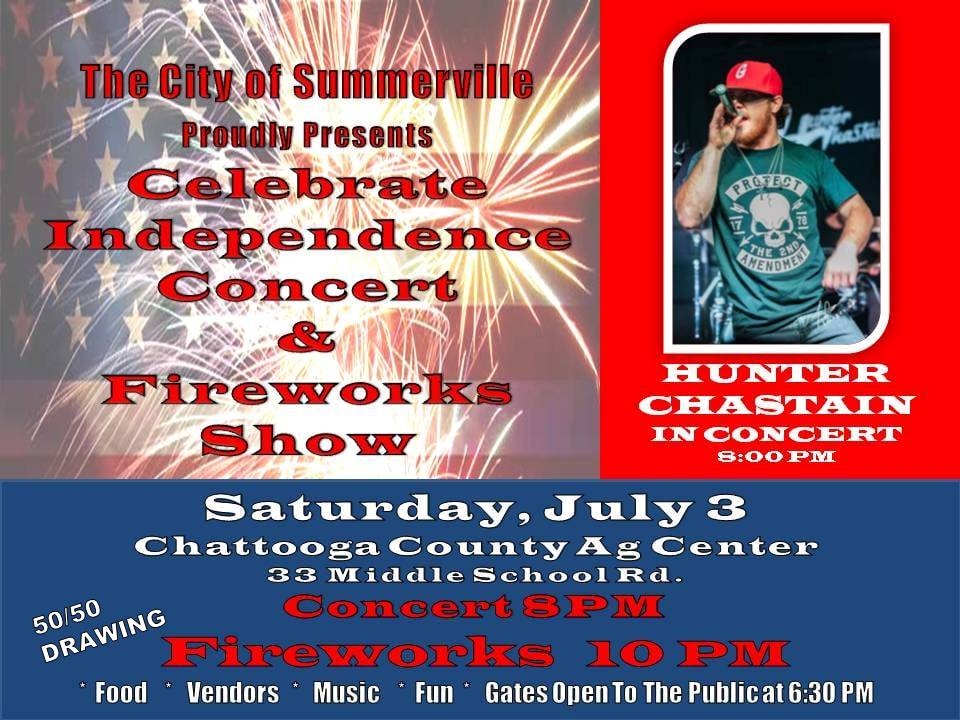 The City of Summerville is excited to present the 2021 Celebrate Independence Concert & Fireworks Show. This free community event will be held at the Chattooga County Agricultural Center on Saturday, July 3. The fireworks show is a long time family event and one of the best shows in northwest Georgia!                                                                                                                 

Gates will open to the public at 6:30 p.m. Attendees can access the event at the Summerville Middle School entrance and the Chattooga County C.E.R.T. Team will be assisting with parking. Depending on the weather, parking may be limited.
This year's festivities will kick off with a free concert by country music artist Hunter Chastain at 8:00 p.m. It is suggested to bring lawn chairs, blankets, and dancing shoes for this evening of entertainment.
Food vendors will be on site open and offering a variety of food and cold drinks for families wishing to picnic. There will be a nice variety of foods including barbecue, hotdogs, deep fried corndogs, nachos, funnel cakes, roasted corn, ices, lemonade,and more. Picnic tables will be available under the covered arena for the public's pleasure. Due to COVID concerns, the traditional water slide play, and interactive games will be postponed for this year to hopefully return in 2022.
Around 10:00 p.m. the City of Summerville is set to deliver a spectacular fireworks show. The 10-15 minute show is set to highlight a wide array of fireworks exploding from 300 – 1,000 feet in the air. While there will be many vantage points to view the fireworks show, the Chattooga County Agricultural Center is an ideal location. Those wishing to view the fireworks display at the Ag Center should proceed to this area well in advance for parking.