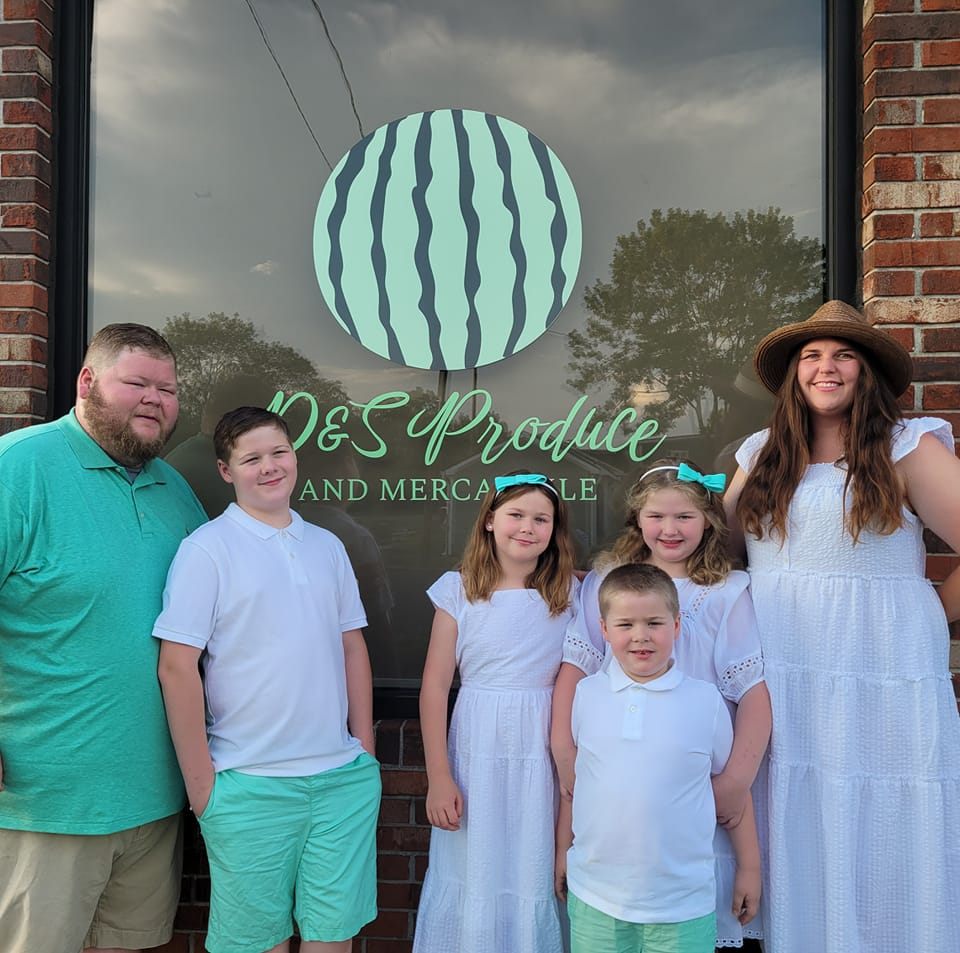 The Journey of D&S Produce


Nineteen years ago, a humble journey began with David, who started selling cantaloupes from the college farm to make gas money for his trips back home. Even while teaching at CHS, he dedicated his summer off days to continue this venture. He set up shop out of the back of his truck, popping up at various local business parking lots.
When he tied the knot and entered Stephanie's family, she introduced him to a vibrant community of local producers. This expansion led to the sale of watermelons, tomatoes, peaches, and various other vegetables. About six years ago, the couple faced a pivotal decision: either scale up or step back. They chose the former, a decision that required a leap of faith. With a large family relying on a single income, they added peaches, pecans, and honey to their offerings.
As their customer base at Maryland's Fried Chicken parking lot grew, they knew they needed to keep moving forward. The next step was a daunting one: opening a physical store. Prayers and determination paved the way. Three years ago, they approached the Mitchells about purchasing their vacant lot, which required buying both the building and the land at 76 Georgia Avenue. Despite the financial challenges, they rallied through hard work and prayer, raising their needed funds.
Their dream became a reality when they purchased the building and the lot. The renovation began in March of 2022, and by August, they were open for business. However, their journey faced another obstacle: a hundred year flood that devastated much of downtown Summerville. They had to temporarily close for two months for further renovations but bounced back stronger.
With their goals set on bringing a pumpkin patch and Christmas tree lot to town, they've since been learning and expanding their offerings to meet their community's needs. They also have plans to develop the adjacent lot into an enjoyable space for the community.
Beginning next week, they will have a pumpkin patch beside the shop.
Meet the Visionaries Behind D&S Produce
David, a lifelong resident of Chattooga County, grew up in Cloudland, attended Menlo and CHS, and has been with Chattooga County schools for 17 years, serving as an agriculture teacher and FFA advisor. He's working on a doctorate, holding degrees from ABAC, UGA, Oklahoma State, and Auburn. The couple has four children, Risby, Mae, Martha, and Charlie, who reside in Chattooga County. 
David and Stephanie's love story began in college at ABAC.
Stephanie hails from Nashville, GA, and grew up on her family's small multi-generational farm. She attended Abraham Baldwin Agriculture College and Valdosta State University. 
Running the Store
During the week, Stephanie is at the helm of the shop, with David joining her on Saturdays.
Hours of Operation
Wednesday – Friday: 9am – 6pm (with a brief closure from 3:30-4 to pick up their kids)

Saturday: 9am – 3pm
Location
76 Georgia Avenue, Summerville, GA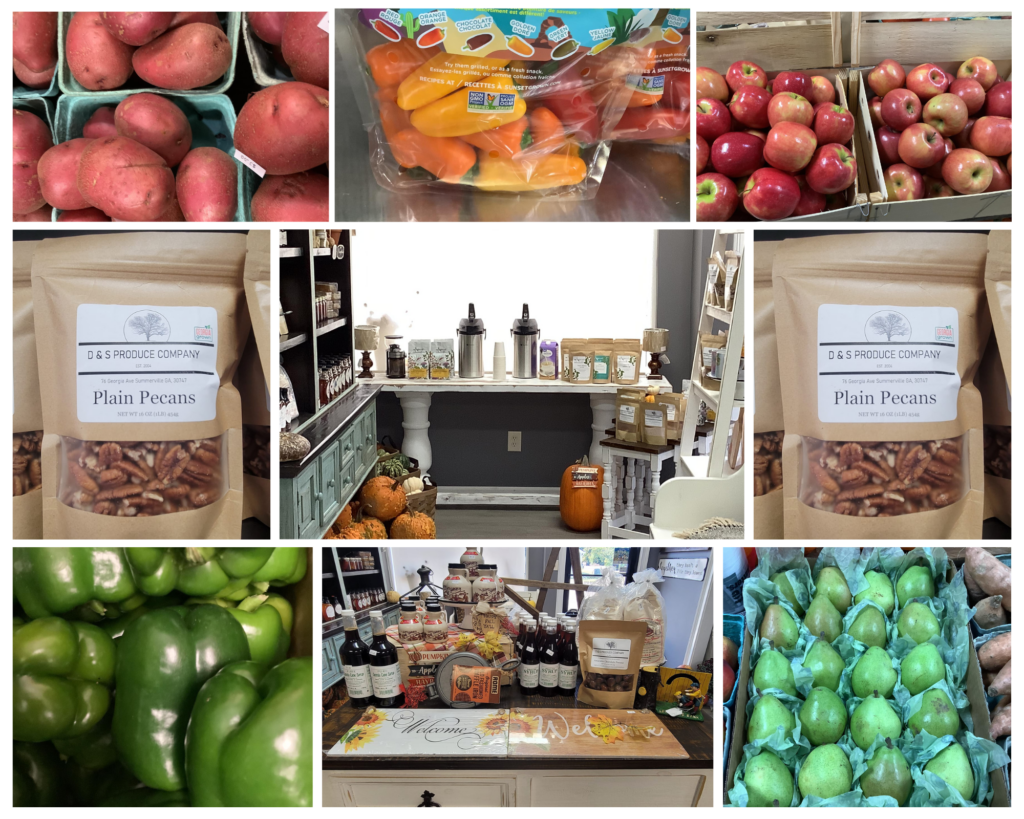 A Bounty of Products
D&S Produce offers a diverse range of products:
On the Retail Side:
Fresh produce

Local honey

Plain and gourmet pecans

Chocolates

Homemade candies

Jams & jellies

Preserves and syrup

Farmhouse and rustic-style home decor and furniture
On the Wholesale Side:
Weekly restaurant produce delivery

Wholesale plants

Bulk produce (peaches, watermelons, cantaloupe, and pumpkins)

Seasonal goods by the trailer load
D&S Produce is renowned for its seasonal offerings, from watermelons, peaches, and cantaloupes in the summer to mums, pumpkins, and pecans in the fall. In winter, they shine with pecans and gift baskets. The store also offers corporate gift options, gift boxes or baskets, custom bag pecans, and candies with custom labeling for various occasions year-round.
Community Connection
What sets D&S Produce apart is its strong connection to the community. The couple treasures the friendships they've formed through their business and sees their customers as friends. They've created a space where everyone can slow down, enjoy shopping, reconnect with their food, and learn its origins. Interaction is vital, as they take pride in sharing their producers' stories and their products' journeys.
D&S Produce also plays a vital role in promoting young producers, offering free Saturdays in the summer for them to sell their goods. Their dedication to fostering community bonds and providing high-quality, locally sourced products makes them valued members of Chattooga County.