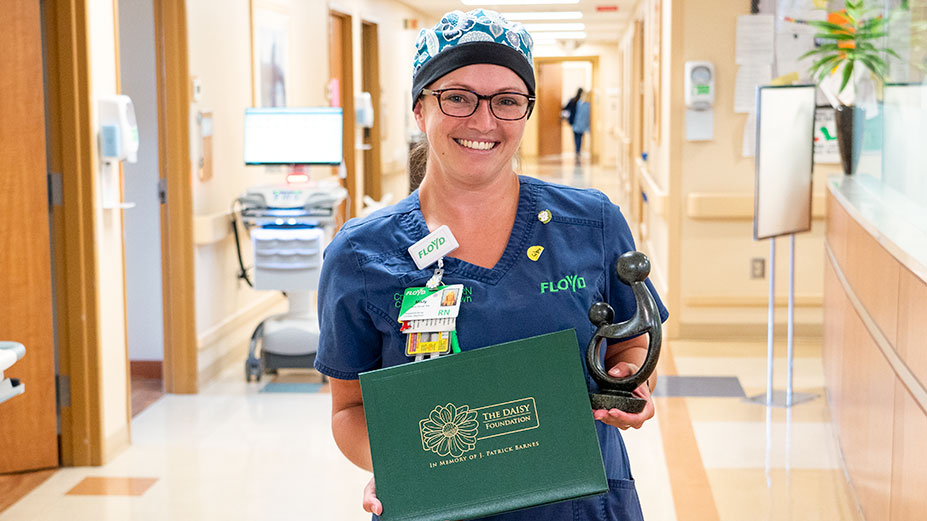 Nurse Misty Shinall's determination and compassion to help a stroke patient at Floyd Medical Center earned her a DAISY Award. This award is given to bedside nurses who go the extra mile to help patients.
At Floyd, Shinall was caring for a patient, whose speech and use of his hands were affected by a stroke. The patient was struggling to keep his weight up, largely because his only nutrition was coming through liquids. Because of the effects of the stroke, he could not properly grip standard eating utensils.
Shinall and other members of the patient's care team began working on a solution. They got him a stress ball to help improve his hand strength. Shinall also went to work adapting spoons and forks that the patient could hold.
"He had not eaten solid food for five days prior to admission. That just really pulled on my heart," Shinall said.
Shinall turned to Plant Facilities to see if they could help twist a fork and spoon the right way for the patient to hold. Maintenance mechanic Mickey Tuck ended up creating a knife and spoon with pieces of pipe for handles to make it easier for the patient to hold. They were perfect, and he was able to feed himself.
Along with a DAISY pin, Shinall was also presented with a sculpture entitled A Healer's Touch. Each piece is hand-carved for the DAISY Foundation by an artist of the Shona Tribe in Zimbabwe.
Recognized internationally, the DAISY award was established by the family of Patrick Barnes after he died from an autoimmune disease while being treated in a Seattle hospital. His family was thankful for the care he received and created the award to thank bedside nurses for the job they do. The family came up with DAISY – an acronym for Diseases Attacking the Immune System.