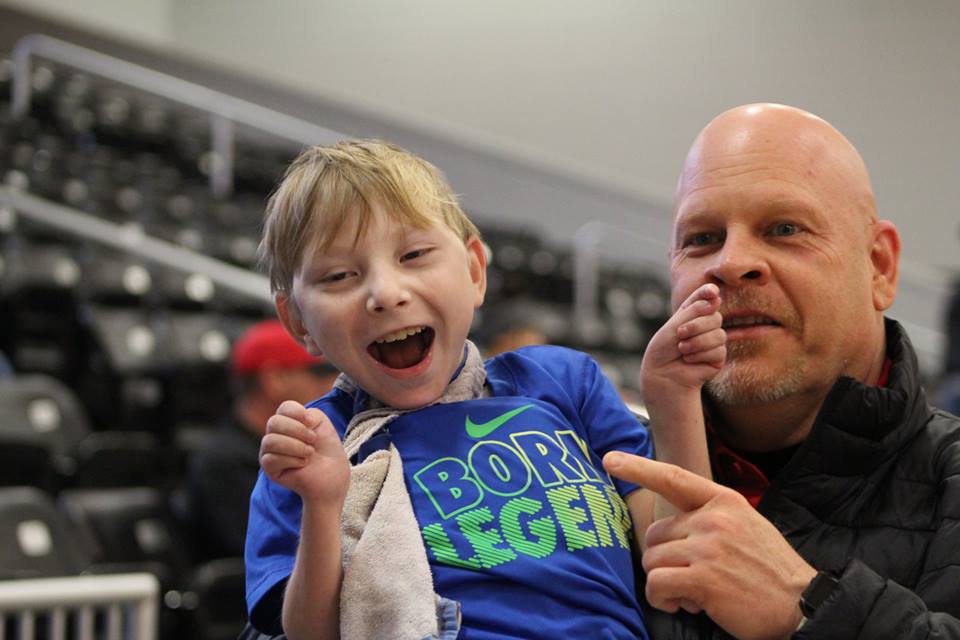 A smile can change your day. But some smiles… can change your life.

Ten-year old Cooper was born with a virus called CMV (cytomegalovirus) and as a result has cerebral palsy. But his ailment doesn't stop his positive attitude. He is known for his outlook and his contagious smile. "Cooper is the definition of happy and inspiring," Chattooga High School principal Jeff Martin said.
Cooper visits Martin every Friday at Chattooga High School. They spend some time together doing the things that Cooper enjoys; riding the elevator or just hanging out in the gym.
According to his mother, Amanda, Cooper has always loved watching wrestling and UFC fights. Cooper's reaction to some online video's gave Amanda an idea.
"We came across a video on Facebook of a boy with cerebral palsy that got to wrestle so I sent it to Jeff Martin and Brian Beasley. Jeff asked me if Cooper wanted to wrestle and of course I said he would love it. He told me he would talk to Mr. Beasley and see if it could happen."
Martin and Beasley put some wheels in motion and with the help of one huge teddy bear, arranged for Cooper to wrestle.
Chattooga High School's wrestling team has more than a few elite wrestlers and one of the biggest is 220 lb Alex Mears. Despite currently training for the GHSA Traditional state championship tournament just around the corner, Mears was more than willing to take a moment to face off with a new opponent and make a new fan.
The video of the wrestling match has experienced some viral fame and Cooper's smile has never been bigger.
"For a kid that can't walk independently and is usually in a wheelchair, this was the chance of a lifetime. And he loved it," said Amanda.
Cooper is in the 4th grade at Leroy Massey Elementary School.