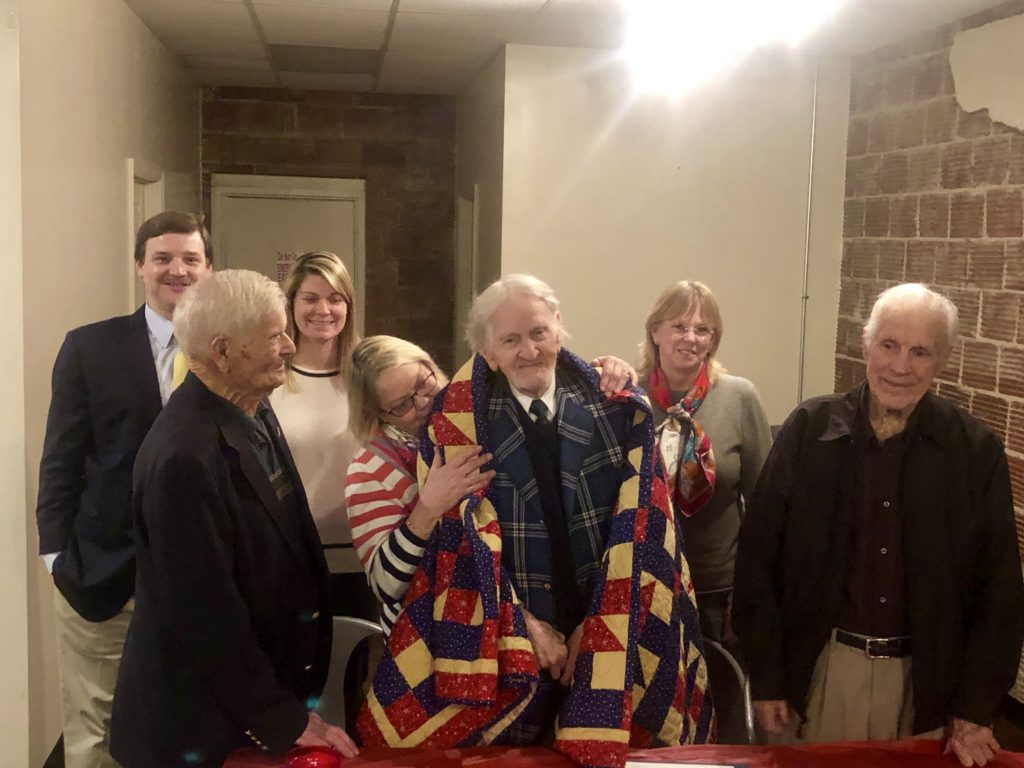 The survivors of America's Greatest Generation sacrificed much of their youth and innocence to protect our nation and the principles of democracy all around the world. In honor of that sacrifice, the Quilts of Valor have become an enduring tribute to those veterans.
On Tuesday, February 26th, Bobby Lee Cook was presented with a Quilt of Valor during a reception held at Jefferson's in downtown Summerville, Georgia.
As a United States Navy Lieutenant, Cook served from 1944-1946. He received his basic training in Bainbridge, Maryland and afterwards was sent to the Pacific theater where he served as a Gunner on the Destroyer, USS Bannon. He received many medals and awards for his service to our country.
After the war, Cook attended Vanderbilt Law School, passed the Georgia Bar Exam in 1949, and immediately opened his practice in Summerville, Georgia were today, at the age of 92, he still practices law.
The Quilts of Valor Foundation is a group of thousands of volunteer quilters from all across America. The Quilts of Valor Foundation was started in 2003 by Catherine Roberts, the mother of a soldier who was serving in Afghanistan. "Our mission is to honor our service members and veterans who have been touched by war with comforting and healing Quilts of Valor. To date, 212,024 Quilts of Valor have been awarded to veterans and active military men and women."
"It is our honor and privilege to award a Quilt of Valor to Mr. Bobby Lee Cook, who served in the United States Army during WWII. He is one of those dwindling band of men and women who served our country during that time," Gloria Mosley said.
It is estimated that over 600 WWII veterans are leaving us each and every day. Cook was seated at the head table between two other WWII heroes Billy Locklear and Leo Lanier.
Video from the reception:
About the quilt and what it means
The top of the quilt is made of many pieces of various designs, fabrics, sizes and shapes. Their variety represents the community that we are. We are all different, but we come together to make a unique togetherness. Each stitch that holds the tops together represent the love, gratitude, and prayers as we design, cut, and stitch the pieces together.
The batting is the center of the quilt–its warmth. We hope this quilt will bring warmth, comfort, peace, and healing to the veteran who receives it.
The backing is the strength. It holds the many pieces of the quilt together. It
represents the strength of the recipient, his or her family, our communities and
our nation.
Quilting is actually the term of stitching the three layers together and making it a usable gift of love.
A Quilt of Valor is "priceless". It can never be bought, it can never be sold, it is never a birthday or Christmas gift. It is an award as a thank you for your service and sacrifice. It comes from the heart and hands of the makers and their community. We feel this is the highest award a civilian can give a service man or woman.
"Each quilt brings a three-part message from our hearts. First, we honor you for your service. We honor you for leaving all you hold dear and to stand in harm's way in a time of crisis, protecting us from the effects of war. Next, our quilters know that freedom is not free. The cost of our freedom is the dedication of lives of men and women like you, and this quilt is meant to say Thank You for your sacrifice. And finally, this quilt is meant to offer comfort to you, and to remind you that you are forever in all of our thoughts and our hearts. You are appreciated and remembered.
For those of us who have never seen combat or been in a war zone, such experiences are beyond our capacity to comprehend; but we believe these Quilts of Valor have the ability to offer both comfort as well as warmth. We hope when you experience dark times or need the warmth of a grateful hug, you will wrap your quilt around yourself so it can provide the comfort we have sewn into every seam.
And so, on behalf of the Quilts of Valor Foundation and a grateful nation, with our deepest appreciation, we thank you for your service to our country with this Quilt of Valor Award," Gloria Mosley explained to the crowd.