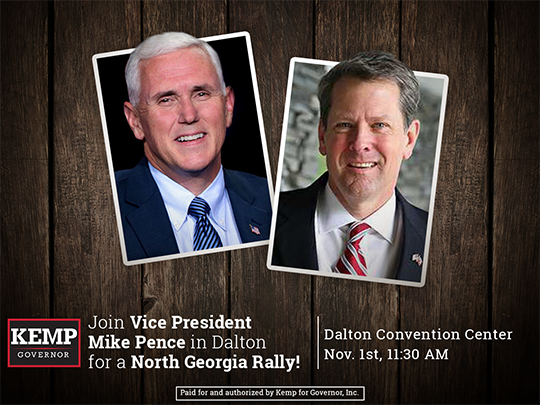 Vice President Mike Pence will return to Georgia on Thursday, November 1 to headline rallies in Dalton, Savannah, and Grovetown for businessman and Republican nominee for Governor, Brian Kemp.
The rally in Dalton will be held at 11:30 a.m. at the Dalton Convention Center located at
2211 Dug Gap Battle Road, Dalton, GA 30720.
This will be Vice President's second appearance for Brian Kemp's bid for governor, the last event was held in July right before the state's primary runoff election.
"I am honored to have Vice President Mike Pence's strong support and look forward to having him back in Georgia for events in Dalton, Grovetown, and Savannah. Together, we will rally grassroots supporters from every part of our state and turn out the vote in this historic race for governor. With the Vice President's help, we will win on Election Day and put hardworking Georgians first," Kemp posted on social media.
The rallies are free, but registration is requested:
Dalton Tickets: https://tinyurl.com/DaltonRally
Grovetown Tickets: https://tinyurl.com/GrovetownRally
Savannah Tickets: https://tinyurl.com/SavannahRally
President Donald Trump has endorsed Kemp.
Kemp faces Democrat Stacey Abrams. Abrams has secured the backing of former President Barack Obama.