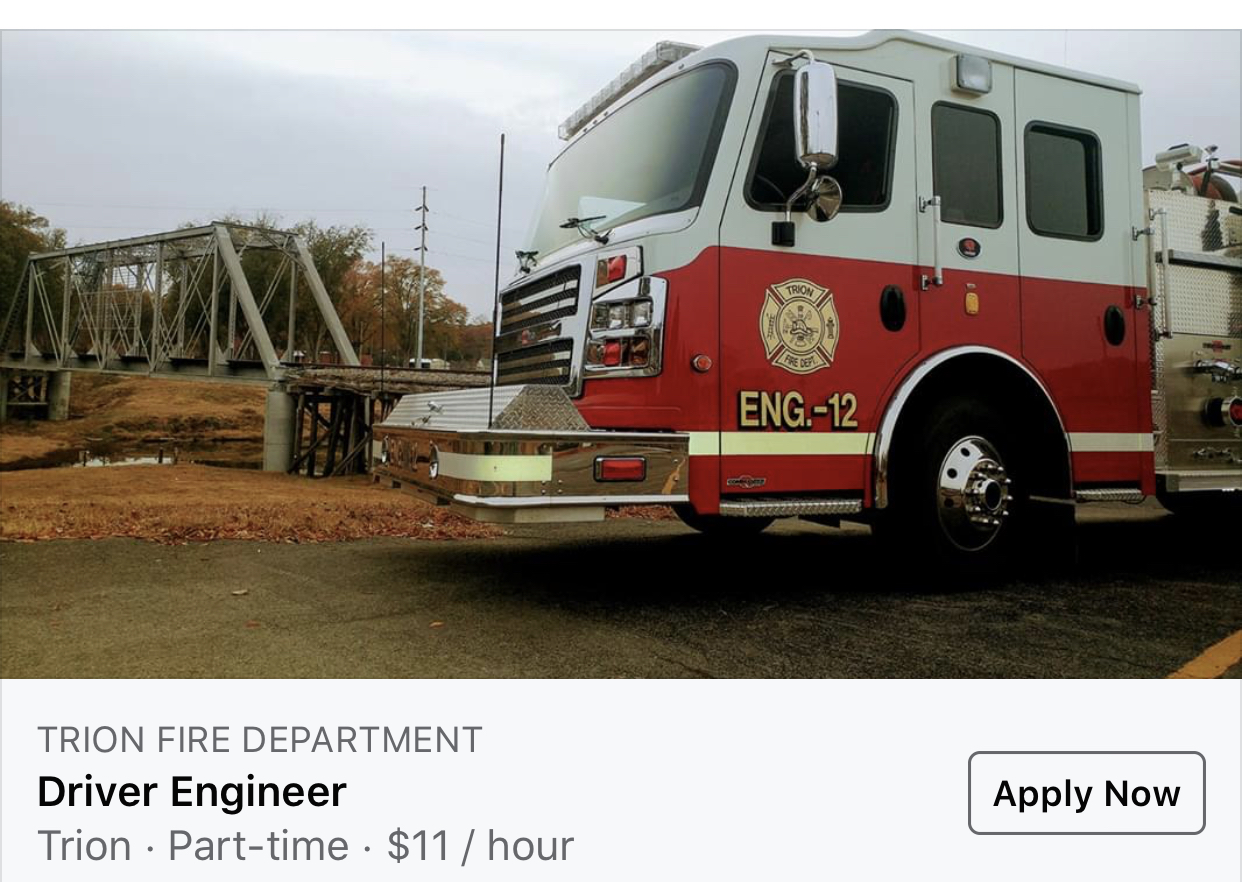 The Trion Fire Department is hiring for the Part-time position of a driver engineer.

The engineer is responsible for driving, operating and maintaining fire department apparatus. The engineer must respond to medical emergencies and provide pre-hospital care to victims of injury or illness at a first respond level according to the engineer's current medical certification.The position of engineer necessitates the same knowledge, skills, and job requirements as listed under the Firefighter job description.
ESSENTIAL DUTIES:
Responds to emergency fire, medical, and hazardous material alarms. Drives fire apparatus. Ensures vehicle and equipment maintenance and readiness; makes routine and emergency repairs; transports firefighting crews safely to fire and emergency scenes; operates firefighting apparatus,pumps, nozzles, hydraulic equipment, etc. Supplies extinguishing agents at scenes; provides proper fire streams. Performs a thorough, daily inspection and pump check of the apparatus to which he/she is assigned; notifies station officer of any condition requiring repair or maintenance; insures that the inventory of supplies and equipment is complete; assures that apparatus, equipment, and records are maintained and in good order. Maintains daily log of equipment and apparatus. Operates hydraulically powered cutters and spreaders, pneumatic cutters and special saws.
Functions as Acting Officer in Charge (AOIC) when required. Lays hose lines, operates nozzles, pumps and hydrants; utilizes fire extinguishers and performs other actions to suppress fire; operates hydraulic, pneumatic, manual and power tools. Participates in salvage operation and post fire operations; uses salvage covers, floor runners and other related equipment to reduce property damage from heat, smoke, fire, gases, and water. Participates in drills and training evolutions as directed.
Hours. 4pm to 8am
Pay $11 hourly
Contact Assistant Chief Justin Lowe ( 706-591-9637 ) to turn in resume or for futher info.