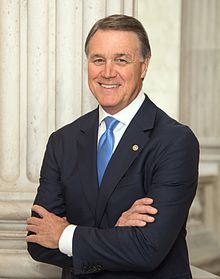 Georgia's most popular US Senator will be joining us for the 2019 Annual GOP Tillman Hangar Rally on this Saturday, the 10th of August. The Senator will arrive before the start of the rally's program, which begins at 11 am, to meet his loyal constituents from Northwest Georgia. He will be our first featured speaker for the rally. With his unique ability to inspire any conservative's soul, Sen Perdue will surely set the tempo in Northwest Georgia that we will carry going forward into the 2020 General Election. The Senator is once again showing his commitment to those in Northwest Georgia where we will vote to send the Senator back to Washington to represent our interests.
David Perdue is the junior United States Senator from Georgia. David is the only Fortune 500 CEO in Congress and has over 40 years of business experience as the former CEO of Reebok athletic brand and Dollar General stores, where he created thousands of quality jobs and helped working families make it from payday to payday.
David was born in Macon, Georgia, and raised in Warner Robins where he grew up working on his family farm. Both of David's parents were schoolteachers, and from an early age David was taught the importance of hard work and a good education.
At Georgia Tech, David earned a degree in industrial engineering and a master's in operations research while working warehouse and construction jobs. After graduating, he married his wife Bonnie, whom he had met in the first grade, and they have been married for 46 years.
Prior to his decisive election to the U.S. Senate in 2014, David had never held public office and was inspired to shake up Washington and change the direction of our country. David is a champion for term limits for politicians, reining in out-of-control spending, growing the economy, and tackling our nation's debt crisis. In 2016, David was an early supporter of President Donald J. Trump and continues to be one of the President's closest allies in the U.S. Senate.
For the 116th Congress, David serves on the Armed Services Committee; Banking Committee; Agriculture Committee; and Budget Committee. His role on these powerful committees puts him at the intersection of solving our national debt crisis and global security crisis.
David and Bonnie live in Glynn County, Georgia, and attend Wesley United Methodist Church. They have two sons and three grandsons, who are their inspiration for coming to the U.S. Senate.
Press Release