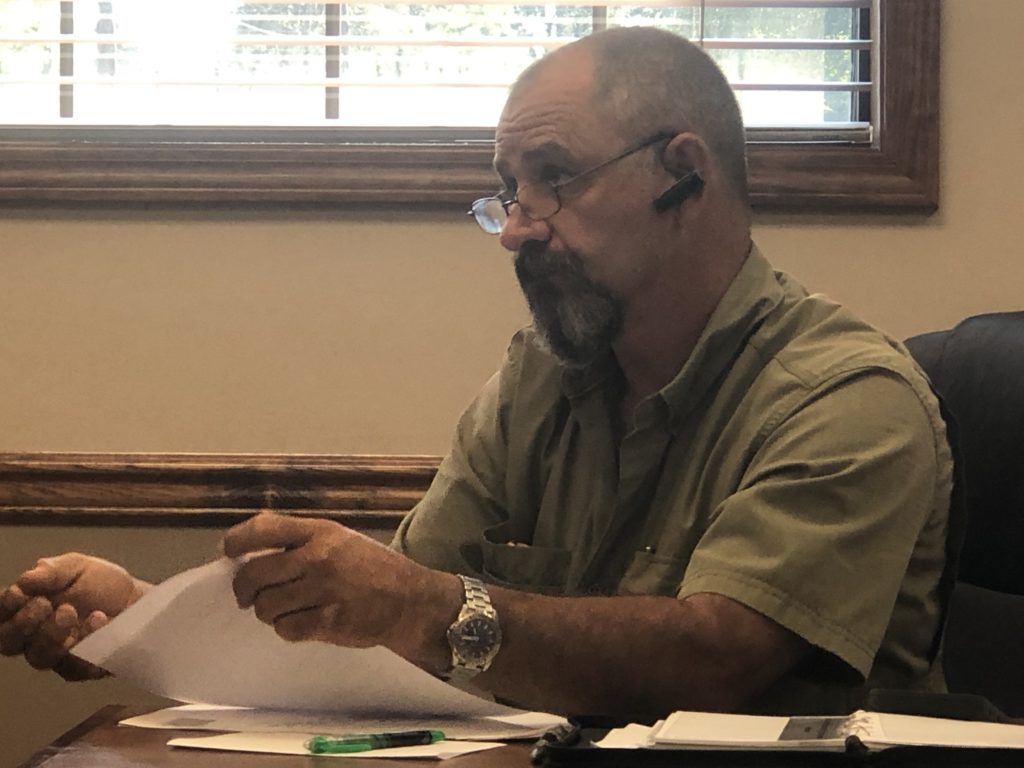 The City of Summerville began conducting routine smoke testing of the sewer system on September 23, 2019. The last time the city did the smoke test was in 2006.

Smoke testing is a simple means of locating defects in sewer mains and service laterals that allow rainfall runoff or ground water to enter the sanitary sewer collection system. Locating and correcting these defects helps conserve the available capacity of the wastewater collection system, lift stations and treatment facility.
At Monday's Special Called Meeting Public Works & Utilities director Terry Tinney gave an update on the smoke tests that have been completed so far.
Tinney said the smoke testing is only about 1/5 of the way completed and numerous issues have been uncovered, "we still have a lot of smoke testing to do".  Tinney said the problems will be resolved through the corrective action plan. Watch the meeting below:
Recorded earlier: Special called meeting City of Summerville 9/30/2019

Posted by All On Georgia – Chattooga on Monday, September 30, 2019
Issues:
Setup #1 Manhole at Underwood Dairy and Old School
1- Ditch culvert by setup manhole
Setup #2 Manhole behind Pamper Me Hair Salon
2- Ditch beside Pamper Me on Howard Av
3- 13034 US 27- service line
4- Church beside 13034 US 27- service line
Setup #3 Manhole 562
5- Lot on the Corner of Back Pen Rd and Railroad Circle- 2 old services
6- Abandoned service by 105 Railroad Circle
7- 12035 US 27- Hole in service
Setup #4 Manhole 559
8- Across from 251 Back Pen- holes in ditch bank beside power pole
Setup #5 Manhole 534
9- 128 Glenn Dr- cleanout in back
10- 190 Memorial St- cleanout
11- Between 6 and 11 Kay Dr- abandoned service
12- Between 45 and 47 Kay Dr- abandoned service
13- Manhole 533 is leaking from ground all around it
14- Behind 102 Carol- abandoned service
15- Beside 66 Carol- abandoned service
16- Behind 48 Carol – cleanout
17- 47 Carl- cleanout
18- Behind 8 Carol- cleanout
19- Abandoned service across from 250 Memorial
20- Behind the last trailer on the right on Maryland- abandoned service
21- 2 Across the street from the last trailer on Maryland- abandoned service
Setup #6 Manhole 524
22- Across from 199 Elder Trailer Park Rd- manhole of some sorts in power line right of way
23- Manholes along right of, 528, 527, 526, need raising and sealing
Setup #7 Manhole 572
24- 4 cleanouts at Pentecostal Worship Center
25- Hole in ditch beside Manhole 570
26- Manhole 570 needs sealing
27- Manhole 573 has a hole in the side in a ditch, across from Pentecostal Worship Center
28- Manhole 574 needs sealing
29- Cleanout at 12 Pecan Orchard Rd
30- 430 Northern Heights Cir- cleanout and under house
31- 86 Saunders Rd- cleanout and Abandoned service
Setup #8 Manhole 574
No defects found on this set up
Setup #9 Manhole 516
32- Cleanout behind Tractor Supply
33- Manhole behind Tractor Supply in ditch
Setup #10 Manhole 506
34- Manhole 507- busted ring and wrong lid
Setup #11 Manhole on N Hill
No defects found on this set up
Setup #12 Manhole 501
35- 174 Riverside- cleanout
36- Manhole 492- ring needs sealing
Setup #13 Manhole 441
37- Manhole 440- ring needs sealing
38- 153 Maple- service line in back on easement
Setup #14 Manhole 441a
39- 177 Maple Dr- cleanout
40- Behind 126 Maple Dr- cleanout
Setup #15 Manhole 437
41- Manhole 431- ring needs grouting
Setup #16 Manhole 428
No defects found on this set up
Setup #17 Manhole 420
42- Manhole 421 needs sealing
Setup #18 Manhole 2a
43- Hole at Manhole 415
44- Hole at Manhole 8a
Setup #19 Manhole 172
45- Abandoned service across from 171 Henley
46- Hole in right of way off Jones and Henley
47- Holes in ground around Manhole 195a at Ingles
48- 116 Jones St- service line
Setup #20 Manhole 13
49- Lot beside 204 Hinton- abandoned service
Setup #21 Manhole at Lyerly Hwy and Oil Mill
50- Cleanout at office building for Whites Alignment and Tire
51- Manhole 62 needs sealing, leaking in holes around
52- Old car wash on the corner of Lyerly Hwy and Oil Mill
53- Sewer main leaking in ditch on side of Bellah Av
54- Drains inside of Wright's waste management leaking
Setup #22 Manhole 49
55- Manhole 43 needs sealing
56- Cleanout and service line at Corner Automotive
57- Manhole 648 is leaking from ground around
58- Manhole 469 needs sealing
59- 100 Givens- cleanout in back
60- House on the corner of East and Curran Cleanout
61- All Manholes and connection in old Mill site
Setup #23 Manhole 66
62- 54 Montgomery- service line in back
Setup #24 Manhole 65
Setup #25 Manhole 74
63- 179 Givens- cleanout
64- 237 Givens- cleanout
65- 252 Givens- old box cleanout
Setup #26 Manhole 91
66- Manhole 93 ring needs sealing
67- Manhole 90 smoking from under ring
68- Manhole 85 is missing lid
69- Manhole 88 is leaking
70- Manhole 87 is leaking
71- 1085 Martin- cleanout
72- 1057 Martin- cleanout
73- Manhole 92 ring needs sealing
Setup #27 Manhole 112
74- Manhole 116 leaking from holes around
75- 894 Martin- cleanout at shop in back
Setup #28 Manhole 134
76- 107 Alexander- cleanout
77- 114 Alexander- 2 cleanout
78- 120 Alexander- cleanout
79- 147 Crowe St- cleanout
80- Trailer at dead end of Crowe- cleanout
81- Across from 147 Crowe- abandoned service
82- 131 Alexander- Hole
83- Dowdy Dr- abandoned service
84- 90 Crowe St- cleanout
85- Abandoned service across from 90 Crowe
Setup #29 Manhole at 91 Blake
86- 88 Blake- 4 abandoned services
87- 111 Blake- cleanout
88- 120 Blake- abandoned service
89- Cleanout in the woods on Blake St
90- Manhole at 91 Blake street is leaking in the ground around