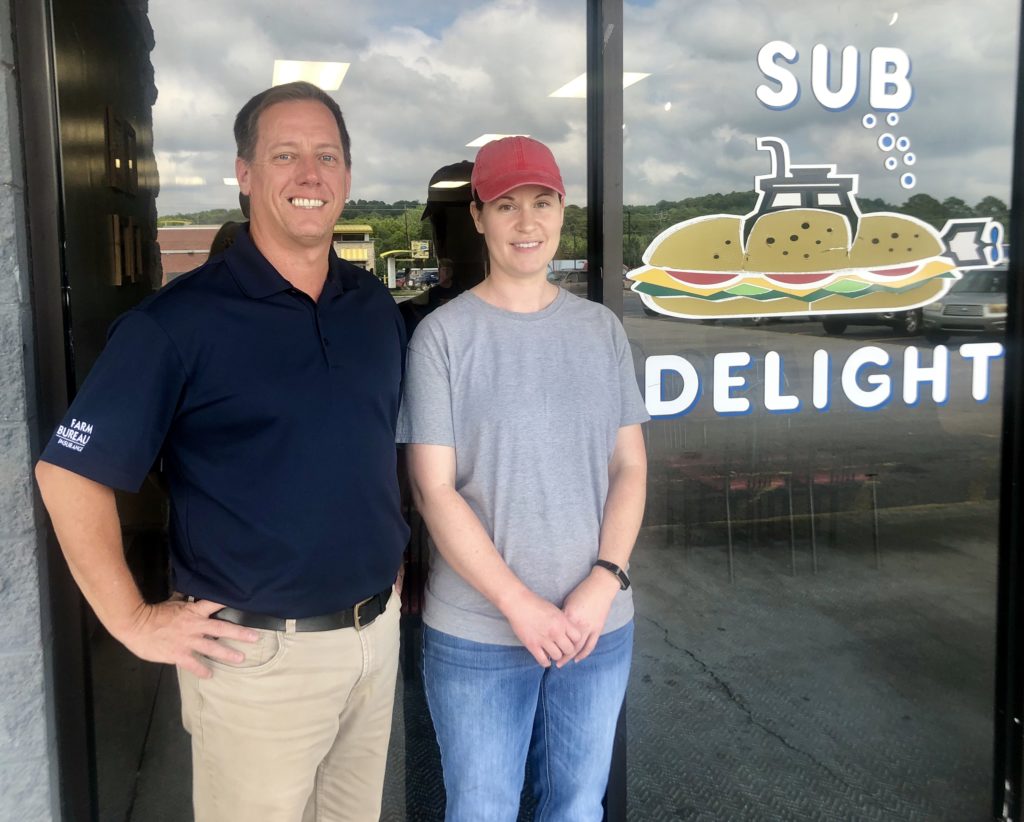 Following the recent ownership changes at Sub Delight, residents of Chattooga had  lingering questions that have now been answered; Sub Delight will have the same employees and the same menu and Chattooga County Farm Bureau WILL still be giving away one free cookie with the purchase of any sandwich, soup, or salad at Sub Delight this Friday, July 12th from 11 a.m. – 2 p.m.
Ernie Hill, the long-time former owner of Sub Delight has retired and sold the business to Amanda Schrader, wife of Chattooga County Sheriff Mark Schrader.
Ern, as he is affectionately known by most customers, first opened Sub Delight in 1997.  The sandwich shop has relocated over the years and is now located in the Marvin's shopping center.
Sub DELIGHT
A year after Ern opened Sub Delight in Summerville, Amanda Hunter went to work at the sandwich shop and continued working there throughout her college years. "I worked there nine or ten years total," Amanda told AllOnGeorgia.  Sub Delight became more than just a place of employment for Amanda. In fact, the restaurant became a historical fixture where she met her future husband, Mark, who came in every day for a sandwich. "He came in every day, but it took him a long time to ask me out…actually he had a girl from the Sheriff's Office ask me for my number." The rest as they say is history.
The Schrader's celebrated their 15th wedding anniversary last week painting the interior of the business and sprucing things up, under the watchful eye of Ern.
Amanda said long ago, if Ern ever decided to sell the business, she wanted to buy it, and Monday marked her first day as the owner of Sub Delight.
Amanda says that the menu will stay the same and customers can still expect great sandwiches, at a great value at Sub Delight. And locals can expect to see all the same faces they are used to working behind the counter and expect to see Ern there, when AllOnGeorgia stopped by Ern was there, he says he plans to be there every day, "I just want to see Amanda succeed."
Sub Delight is open from 10 a.m. until 7:30 p.m. Monday – Friday, besides on Wednesday they will close at 4:30 p.m. and from 10 a.m. until 2 p.m. on Saturdays.