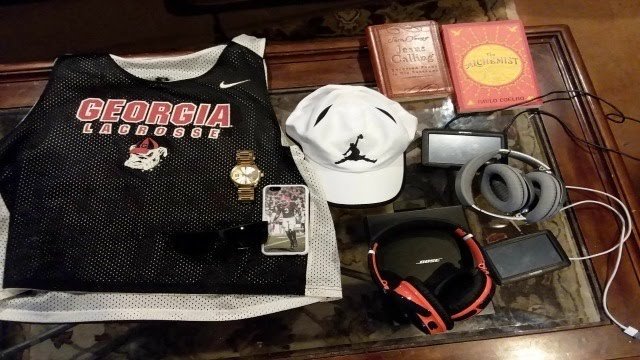 Chicago Bears First Round Draft Pick, Roquan Smith, Stolen Items Found in Summerville, Georgia.


Smith took to Twitter to Wednesday morning to issue this statement. "I would personally like to thank everyone for their kind words and prayers as Athens/Clarke County Police Department worked very hard to identify the individual responsible for this. It was definitely huge. I would also to thank many of you that spread information over various social media outlets. Due to the prompt attention by Athens/Clarke County Police Department, I was able to recover most of my items as well as the individual being identified. I would just like to thank you guys so much."
https://twitter.com/twitter/statuses/994205416975368192
For University of Georgia Linebacker, Roquan Smith, the NFL Draft became the highlight of his fledgling career. A stellar final season with the Bulldogs, including a trip to the National Championship, was capped with being selected by the Chicago Bears in the first round of the Draft. Smith and his agents are looking forward to an estimated $18 million-dollar rookie contract that will undoubtedly change the young athlete's life.
In 2017 he was a consensus All-American, the SEC's Defensive Player of the Year, was named to the All-SEC first-team was the SEC Championship Game MVP and was given the Butkus Award for being college football's best linebacker. Despite having one more year of eligibility, Smith opted to forego his senior season to enter this year's draft. Smith is one more in a long line of athlete heroes for UGA.
But the hero status didn't protect Smith from the most common of crimes, theft. On Saturday, May 5th, at approximately 11:45 am, Smith was at his home in the Mark Athens Apartment Complex just outside the UGA Campus in Clark County, Georgia when his car, a 2018 BMW X5, was broken into and several personal items stolen. With no signs of forced entry, it is possible that the vehicle was simply left unlocked. Smith notified law enforcement and the search began. Along with several pairs of headphones, a Bluetooth speaker, watches and sunglasses, Smith listed a few items that were beyond value to him and his family. His jersey from the 2017 season was among the stolen items along with his helmet. In the same bag was his Rose Bowl jersey and his jersey worn in the National Championship game.
Smith's aunt later took to twitter to issue a public plea for help, "My prayer is that the person who committed the crime will deal with their issues, and that anyone who knows of information related to this crime will report it immediately to the Athens Police Dept."
Also stolen was an iPad issued to Smith by the Chicago Bears. The device contained the entire Bears Playbook and is given to all rookies to begin preparing for the upcoming spring camps. While this situation is unfortunate for Smith and could be even worse for the Bears, officials in Chicago have a contingency plan in place to handle lost, damaged or stolen devices. The Bears notified NFL officials of the theft and remotely wiped all data from the iPad.
Athens/Clarke County detectives located fingerprints inside the vehicle that led them to an individual attending UGA who was questioned and confessed to having taken the items. Police were directed to his father's residence in his home town of Summerville, Georgia in Chattooga County. Local officials were notified and visited the home late on Tuesday evening May 8th where they found the belongings in a closet.
Athens/Clarke County officials haven't release the name or charges for the alleged perpetrator while the investigation was underway. Most of the items were located in Summerville and a search warrant will be executed by Summerville Police Departement's Investigator Ty Hutchins in hopes the Bears issued iPad. Smith's jerseys from the 2017 College Football Playoff National Championship Game, The 2018 Rose Bowl and the 2016 TaxSlayer Bowl were among the items recovered, according to Hutchins. 
A list of items taken include:
iPad belonging to the Chicago Bears
4 pairs of headphones
Bluetooth
Watches
Sunglasses
Nike athletic shoes
UGA 2017 football helmet
UGA 2017 football jersey
UGA 2017 Rose Bowl jersey
UGA 2017 national championship jersey
The suspect is not in custody yet, but police say they will issue a warrant.