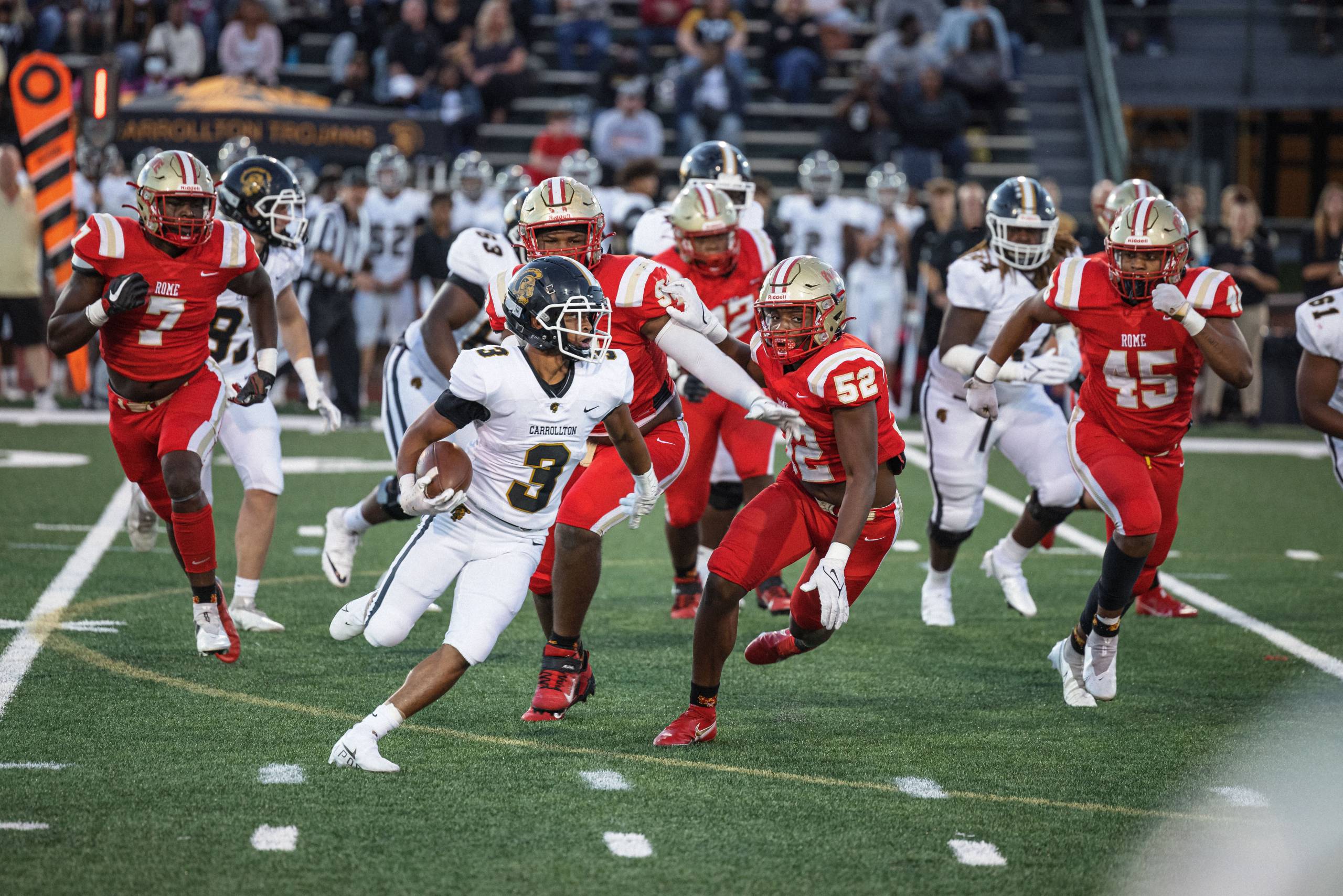 For the first few minutes of Friday's pivotal region 5-6A contest against Carrollton at Barron Stadium, Rome seemed to be playing back on their heels a bit.
Trojans' quarterback MJ Morris, a four-star N.C. State commitment, and the Carrollton offense looked strong on the opening drive mixing runs and passes to move down the field and open the game with a 7-0 lead.
After Carrollton's first touchdown, head football coach and system athletic director, John Reid, turned to his sideline with a less than happy look on his face and an exhortation to his team.
"Someone has got to make a play."
The comment backed up what Reid had been telling his players for weeks.
"I told our guys all along that I expected us to beat South Paulding, and I expected us to beat these guys (Carrollton)," he said after the game. "But we didn't get that done against South Paulding. But I believe in them."
Rome's players responded to Reid's rally call with a barrage of big plays on offense, defense and special teams to bury previously unbeaten Carrollton 45-27 at Barron Stadium.
After spotting the Trojans the 7-0 lead, Rome answered with a 13-play drive, mixing in some solid runs and crucial passes. The Wolves' evened the score when sophomore quarterback Reece Fountain hit DeKaylon Daniel for a 15-yard touchdown.
The Wolves' defense buckled down on the Trojans' next possession, forcing a three and out, allowing Rome's special teams to make a big play.
On the Carrollton punt, the snapper hiked the ball over the punter's head. After the punter failed to kick the ball out of bounds, Rome's Bryson Hill corralled it and rambled 20 yards for a touchdown, upping the Rome lead to 14-7.
After another defensive stop, Rome's offense got moving again, and Hill broke free for a 70-yard touchdown run, extending the Rome lead to 21-7.
Hill added a 15-yard touchdown run after the Wolves' offense took advantage of a short field to extend the lead to 28-7 with roughly a minute to play in the first half.
The final minute of the first half might have been the most crucial for Rome. Morris managed to hit two big completions, driving the Trojans to Rome's three-yard line with about 27 seconds left to play.
On first and goal, Rome's defense dropped the Trojans runner for a two-yard loss. On the next play, they corralled the receiver allowing only one yard and then forced back-to-back incompletions to keep Carrollton out of the end zone and preserve a three-touchdown lead heading into halftime.
"I thought the defense played really well. We were kind of back on our heels on that first drive, but we recovered," Reid said.
Rome's offense carried the momentum into the second half, as the Wolves assembled a 15-play drive that ate six minutes off the clock and ended with a 29-yard field goal from Gary Gonzalez to move the score to 31-7.
Fountain showed tons of poise on the drive as he threw four, first down passes, including three coming on crucial third down situations.
"I think the combination of him (Fountain) and our offensive staff working together is starting to click. It's a new offense and it's taken a while to tune, because it puts a lot on Reece," Reid said. "But that's what he wants. He wants to be a high-level quarterback, so it puts a lot on him. I think gaining experience against a team like Collins Hill helped him a lot and it really showed tonight."
Rome's defense again stood tough forcing Carrollton to go three and out on the next drive and Hill broke through the line and blocked the punt, giving the Wolves the ball at the Trojans' 10-yard line.
On the next play, Hill took the handoff and scampered 10 yards for the score. Hill would add one more rushing touchdown in the fourth quarter to put a cap on a huge night. The senior played on both sides of the ball and scored five touchdowns.
When asked if there was anything the precocious Hill couldn't do, after the senior played on both sides of the ball for most of the night, Reid just shook his head.
"Not that I know of. I'm so proud of him because he had a rough game last week against South Paulding. But he's a great kid who works really hard. That's what's so fun about high school when you see a kid perform like that when he's worked so hard at it," Reid said.
The Trojans did manage to add two late touchdowns as time was winding down but never truly threatened the Wolves. The win moves Rome to 3-2 overall and 1-1 in region 5-6A with Dalton coming to Historic Barron Stadium next Friday.
"This win is huge because it gets us right back in it," Reid said. "But it's not worth a darn if we don't come back and play great at home next week."