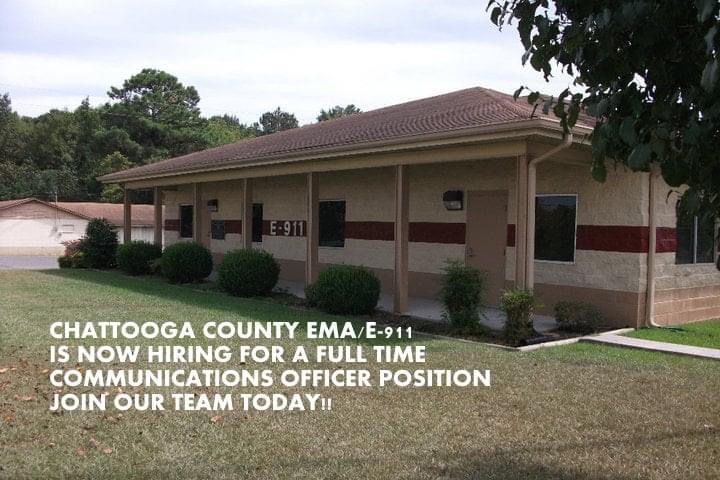 STARTING PAY $13.25 AN HOUR TOP PAY $15.25 AN HOUR
911 emergency dispatchers often are the first people contacted when emergency assistance is needed. A high school diploma is the standard requirement for this position, along with completion of Basic Communication Officer Training obtained at Georgia Public Safety Training Center in Forsyth, GA. This class lasts a week with dorm campus rooms available to students. Other required training for this position is APCO Emergency Medical, Police and Fire Dispatch, Security and Integrity and GCIC/NCIC certification which will be online or in house training at Chattooga County EMA/E-911 center. All training will be set up by administration at the 911 center and completed in the first six months of training. Dispatchers need strong skills in communication and decision-making. Skills required to become a 911 emergency dispatcher, such as the ability to operate various computer and communication equipment, usually are learned through 3-6 months of on-the-job training. Personal characteristics that might be advantageous for 911 emergency dispatchers include good judgment skills, since they need to prioritize the calls they receive by order of importance, as well as good communication skills, since they must relay information between parties. They also must have good speaking skills and be comfortable talking to people in various emotional states. 911 emergency dispatchers should be comfortable reading maps and be familiar with their assigned territories. It's also helpful for 911 emergency dispatchers to be trained in emergency medical services so they can help callers manage emergency situations while they are waiting for help to arrive.
Listed below are qualifications, roles and responsibilities of a Chattooga County E-911 Communications Officer:
Chattooga County EMA E-911
Communications Officer Job Description
The Communications Officer, under general supervision, operates computer-operated control panels and dispatching equipment to receive emergency and non-emergency calls from the public and other agencies and determines the type, location, and extent of the call. The Communications Officer will communicate in a clear, steady tone of voice to calm the caller so that accurate information can be obtained. The call is then dispatched to the agency responsible for answering the call. The Communications Officer reads maps to determine appropriate zones, makes assigned tests on communications equipment, and attends training sessions as required.
The required experience to qualify for such position is a high school diploma or equivalent and the ability to accurately type 50 words per minute, using computer keyboards. You must be able to stay at a stationary position for extended periods. You must undergo a Doctor's physical examination and pass drug and departmental testing. You must be willing to work Holidays and cover extra shifts if the need arises. You must be flexible for shift coverage on short notice.
MAJOR DUTIES:
– Receives incoming telephone calls from the public and from other public safety agencies. Obtains detailed information, determines emergency services needed, and dispatches appropriate personnel.
– Provides field personnel with necessary information upon request.
– Keeps a detailed log of incoming telephone and radio calls.
– Enters a variety of data into the computer and extracts required data from the computer.
– Checks data on 911 screen for accuracy; notifies the front office for the correction of information within the 911 system.
– Monitors and routes incoming calls from state emergency management agency, the national weather service, and the hearing impaired telephone system.
– Monitors and logs alarm systems into the CAD system.
– Monitors state frequency and other city and county frequencies; forwards information to state agencies and special units.
– Issues CAD numbers on incoming calls received by phone or radio including calls being transferred to other agencies.
– Performs other related duties as assigned.
KNOWLEDGE REQUIRED BY THE POSITION:
Knowledge of the geography and road system of the county.
Knowledge of ten-codes used by Chattooga County E-911 Center.
Knowledge of procedures and regulations of state and national crime information centers.
Knowledge of departmental policies and procedures.
Knowledge of business and residential alarm procedures.
Skill in the operation of radio/communication equipment.
Skill in the computer operation.
Skill in written and oral communication.
Skill in dealing with the public.
Skill in making decisions accurately and rapidly.
TRAINING GUIDELINE FOR NEW EMPLOYEES:
Each new employee is hired into the position of Communications Officer on a 6 month probationary status. During this probationary period the new employee can be terminated for any reason deemed necessary by the E911 Director. In order to keep employment, the new employee must be able to perform specific functions within a designated time frame listed in their training manual assigned to the new employee.
– Must be knowledgeable in the Center's SOP within thirty (30) days of employment.
– Must have completed their GCIC workbook within thirty (30) days of employment.
– Must have completed their Security and Integrity Training within 30 days of employment.
– Must be able to create very basic cads and answer phones without instruction within a three week period. An example of these type cads would be traffic stops, civil papers, warrants, etc.
– Must be able to man a console on routine calls without constant instruction within four-six weeks of employment. Once this is accomplished, the new hire is ready to move to Split Shift hours to begin training with the Night Shift Supervisor.
Normally, the general time frame for training is approximately three (3) months, with the majority of that time being on split shift hours. In order for the trainee to be released from training status, they must be capable of sitting alone at a console, catching overflow radio traffic and phones, and whatever the Supervisor directs them to do; basically functioning as a split person. Once this happens, the Supervisor will notify the Senior Supervisor that the training goals have been met.
Once the new hire has gone through both shifts of training, typically (if schedules allow) the new hire will come back to first shift to fill in on a few shifts as a partner before sliding into their permanent slot.
SPECIAL CERTIFICATIONS AND LICENSES: Possession of a valid State of Georgia driver's license (Class C) and a satisfactory Motor Vehicle Record (MVR) in compliance County Safety and Loss Control Guidelines. Successful completion of the State of Georgia mandated Basic Communications Officer Training within six (6) months of employment. Successful completion of Georgia Crime Information Center (GCIC) workbook, tests and certification as a GCIC Terminal Operator within 30 days of employment and recertified in GCIC every two (2) years. Operators must be CPR certified within six (6)months of employment and recertified in CPR as required. Operators must be EMD (Emergency Medical Dispatch) Certified within six (6) months of employment (availability of classes permitting), being recertified every two (2) years.
HIPPA COMPLIANCE: The Health Insurance Portability and Accountability Act of 1996, as amended, requires employees to protect the security of Protected Health Information (PHI) however it is obtained, handled, learned, heard or viewed in the course of their work.
DRUG AND ALCOHOL COMPLIANCE: In accordance of Chattooga County's Substance Abuse Policy, all job applicants offered employment will undergo testing for the presence of illegal drugs and alcohol as a condition of employment. In the course of employment, employees are subject to random, reasonable suspicion, post accident and routine fitness for duty testing for illegal drugs and alcohol abuse. Employees are prohibited to work under the influence, to possess, to distribute or to sell illegal drugs in the work place or abuse alcohol on the job. Confirmed positive is reason for denial of employment and/or termination.
IF YOU ARE INTERESTED IN A CAREER WITH US YOU MAY OBTAIN AN APPLICATION SEVERAL WAYS, CALL US AT 706-857-3400, CHOOSE OPTION 1 OR 2 TO SPEAK WITH THE DIRECTORS TO REQUEST AN APPLICATION TO BE EMAILED TO YOU. IF YOU ARE IN THE AREA YOU MAY VISIT US AT 170 FARRAR DRIVE, SUMMERVILLE, GA 30747 TO PICK UP AN APPLICATION. DIRECTIONS TO THE CENTER ARE: FROM HIGHWAY 27 TURN ONTO FARRAR DRIVE (FARRAR DRIVE IS AT THE REDLIGHT AT JACK'S RESTAURANT). WE ARE THE THIRD BUILDING ON THE RIGHT, WE ARE A TAN BUILDING WITH A BURGANDY STRIPE. IF YOU ARE FRIENDS/FOLLOWERS OF CHATTOOGA COUNTY EMA/E-911 ON FACEBOOK SEND US A MESSENGER MESSAGE ALONG WITH YOUR EMAIL ADDRESS, WE WILL EMAIL YOU A COPY OF THE APPLICATION.