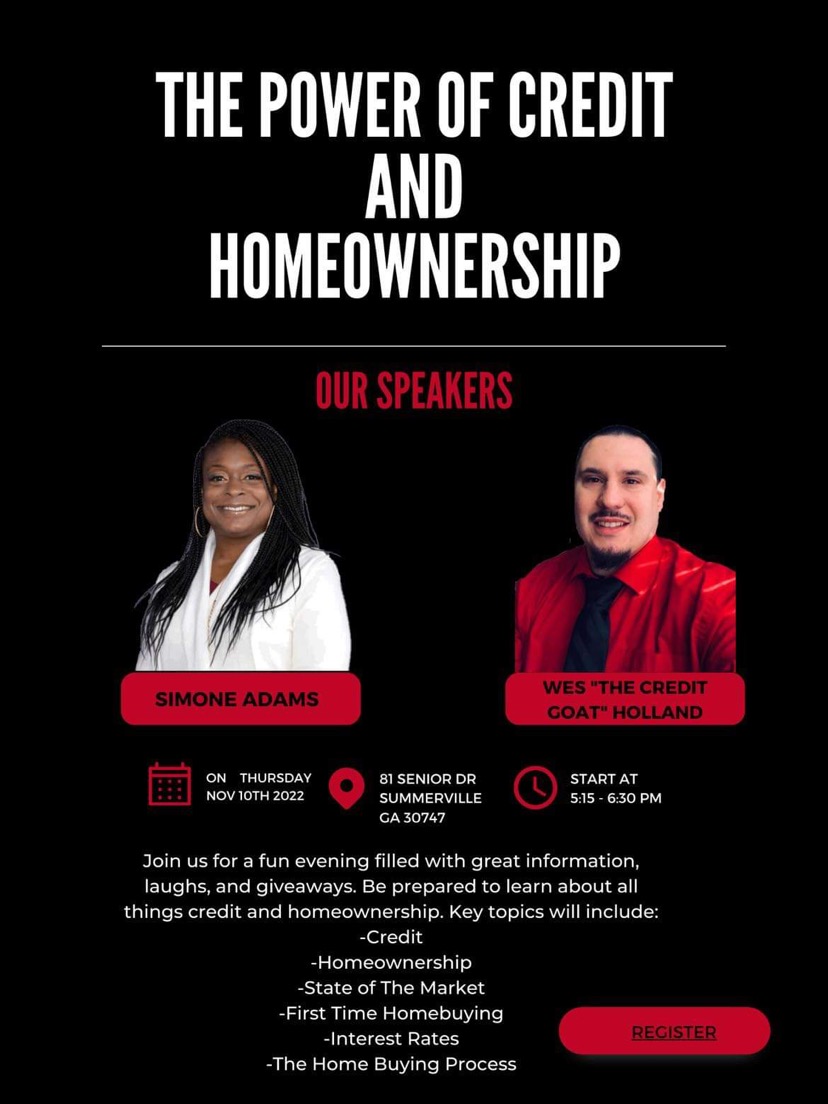 Simone Adams , Director of Productivity and Realtor at Keller Williams Realty in Rome, will be offering a a free class on the Power of Credit and Homeownership this Thursday, November 10 from 5:15 pm – 6:30 pm at the Fairway Recreation Center located at 81 Senior Drive in Summerville.

Speakers will include Adams and Wes "The Credit Goat" Holland. Key topics for the class include credit, homeownership, the state of the market, interest rates, and the home buying process.
"I would love to see my community move from predominately rental based to homeownership based," Adams said.  "This will be the first but definitely not the last event held to help the people of Chattooga and Floyd Counties in obtaining better credit and home ownership."
"I want people to be aware of how credit affects their everyday lives and what that means for home ownership and the things they can do early on to help navigate them to get them to purchase. I only deal with the real property so just the home itself, that's why I am bringing in a credit specialist to help people understand why credit is so important and answer the questions that they need before they speak to a lender for a home purchase or even myself will be provided November 10th."
Adams decided to give real estate a try a little over four years ago, "I knew that I needed to make a life change not just a career change once I had my son. I wanted to explore something different I had worked in retail and customer service since I was 16. I knew real estate would put me in front of people to help them with one of the biggest transactions they may ever face. You need someone that you can trust not only within the transaction but for over thirty days you truly get to know people and become friends not just clients."
That mentality and commitment to her clients has landed Adams in the Top 20% of 425 agents in the West Cobb, Rome, Cartersville and Calhoun offices, and the top 10% in the Rome office. "There is certain criteria that concludes the decision but sales volume is the highest deciding factor," Adams explained.
Adams also recently continued her education to include her Brokers License because in the role of Director of Productivity, coaching new agents and running the day to day office in Rome, she wanted to serve her new agents and company better. The Brokers License also gives her flexibility that if she ever decides to open her own Brokerage then she'd have the license to do so already in place.
You can register for the Home Ownership and Credit class at the link below.
https://www.eventbrite.com/e/the-power-of-credit-and-homeownership-tickets-434403672077