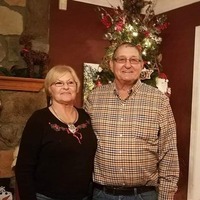 Mr. Terry Vance Smith, age 74 of Summerville, passed away Friday, October 9, 2020 at the Floyd Medical Center.

Mr. Smith was born in Lafayette, Georgia on August 25, 1946, son of the late James W. Smith and Beatrice Bailey Smith.  He was a member of the North Summerville Baptist Church, where he was active in the Men's Brotherhood and was a veteran of the United States Air Force, serving during the Vietnam War.  Mr. Smith was a retired electrician, having worked for I.B.E.W. local 175 and had worked part time at the Computer Shop in Summerville for several years.  He was an avid golfer and fisherman and enjoyed spending time at the lake, but his favorite thing was to spend time with his family and his grandkids.  In addition to his parents, Mr. Smith was preceded in death by a brother, Billy Smith.
Mr. Smith is survived by his wife, Juanita Willingham "Nita" Smith; daughters, Cristi Leming, and Heather Smith (Brandon Cleveland); and an adopted daughter, Veronica Westmoreland; son and daughter-in-law, Jamie and Wendy Smith; sister, Gayle Pinedo; brother, Ronald W. Smith; grandchildren, Ragen McGraw, Anistin Smith, Tanner Leming, Daegan Vaughn, Jaci Cleveland, Keila Chambless and Cody Thomas; and a number of nieces and nephews.
Funeral Services for Mr. Smith will be held Sunday, October 18, 2020 at 3:00 P.M. in the Petitt Chapel of the Coffman Funeral Home with Rev. Sammy Barrett officiating.  Interment will follow in the West Hill Cemetery with the Shanklin-Attaway Post 5 of the American Legion Honor Guard providing full Military Honors.
Pallbearers will be Randy Money, Steve Palmer, Jason Jarrett, Raymond Ware, Cody Thomas and Stanley Shafer.  Honorary Pallbearers will be Terry McPhail and Darrell Wheat.
Mr. Smith will be in state at the Coffman Funeral Home where the family will receive friends Sunday, October 18, 2020 from 1:00 P.M. until the funeral hour.
The family of Mr. Smith, as well as the staff of Coffman Funeral Home, advise anyone that plans to attend the services, to please follow the CDC recommendations as it pertains to Social distancing and social gatherings.  Facemasks are not required, but are recommended.
Coffman Funeral Home, Petitt Chapel is honored to be serving the family of Mr. Terry Vance Smith.  Please visit www.coffmanfh.net to sign our online guestbook and to post condolences.
To send a flower arrangement to the family of Mr. Terry Vance Smith, please click here to visit our Sympathy Store.
To plant Memorial Trees in memory of Mr. Terry Vance Smith, please click here to visit our Sympathy Store.